What do you do when your child wants to be adventurous outdoors?
You go to Challengeland Adventure Park!
Linus asked to take a trip on the Cogwheel ailway (aka Tram 60) in Buda. But after some confusion, I took us on a ride along the Children's Railway. Lucky for us, Piano Man is handy at reading a map. He noticed a symbol on the map that was labeled Adventure Park. He wanted to check it out, so after a short ride and stop at the Elizabeth Lookout Tower, the tallest point in Budapest, we made our way down to Csillebérc Station.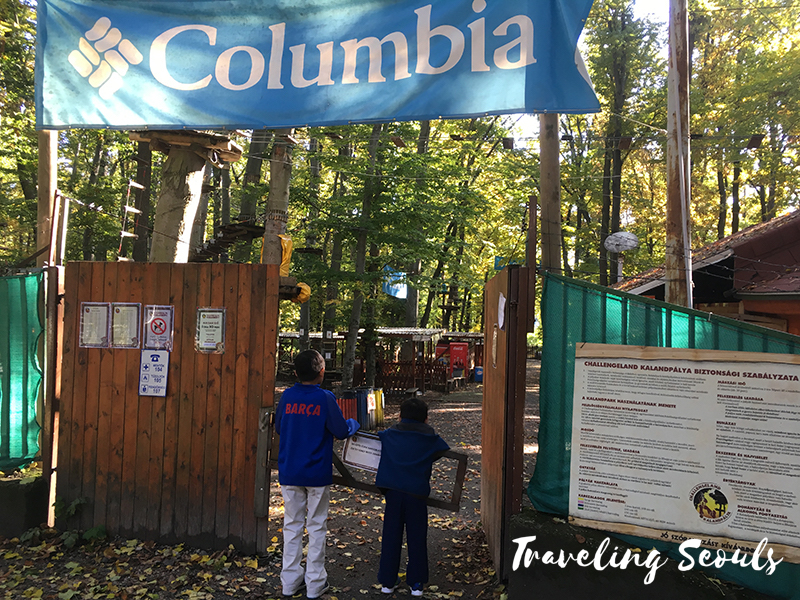 Once we arrive, I thought it might have been closed for the season as the fall weather felt pretty chilly. Plus, it rained the day before, making the course look pretty slippery. But Piano Man's keen sense saw a few visitors inside. So we waited for someone, and we were able to get the boys in for two hours before closing, which was the minimum time needed to spend at Challengeland. For two children tickets and two walking tour tickets (entrance fee to get in but not go on the climb), it was about $15.00. (Honestly, I forgot how much it cost in HUF, but when I did the currency exchange, I could not believe how affordable it was.) Needless to say, it's well worth the price for two hours. 
TRAVEL TIP: If you can afford the time and energy, you can go for the 3.5 hour ticket entrance.
The boys put on their special color coded wrist bands, received their safety gear, and went through a practice run.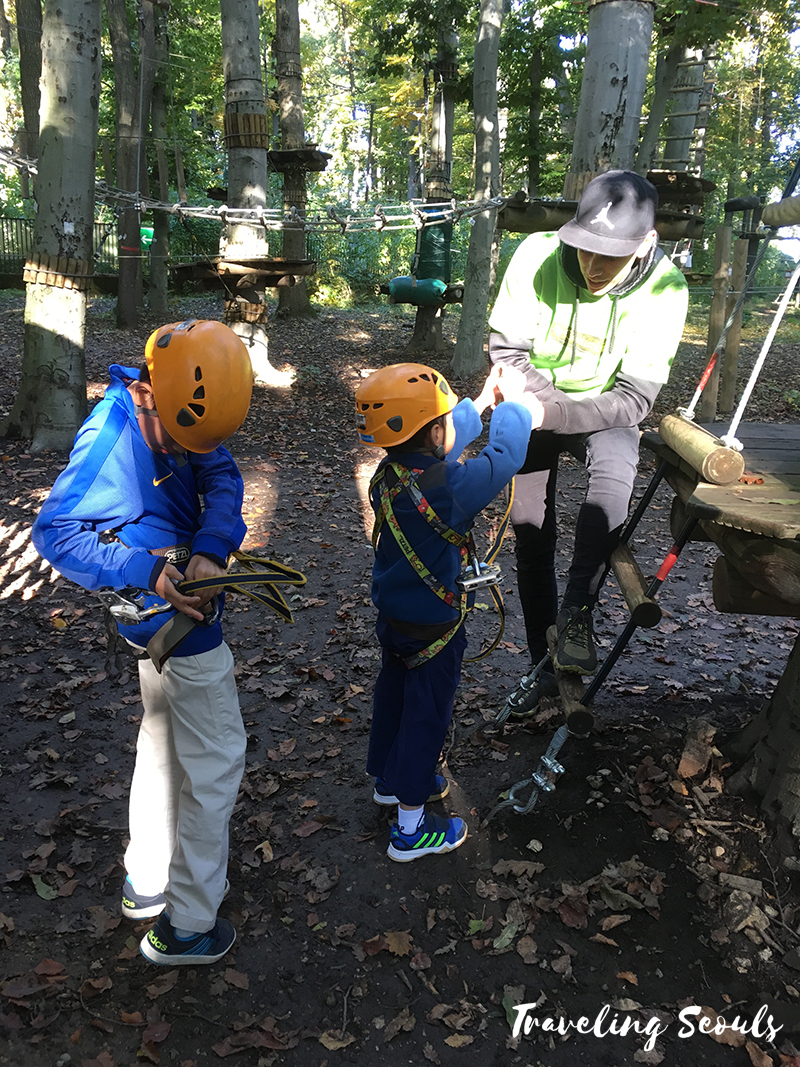 Off they went! Piano Man enjoyed the challenge of the course. And he was great at following the rules from the safety lesson, such as making sure at least one carabiner was attached to the line at all times. Climbers were given two cables and a zipline hook to go down.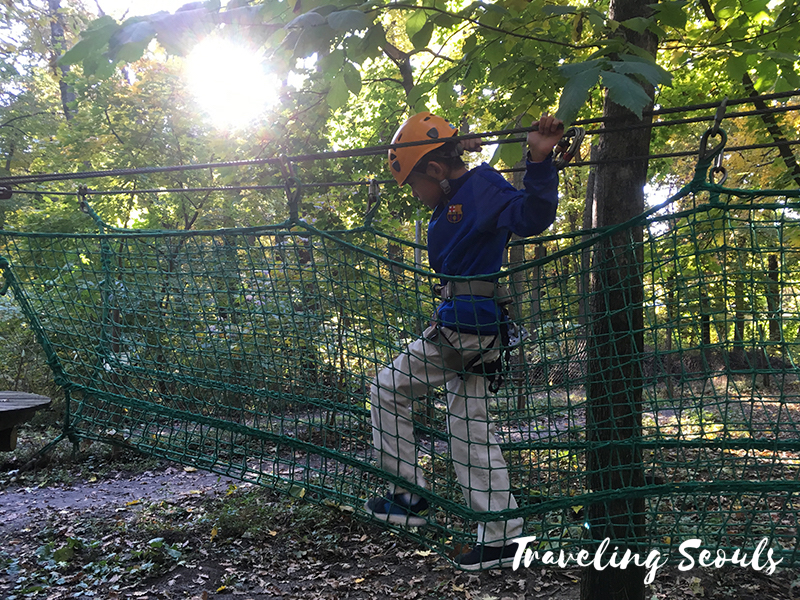 The instructions were easy to understand. Using a visual graphics, you don't need to translate from Hungarian into another language. Using cute pictoral instructions of a bear on each part of the course, climbers knew what was needed to be done to make it through.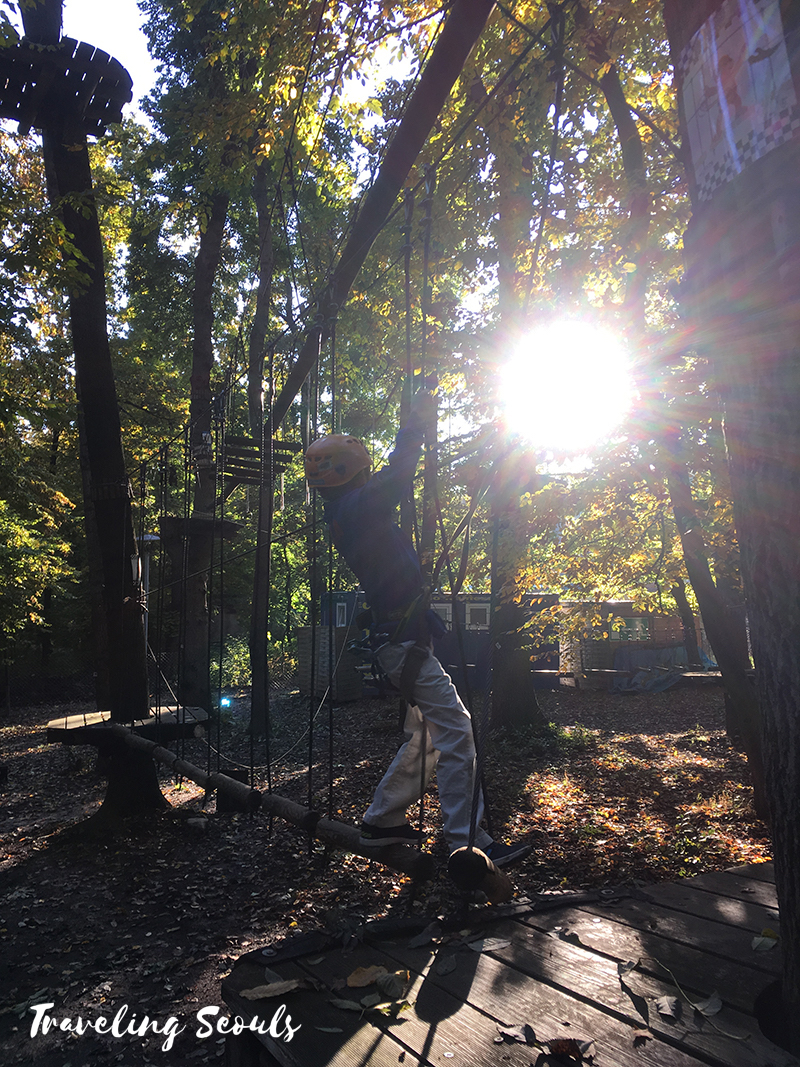 I think the best part about each course was the zipline at the end. That's when you knew you were done with the course.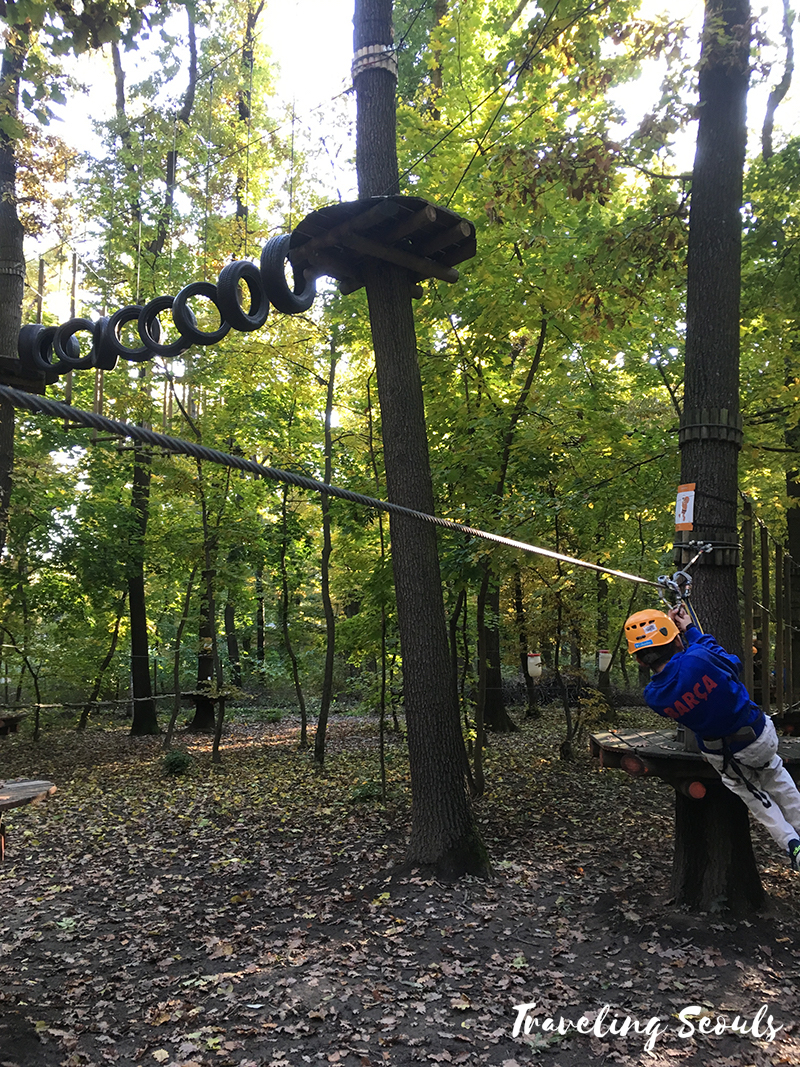 Linus had a turn, and at such a young age, he was able to go through the course with no issue at all. In fact, he was able to keep up with his older brother and at the second 5 feet off the gorund level with no tears or fears.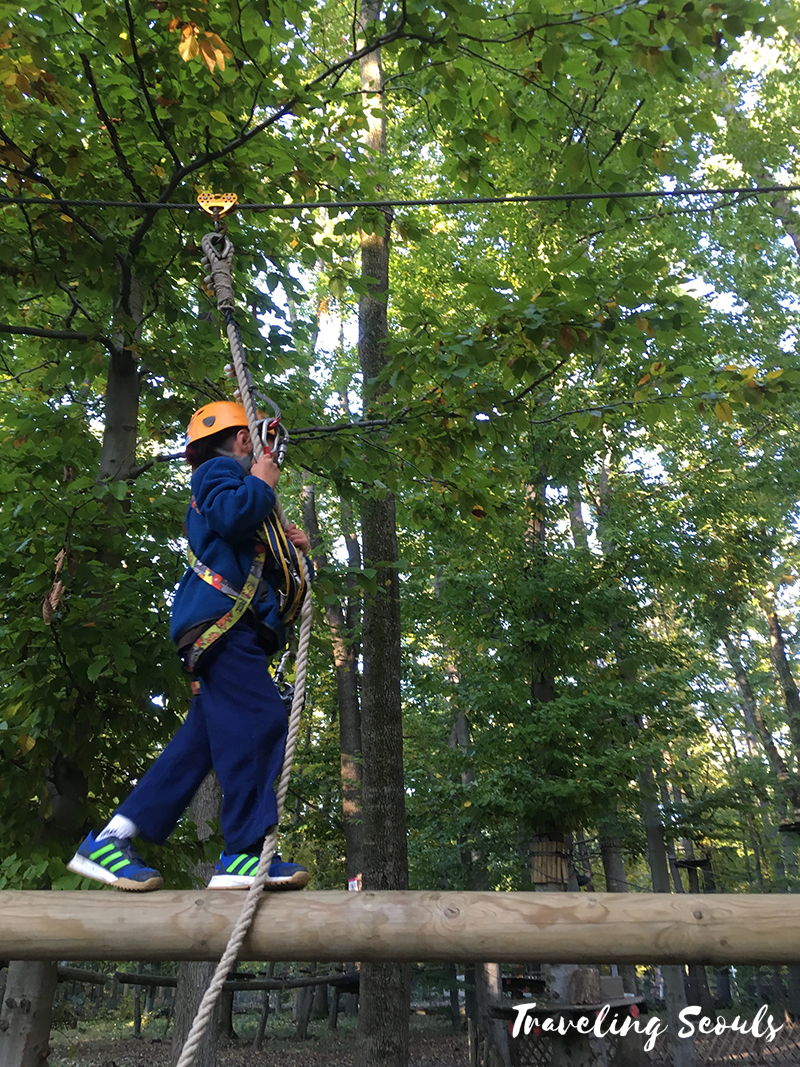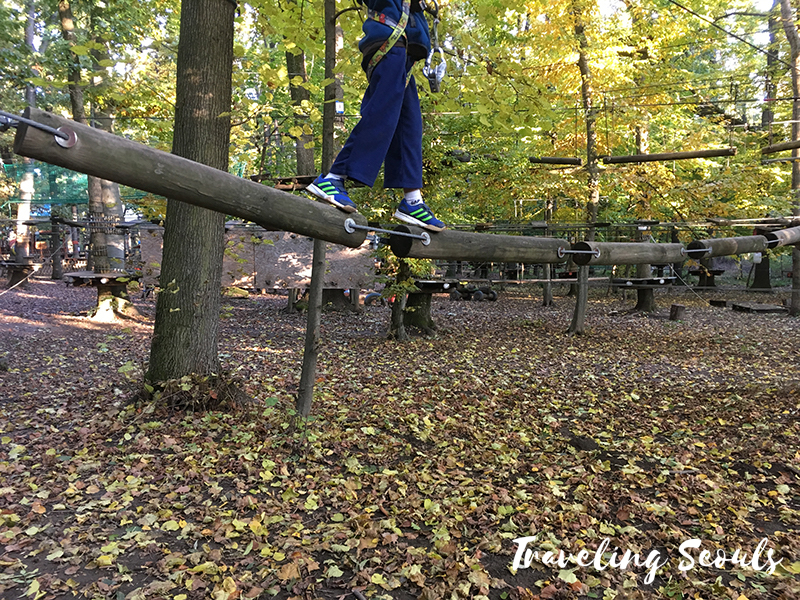 Seriously, this kid had no fear.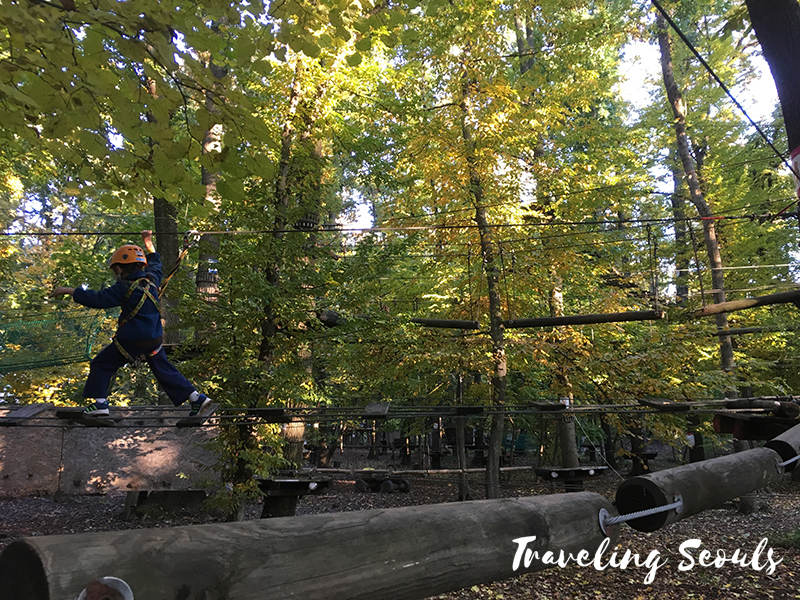 Things to Remember: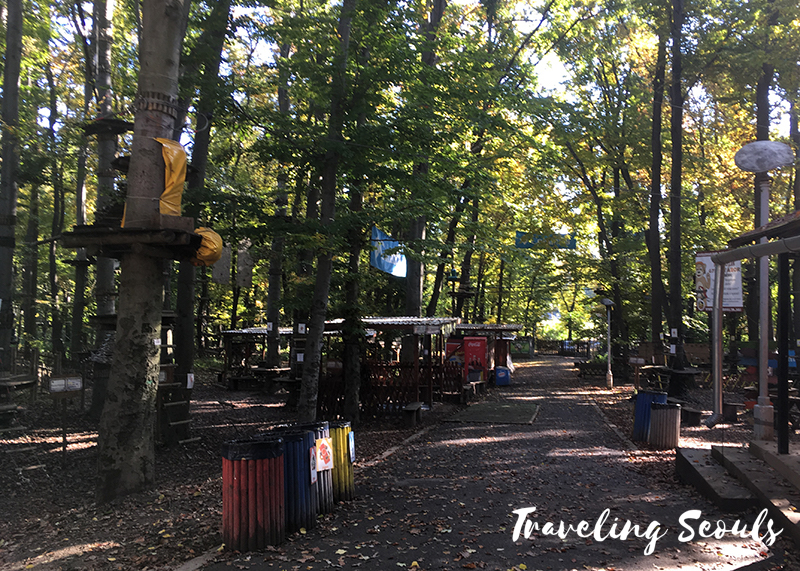 1. Bring you own snacks or pack a lunch. There isnt'a restaurant nearby or much of a cofee/snack shop. It's probably best to bring something before you come.
2. Use the rest room before you put on all that safety gear. 
3. If going in the fall, bring layers and some thin gloves. It was pretty chilly when we got there, and the kids were freezing by the time we left.
4. Adults can go too. In fact, I saw one parent go on the high course, while the other parent stayed with thier younger one on the first level.
5. Two hours is plenty of time to spend your morning or afternoon.
6. You will feel sore the next day or two after. The boys felt a lot of muscle pain the next day. They had not used those muscles before, so it hurt a lot, even when they laughed. But it's great exercise, which makes me think I should go next time.
Pin it for Later: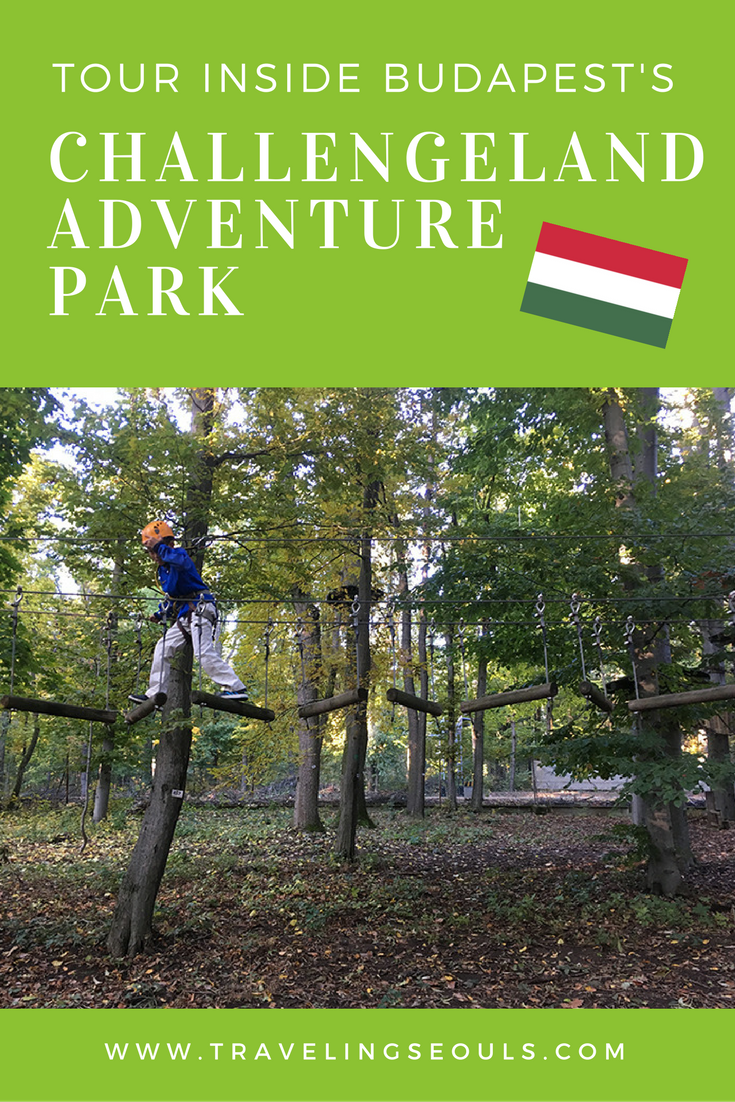 For More Information:
Address: Konkoly-Thege Miklós út 21, Budapest 1121
Hours of Operation: Hours vary. Check the website's mainpage for detailed hours of operation.
Website: http://www.kalandpalya.com
How to Get There: From Szell Kalman ter (red metro line #2), take the blue bus line 22A to Csillebérc.
Related:
Please follow and like via: