This is the season for great experiences. And road trips. On our way from the Midwest to western Massachusetts, we made a stop in Niagara Falls (Ontario, Canada). What is in Niagara Falls besides beautiful waterfalls?
Great Wolf Lodge!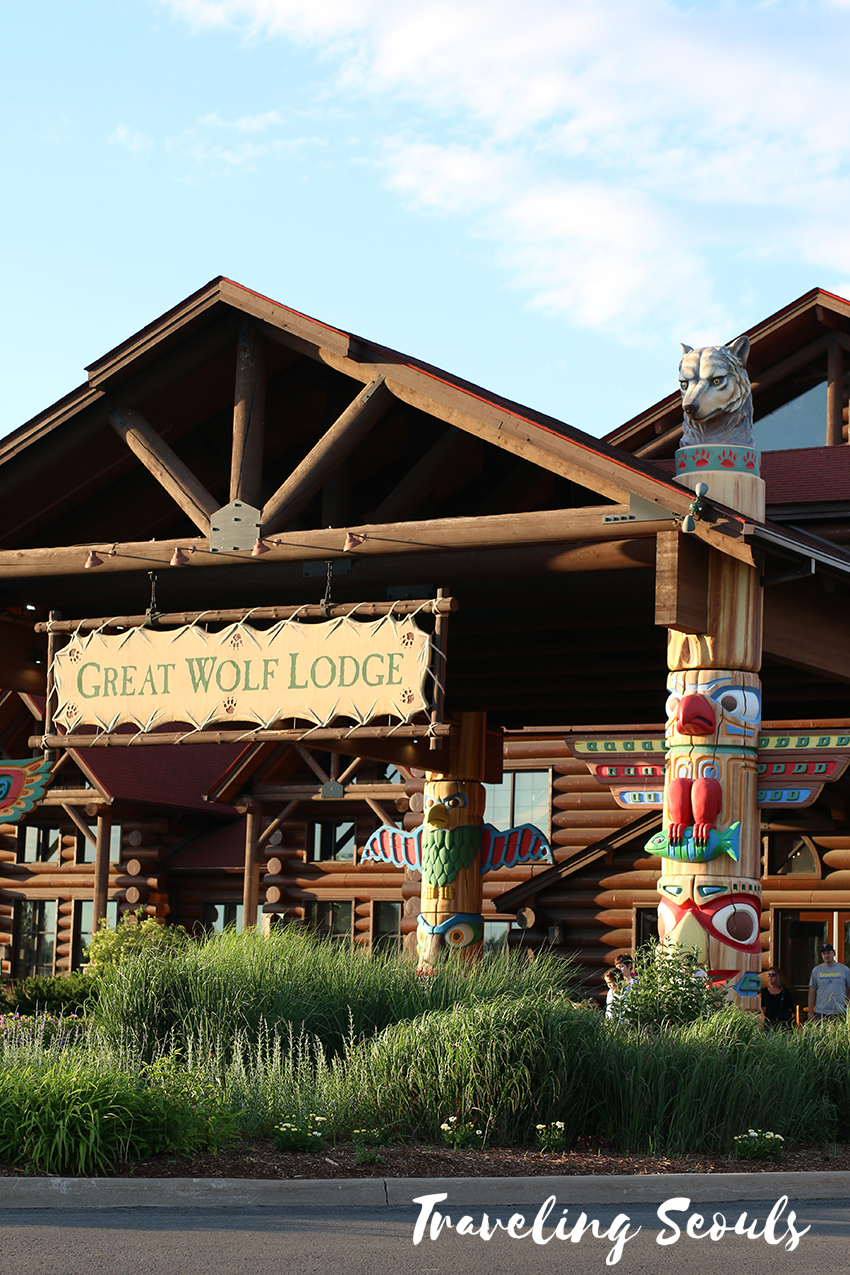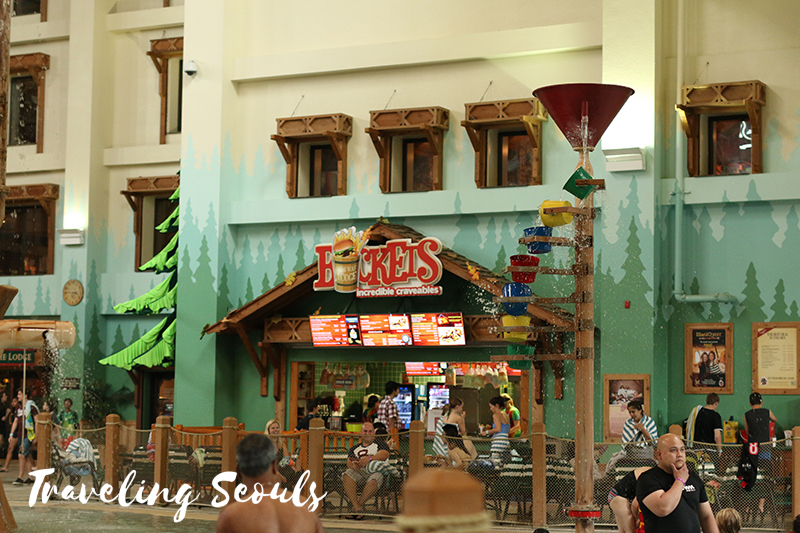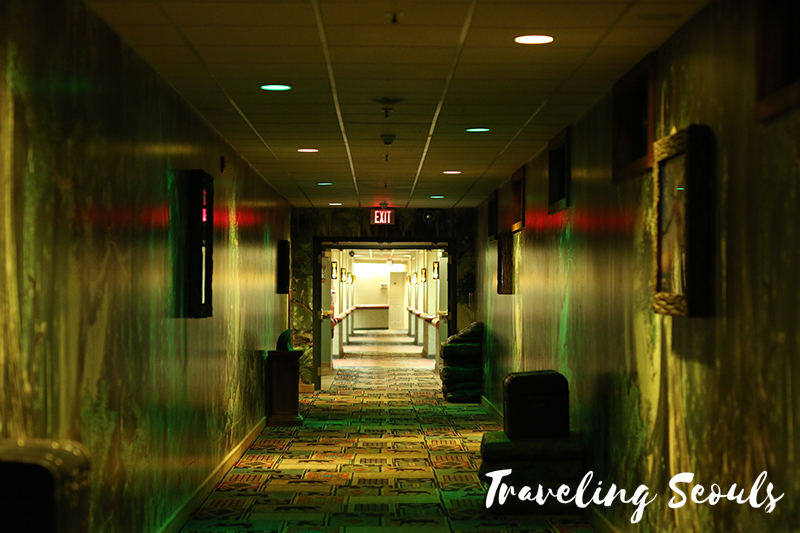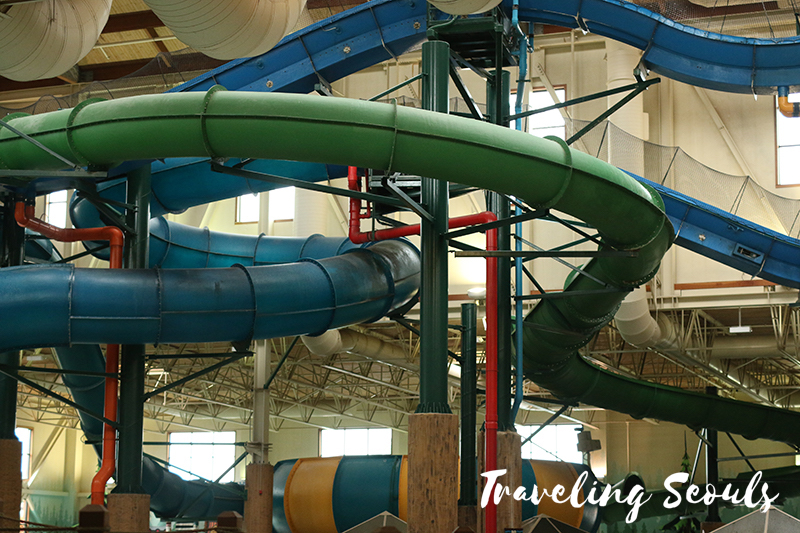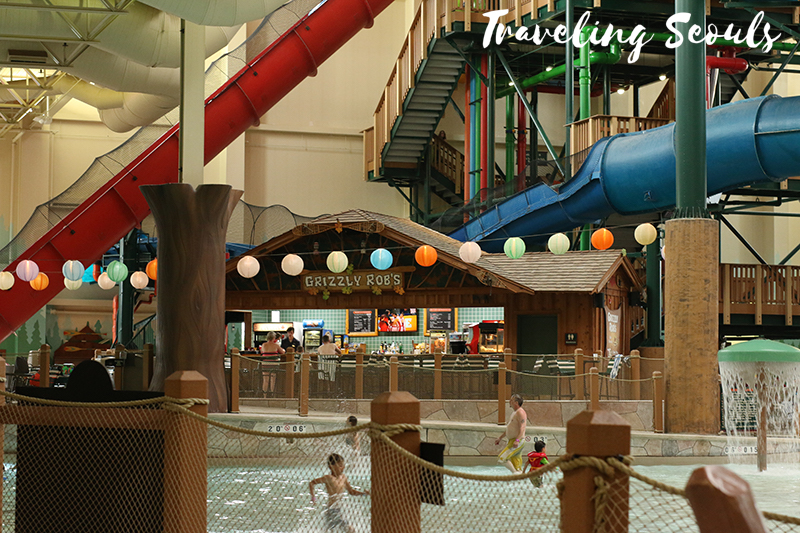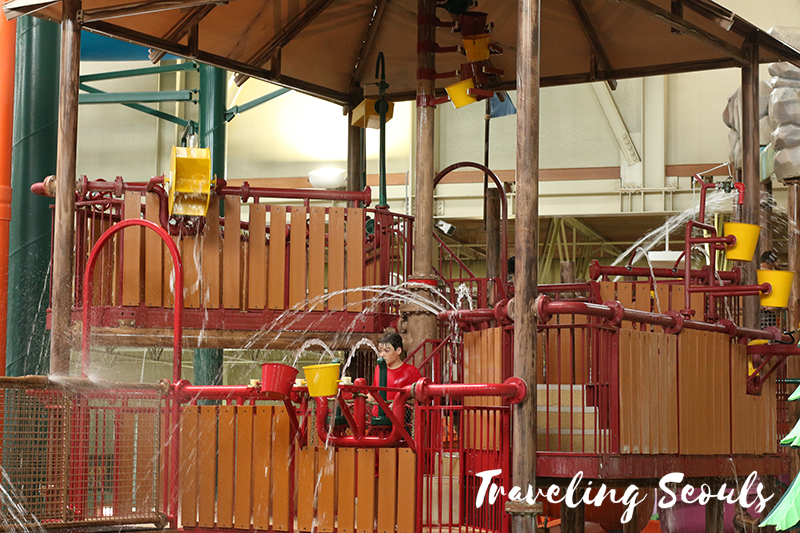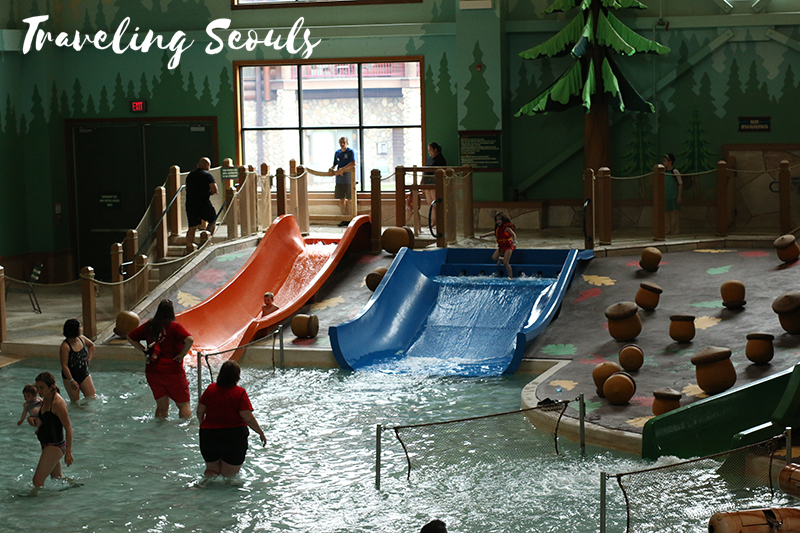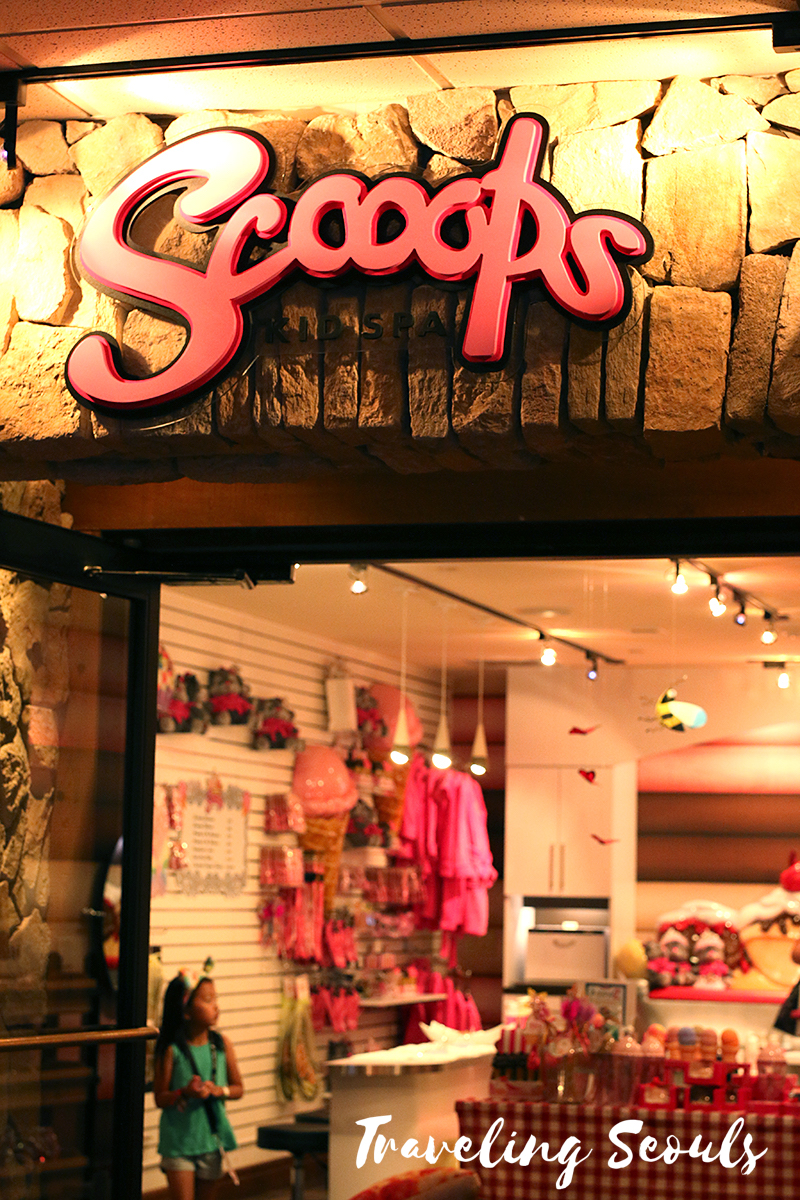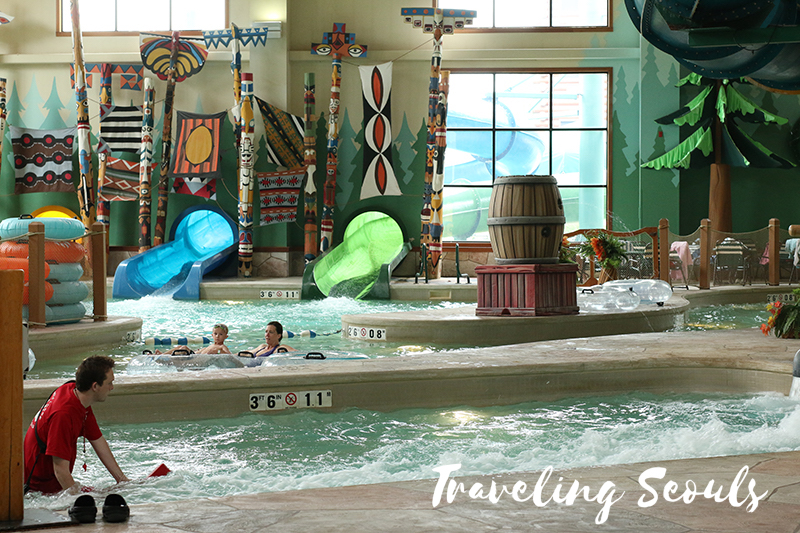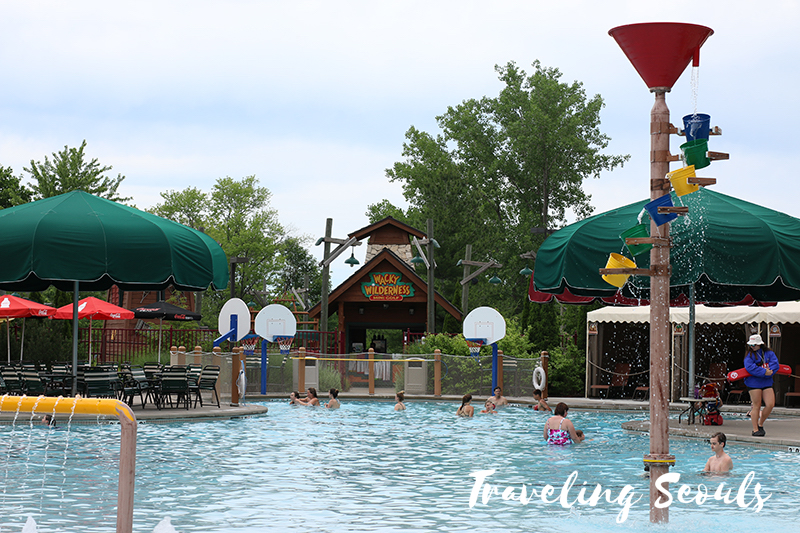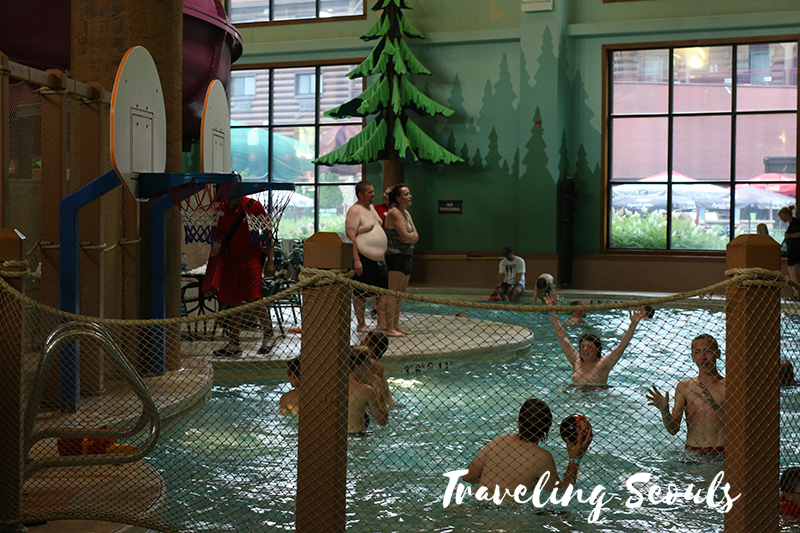 And what better way to make a stopover on a road trip than at Great Wolf Lodge?
Let me just say that I am am not a fan of water. (Yes, I know that Great Wolf Lodge is an indoor waterpark resort.) Water and I are natural frenemies. I can wade in water up to my knees, but when it gets to my waist, that's a bit too much. But I have two very active boys who love splashing in the water. So what do I do? I get over my issues with water and join in the fun.
How was our experience?
We opted for a three-day/two-night stay at the Great Wolf Lodge (GWL) in Niagara Falls, Ontario (Canada). I wasn't sure what expect, since it was the first time I had set foot inside a waterpark, since I was a young girl. Here is my review and opinion of the entire experience at GWL.
Entrance/Check-In:
The entire hotel/water park experience makes you feel like you are getting the full lodge experience. Maroon, hunter green, and brown textiles and wall paper give a strong lodge-like feel. Moving mechanical animals with roaring sounds are straight out of the same Rainforest Cafe restaurant experience.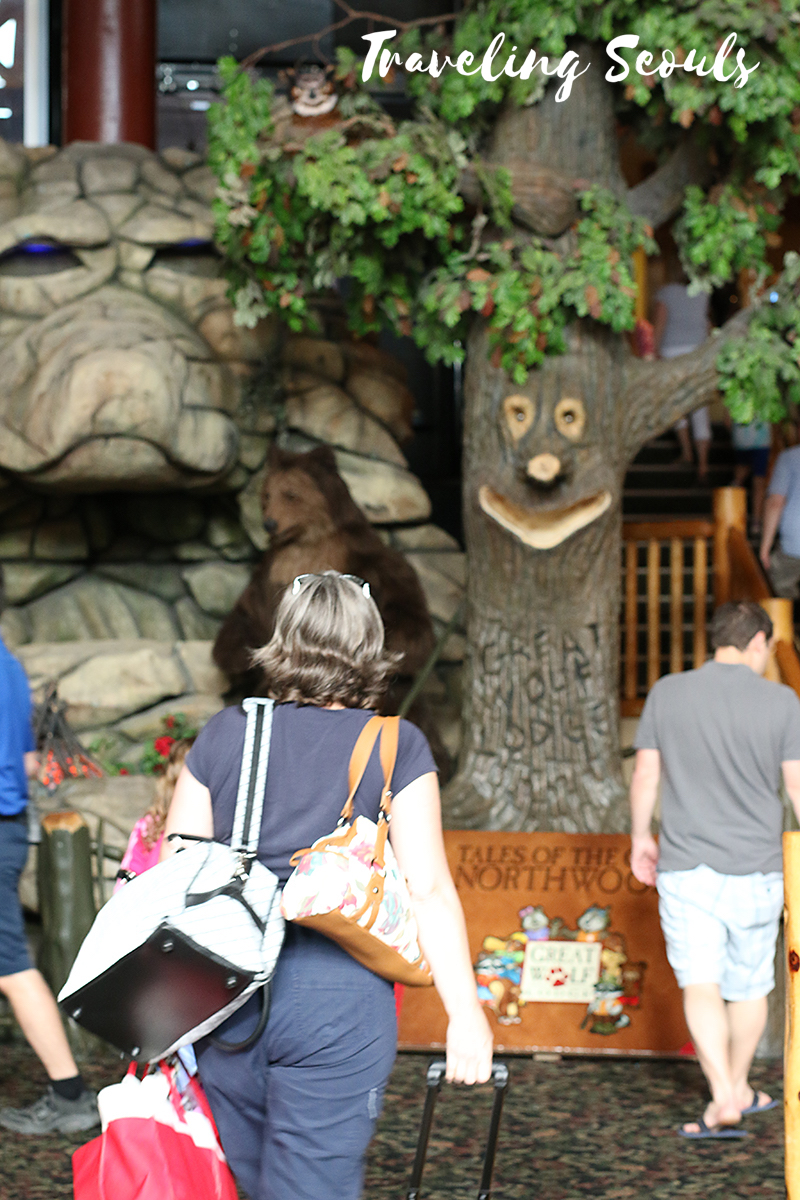 We arrived at 4 pm, right at check-in time. But you can come early at 1 pm to being enjoying all the amenities of the waterpark before check-in. The GWL staff recommend leaving your luggage in the car. Just be sure to pack your swim outfits in a separate bag for quick access.
Also, just to note, The Great Wolf Lodge is only for hotel guests. You cannot pay to enter the water park without staying at the hotel. It's for the safety and security of guests.
Hotel Room:
When deciding on the hotel room style offered by GWL, we couldn't decide between a standard hotel room versus a themed suite with a bed for the parents and cleverly-designed bunk bed room to give you the full experience. The cost differential was substantial compared to a standard double bed room. We were about to get the bunk bed room experience, until we thought about how much time we would actually spend in the hotel room each day. With the hotel room spent mostly for sleeping, we opted for a standard room.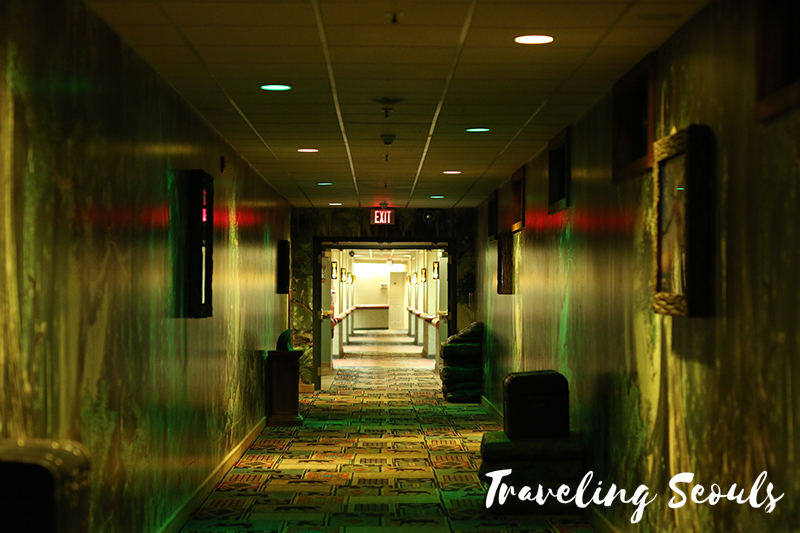 The hotel must have quite busy because we found a few things that could have used some attention, such as replacing a burned out light bulb, a constantly leaking bath faucet, and stray hairs from a previous hotel guests in our hotel beds. But after a long day of swim and sightseeing, who has time to ask for servicing? When I asked about it the next day, the hotel staff were very kind and reassured me that I should have asked them no matter what time it was to have our room serviced.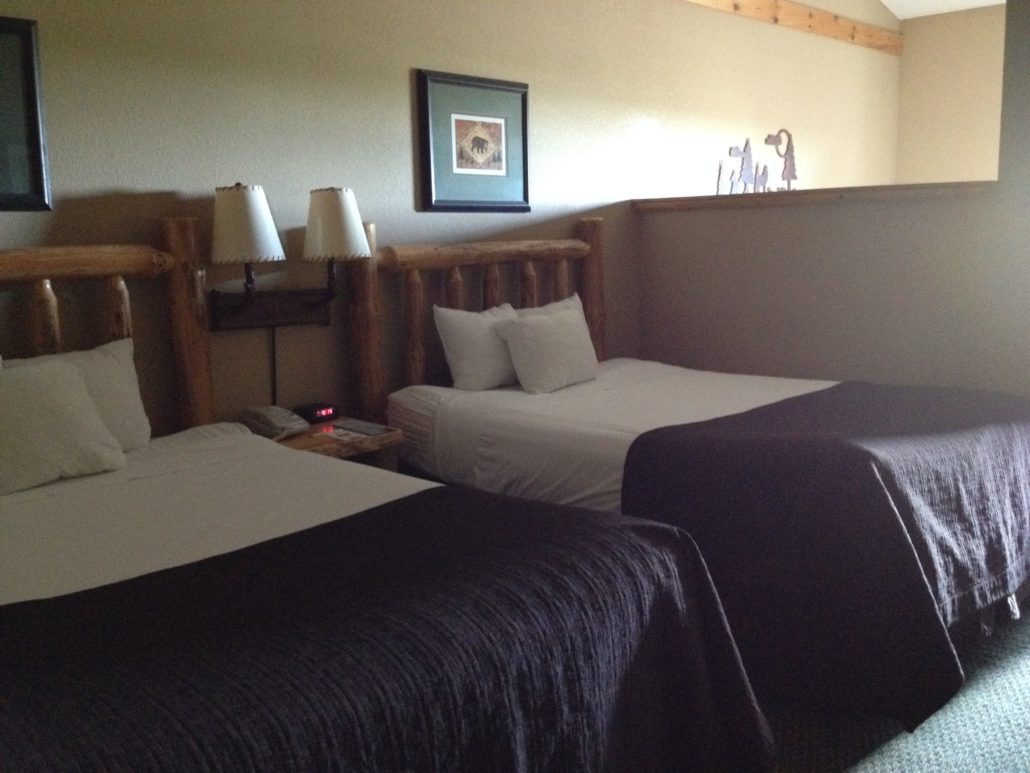 Hotel Amenities:
If you have any doubts about how the room will feel, you find these in each room at the Great Wolf Lodge:
small refrigerator
microwave
coffee and tea
built-in shampoo and conditioner (However, I recommend bringing your own, as this didn't wash out the chlorine.)
free wifi
What are you allowed to bring?
your own food to keep in your hotel room
the usual – clothes, swim clothes, toiletries, etc. to enjoy your stay at GWL
sunblock
electronic devices (because many teens and parents enjoyed watching or listening to something during their stay)
What are you NOT allowed to bring?
towels (GWL will provide towels for you in the waterpark.)
pool/beach/water toys (It's for your safety and for others to keep those at home.)
food (GWL offers several snack bars inside the waterpark and by the outdoor pool.)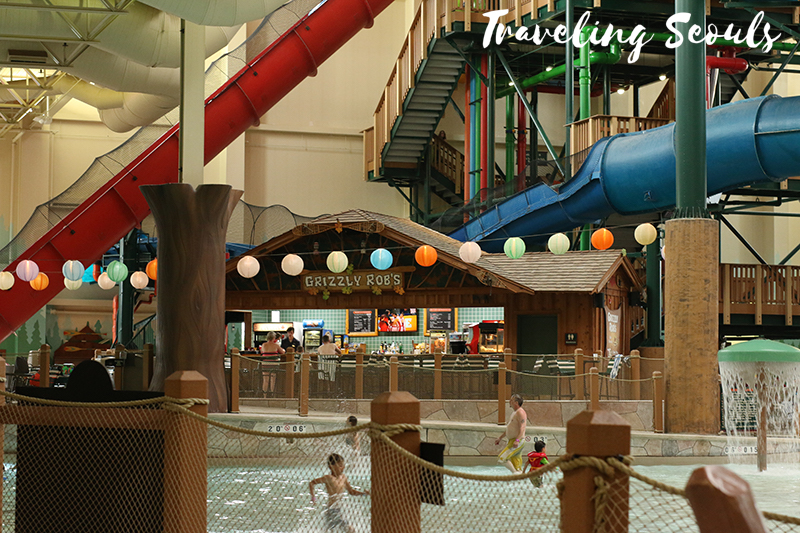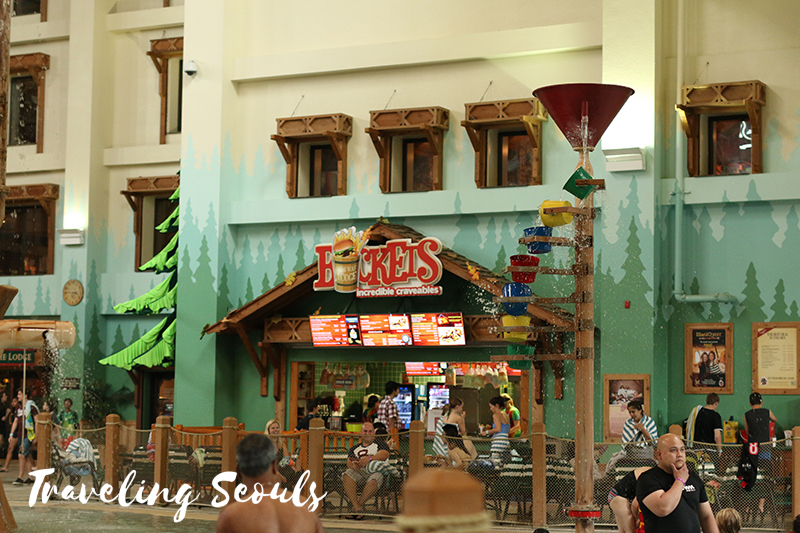 NOTE: Don't worry about bringing your wallet. When you check-in, each hotel guest will receive a wrist bracelet that allows you:
open your hotel room (aka hotel key)
pay for snacks and items at indoor water park
Water Park Experience:
Great Wolf Lodge offers a wide-variety of amenities for everyone, and I mean EVERYONE. They offer a kiddie play area/slide for little ones (infants/toddlers).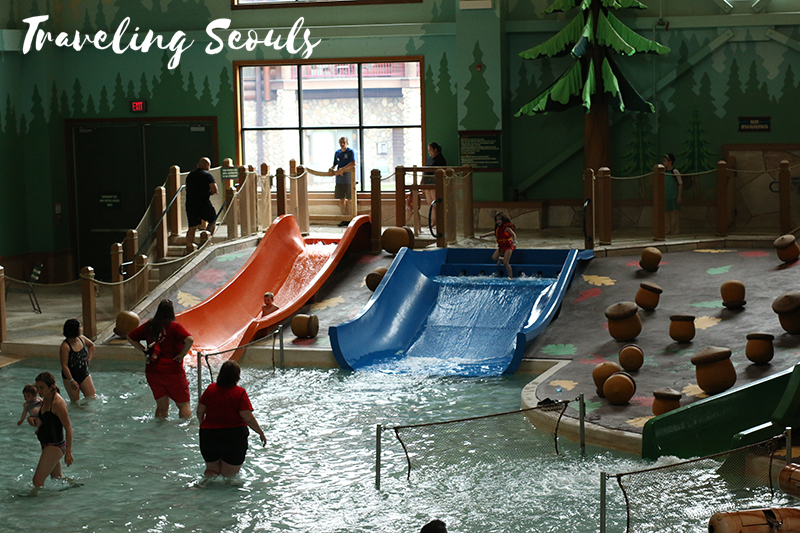 They offer slides for children 42″ (green pass) OR 48″ tall (blue pass).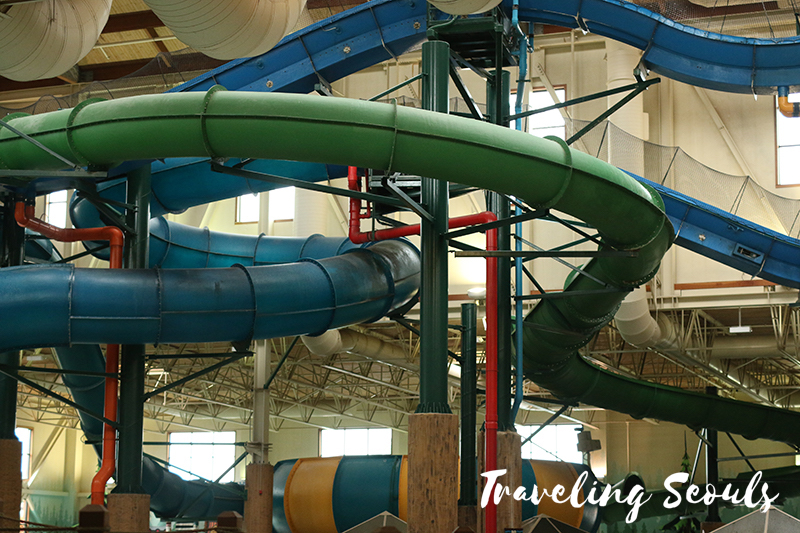 They offer tube slides for 42″ AND 48″ or taller riders.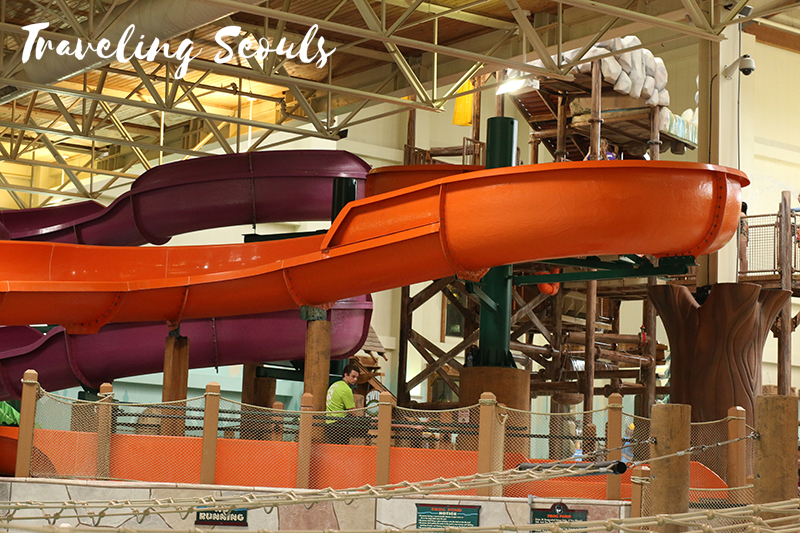 They offer scary rides that zip down at almost at some crazy 80 degree-like angle free fall called the Wolf Tail.
They offer two-to-four-person tube rides.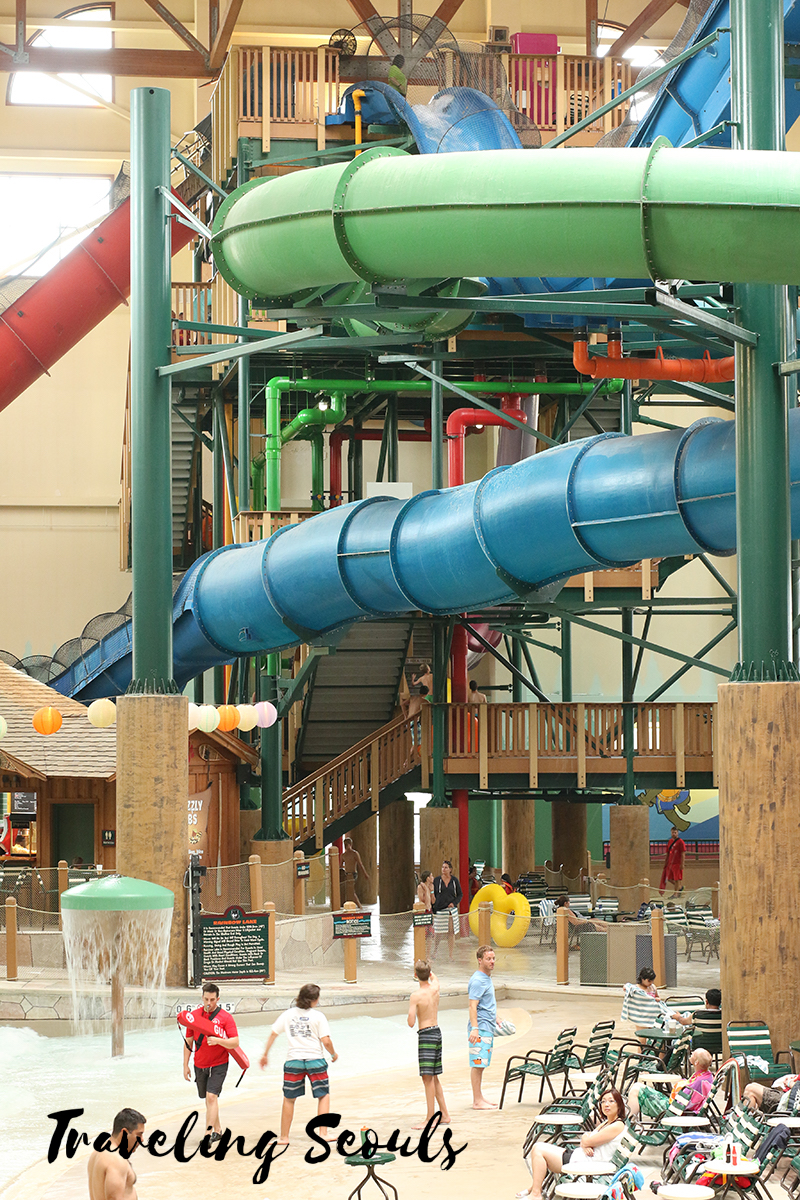 They offer areas for relaxation, such as the basketball hoops areas (indoor and outdoor).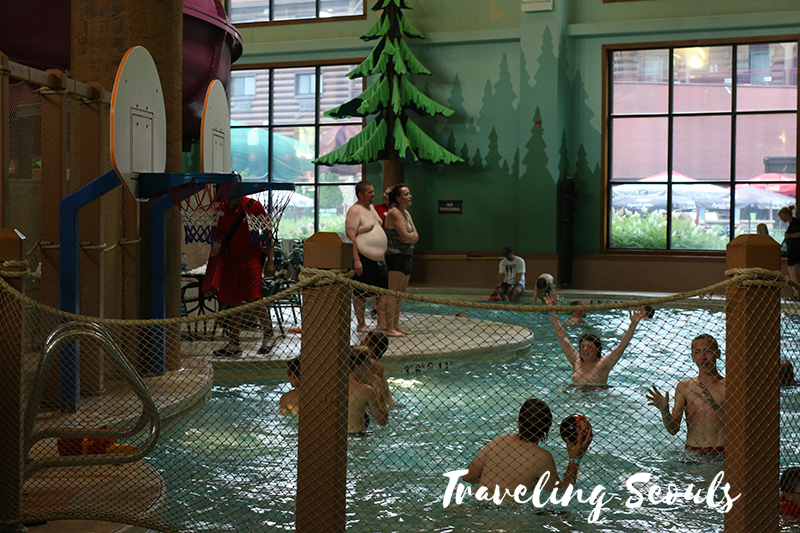 They offer a slow tube ride.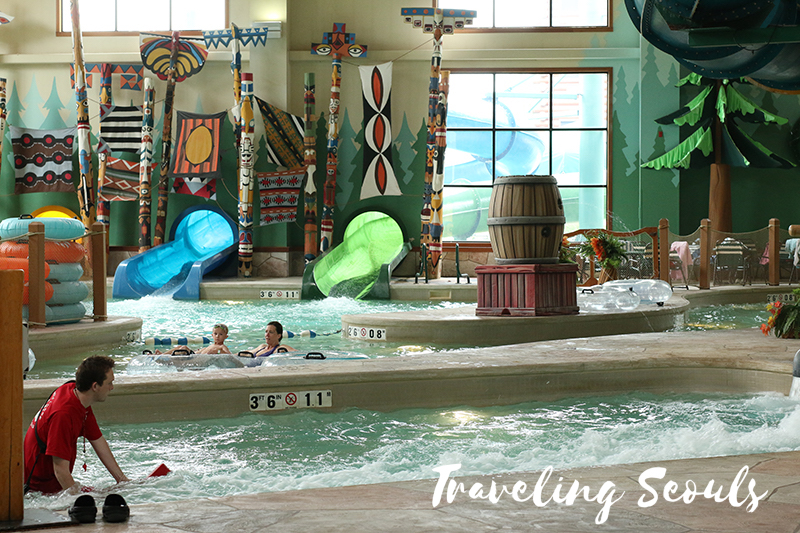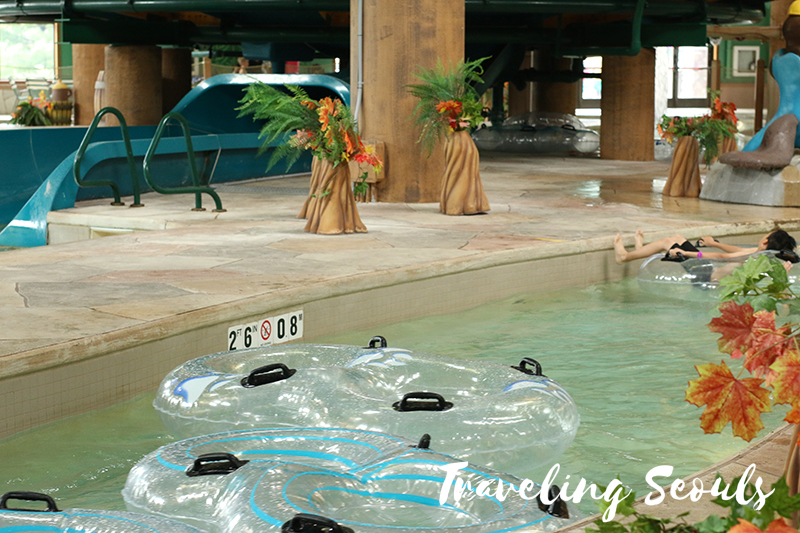 They offer a wave pool.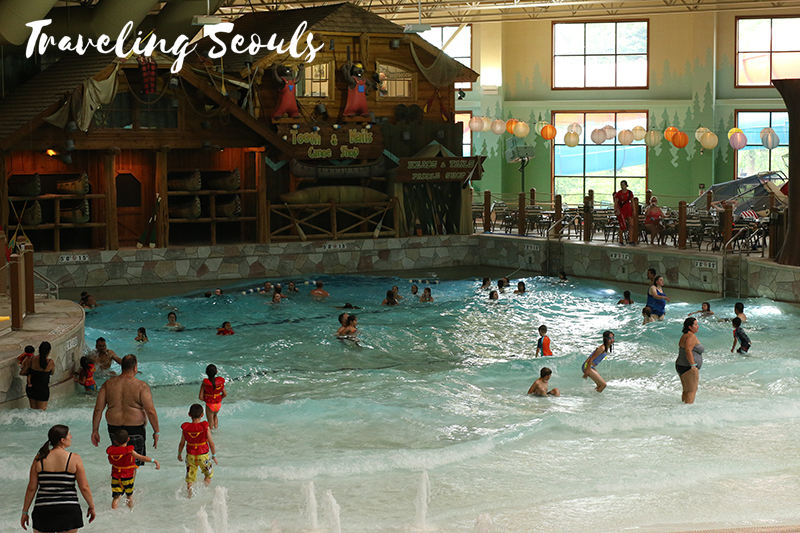 They offer a huge splash pad/playground.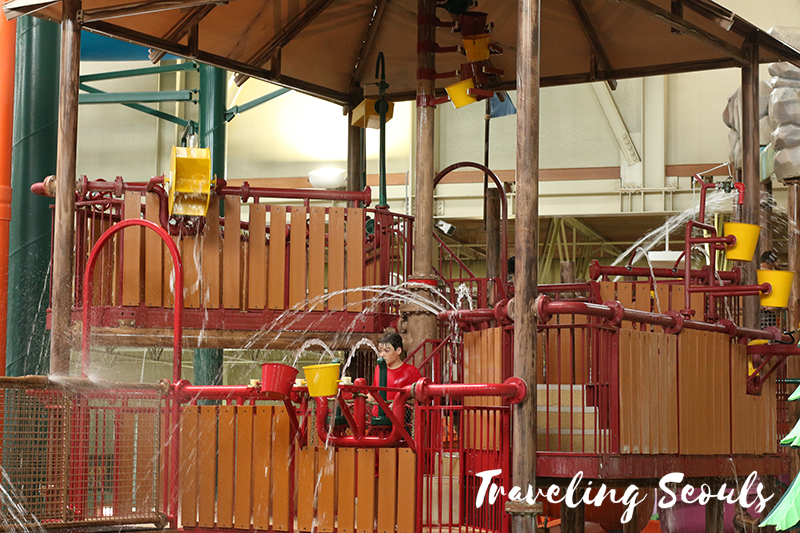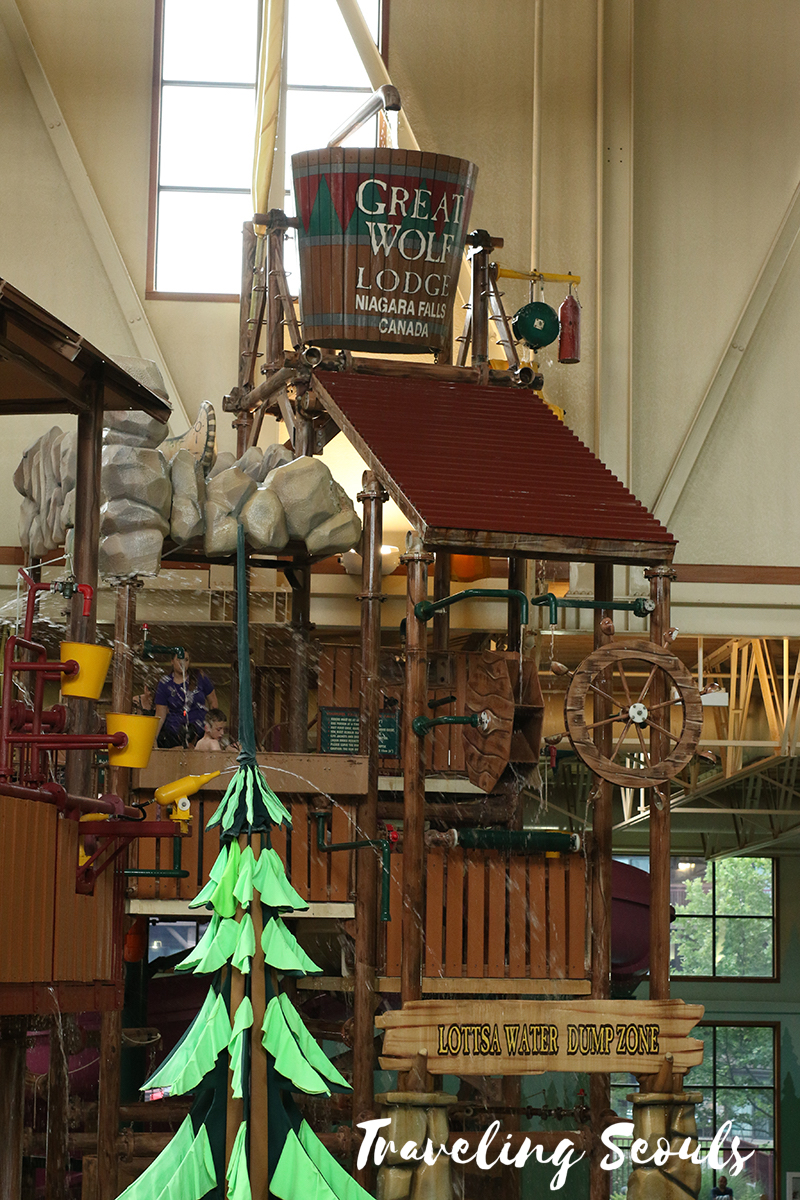 They offer hot tub for families.
They offer hot tubs for adults only.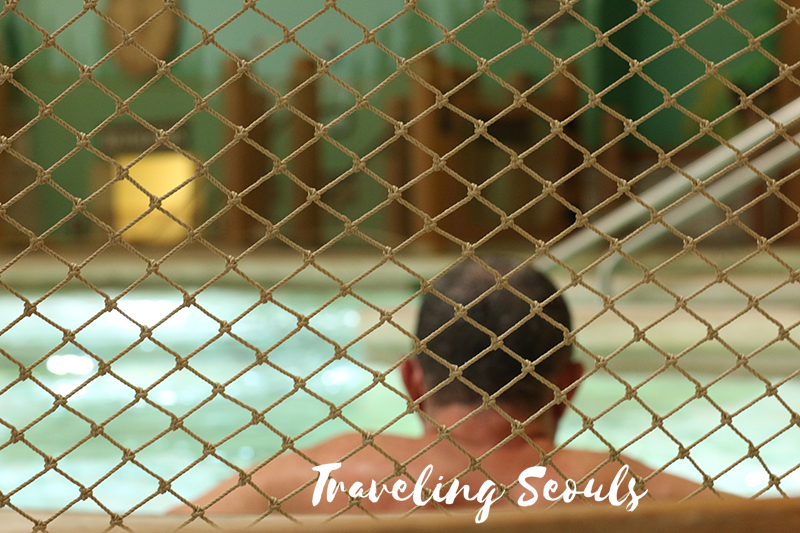 The offer an outdoor pool.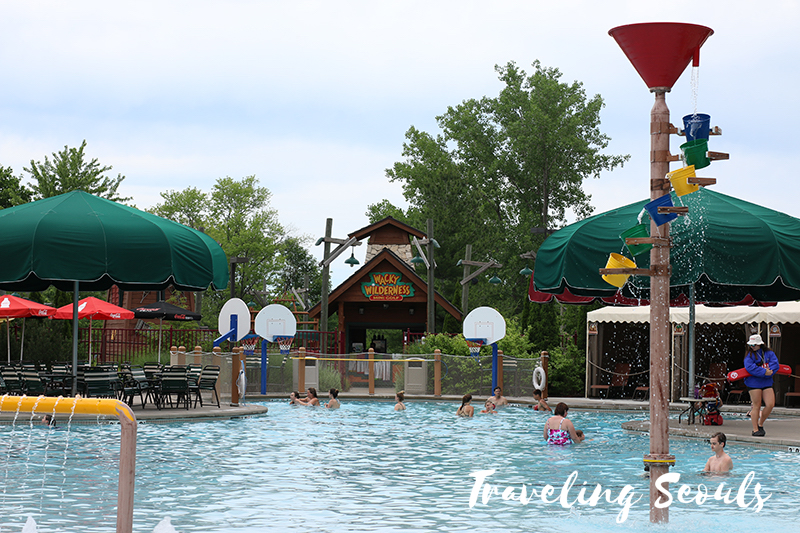 Every imaginable water ride or way to relax by the pool was considered and created for the ultimate water experience at the Great Wolf Lodge. The first day we entered the water park, it felt overwhelming. I wasn't sure where to start, but our boys led us around like they knew the place. On day two, we had a good feel of where we wanted to lay our gear and go play.
Other features at GWL:
Holy guacamole! If you think it's just about the water park, there is much more a hotel guest can do. You can make it a child's birthday party weekend getaway or keep the kids occupied around the hotel with these programs:
Scooops Kids Spa
You can throw a little spa party for young guests. See the website for more details.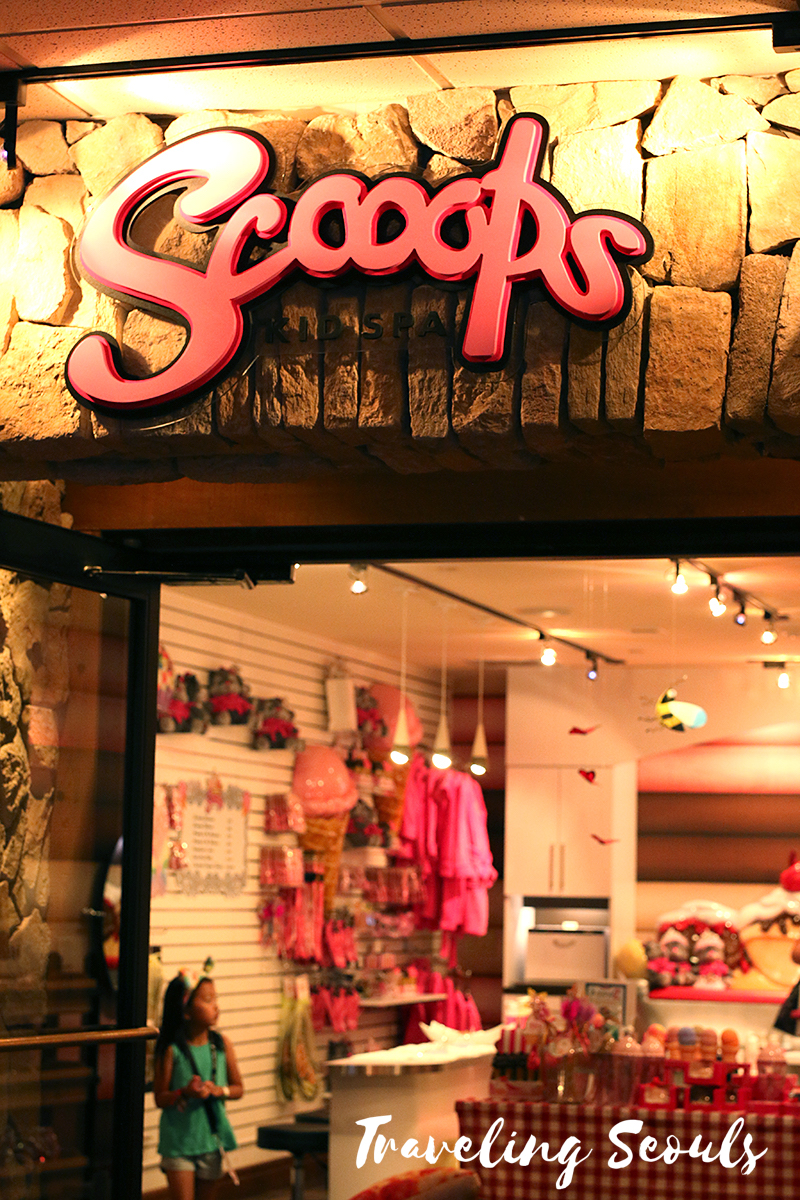 Room Service
You can order room service catered to your young hungry hotel guests, such as pizza.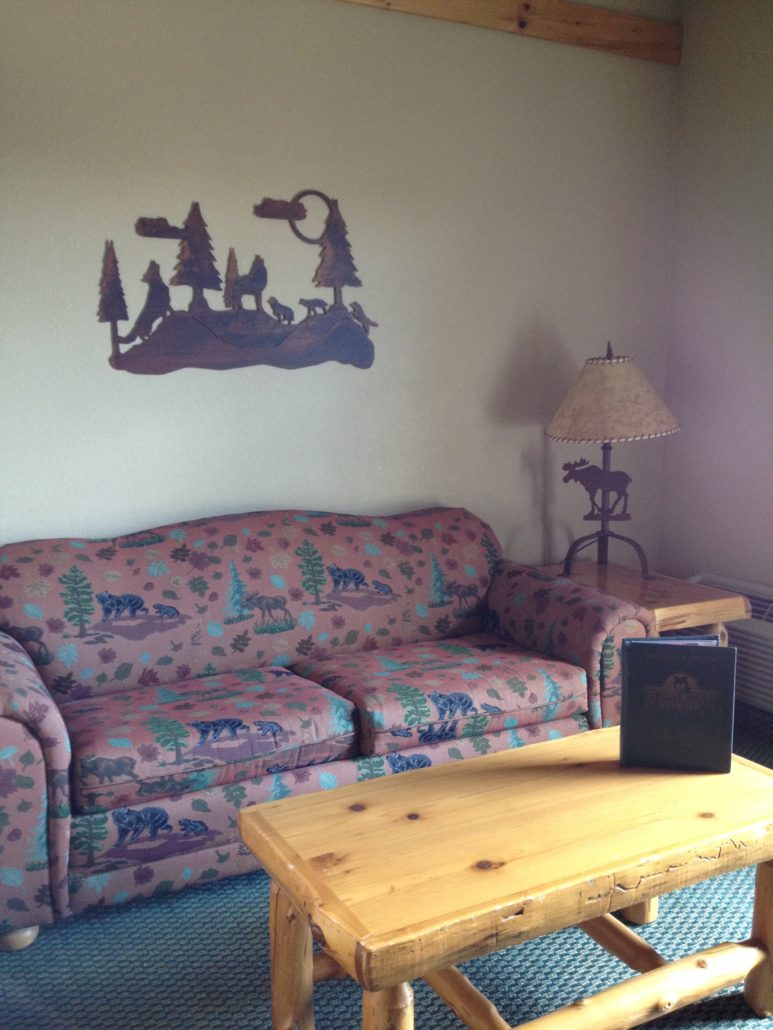 PJ Party Time
When kids were done with water play for the day, they can come down stairs in their pjs and dance the night away. There is one for little ones to dance to pop tunes.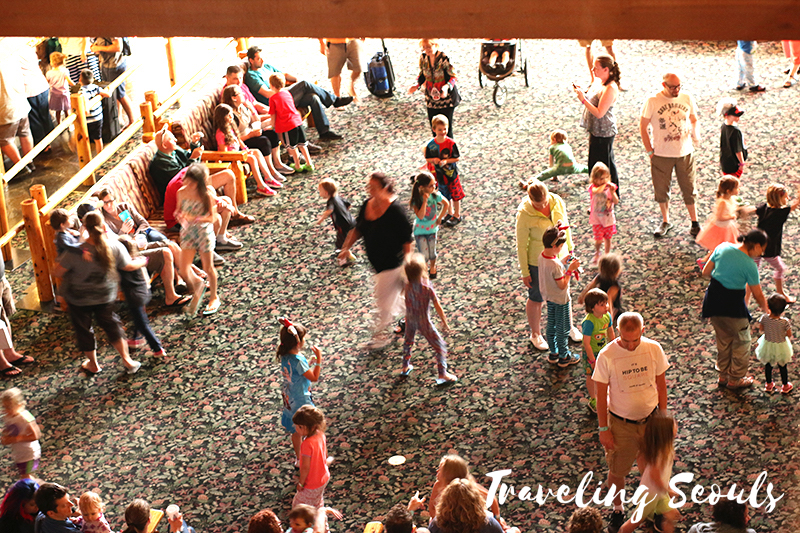 Then there is one area for older guests (teens and pre-teens) to dance with a DJ-led party by the outdoor pool area. (There's going to be a party at this location later.)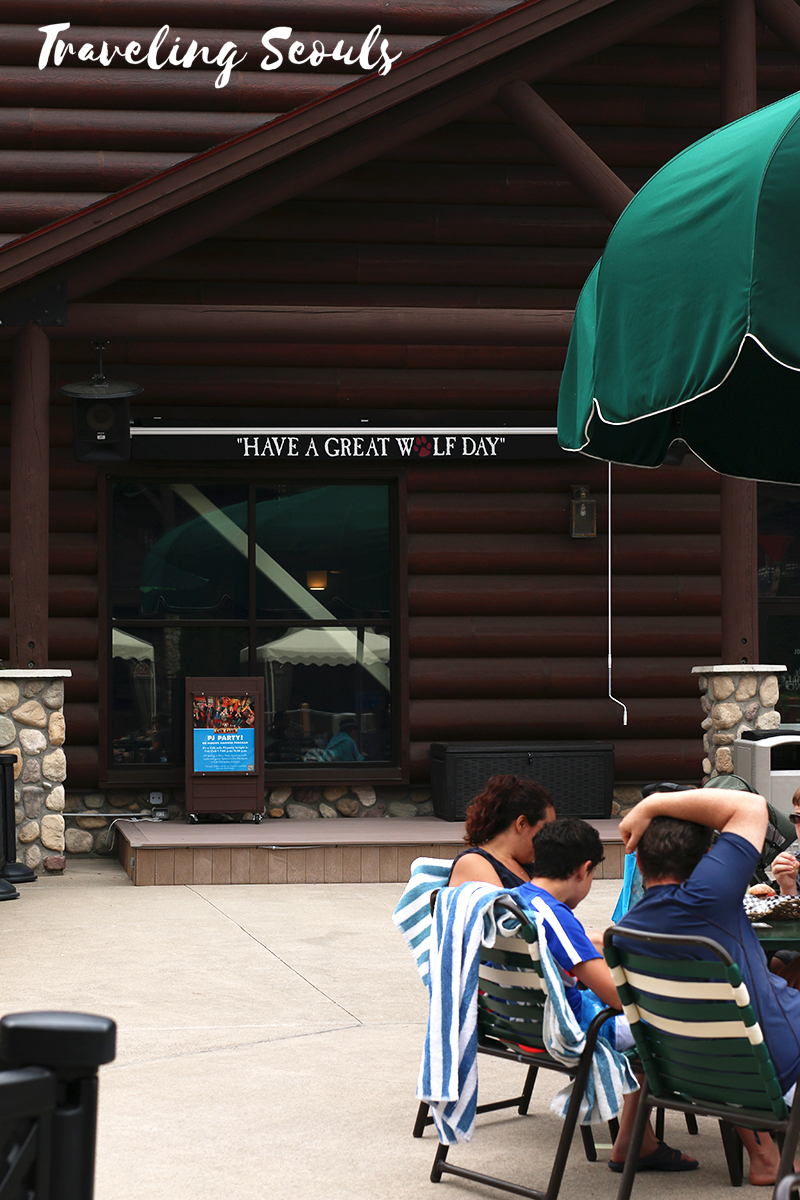 Story Time
It's nice that the lodge offers story time for little guests to get away from the pool or start off with a relaxing story at the front entrance of the lodge.
MagiQuest
We didn't do this since we wanted to spend time sightseeing Niagara Falls. But many little hotel guests enjoyed waving their wands and hearing what they needed to do next. It looked like a mini video game that hotel guests could play around the hotel resort.

Northern Lights Arcade Center
Also, I didn't see many people in the arcade, but it's available if you want a break from the water rides.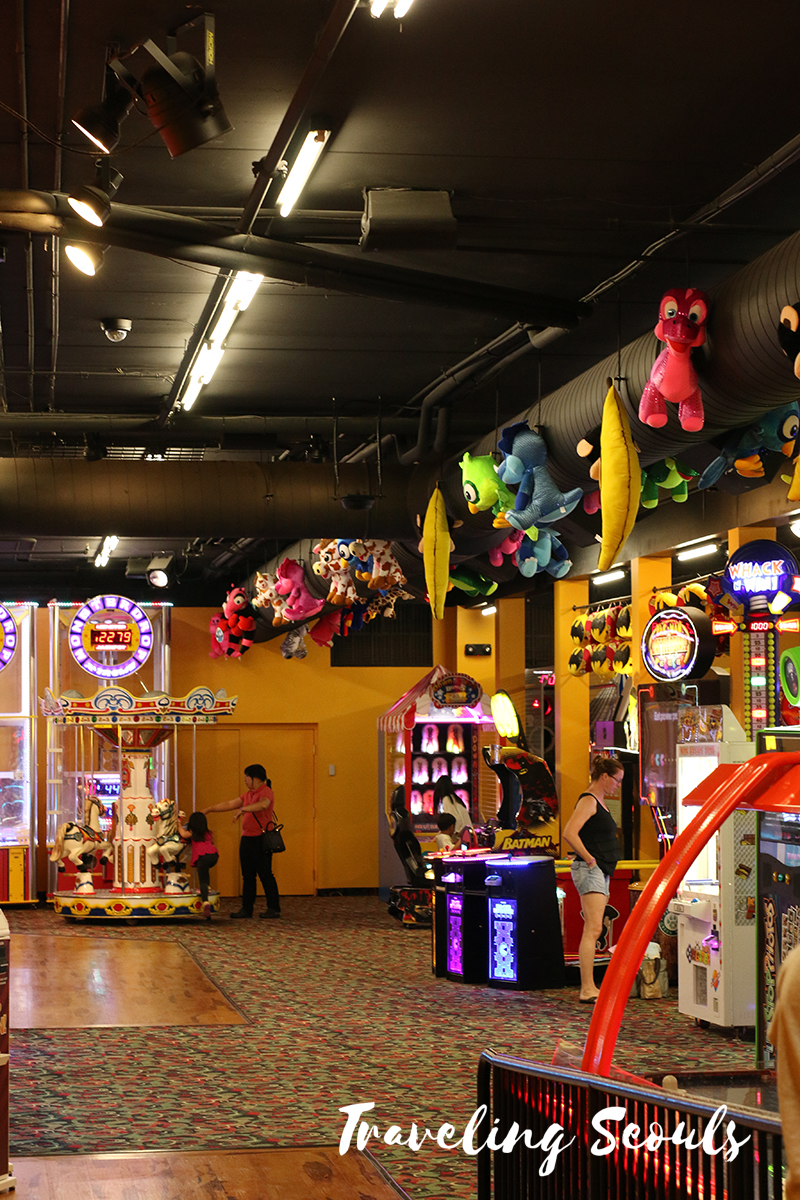 Wacky Wilderness Mini Golf
Located behind the outdoor pool, you can pay this extra amenity and play some mini golf.
Overall Experience:
I have to say, our visit to the Great Wolf Lodge was a huge summer hit! When we asked our boys what their favorite part about our road trip was, they said visiting aunty and uncle and Great Wolf Lodge!
While I have to admit that I am still not a huge fan of water, it wasn't all that bad. The best part of this experience was seeing their happy grinning faces. And I think that's why families go to the Great Wolf Lodge. It's a great place for families.
Have you visited the Great Wolf Lodge? What was your experience like? Have questions about GWL? Ask away, and let's start a conversation!
Related:
  
Disclosure: This website may be compensated for linking to other sites or for sales of products we link to.


Please follow and like via: