We did it. We moved! We sold our first house. We downsized from a four-bedroom home to a two-bedroom apartment. And we sold a ton of stuff to maximize a return on our stuff. How did we do it?
Not thought Craigslist. Well, not only through Craigslist.
Our realtor mentioned Facebook. If you do a search on Facebook, You will find a whole host of group pages to sell your stuff on Facebook.
But then I had questions – lots of questions, such as "Which sites worked best and for what items?" "How do you know how to price items that will sell?" "When is the best time to sell?"
This post is for you if you are a seller. These are my tips on how we sold over 50+ big and small items in less than 3 months. This post may be for you if you are the buyer too, giving you insight into the mind of one seller.
Places to Sell Your Stuff Online
1. Facebook Group Pages (NOTE: It's a Long Read)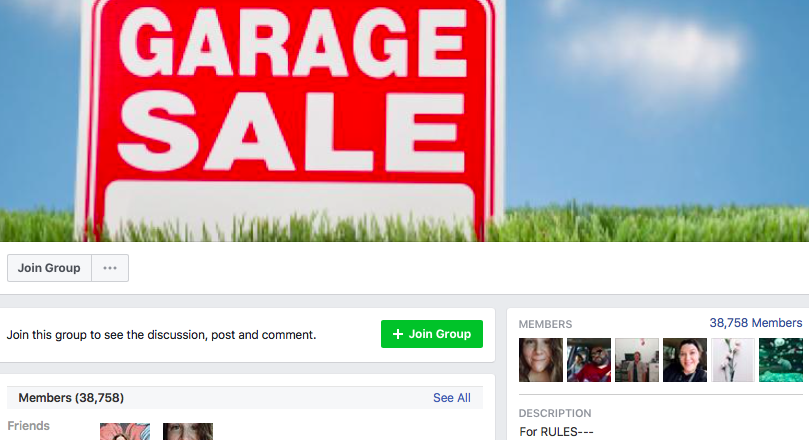 Facebook is my #1 site to sell stuff. Thanks to my realtor, she pointed me to three different Facebook (FB) groups to sell our stuff. Two of the groups were close and in my area, while the other one was a much larger (over 35,000+) user group. (I could write a whole post focused on selling FB alone…
When to Sell: 1) First thing in the AM. 2) During spring time or fall time. 3) Holidays are the worst time to sell.
It's strange, but much like the rule of social media sharing as a blogger, the same rules apply. People (30 to 50 year olds) check their FB news feed when they wake up; thus, you will get the most responses first thing in the AM. Post at 8 pm, and you will get a trickle of people.
What do you mean by spring time? Before school is out and before garage sale season starts, you will have the best chances of selling your item at a higher price.
Here's what I noticed: I was selling like hot cakes before people posted they were hosting garage sales because I didn't have much competition. (Yes, you can post that you are having a garage sale or moving sale on some of those FB group pages.) Once garage sale season starts, people will hop to those garage sales for some of the same items. I still found buyers who were willing to pay for my item but my pool of buyers became smaller.
If you are in Michigan, you know that lake season also begins after kids are out of school. Families like to spend time on Lake Michigan, which means that buyers are not looking on FB. I noticed a major slow down on Father's Day weekend, then again on July 4th weekend. Then back-to-school sales started soon after that. So if you can get your stuff and photos ready in the spring, then I would recommend selling before that.
I've heard that another good time to sell is during the fall season after kids have started classes, but nothing beats spring time.
What to Sell: Anything. Almost anything.
FB is a crazy market. You never know what people are looking for. Name brand clothing in the right FB group page will sell well. I watched women selling used LuLaRoe clothing with success. Vintage items took a bit longer, and camera equipment took awhile too. But if you post furniture or household items like kitchen gadgets and lamps at the right price, then you will have success.
How to Sell: Because people are looking for certain items, it is best to be specific. For example, don't just say couch for sale. List the manufacturer, dimensions, condition of the item (excellent or good), note if there are broken sections or scratches. Don't forget to add photos from several different angles.
Know your market. Check the prices of what others are selling, if it's the same item. But remember, just because others have the same item for $50, it doesn't always mean you have to sell it for the same exact price. It depends on the condition of the item.
Good Rule of Thumb: The more specific you are about what you are selling, the better.
If you are planning to cross post, here are some additional details (or acronyms) to help you successfully sell on on FB Groups:
POOS – posted on other sites
EUC/GUC – excellent used condition, good used condition
PM (private message) if interested
I like the last one – PM if interested – because if you cross post on other sites, it's hard to figure out who to contact first. If they PM you, then you will have an ordered list of who was the first person to contact you.
Here's something I learned about FB group pages: Each FB group has its own set of rules. One group may say, first come first serve. Another group might say you have to go down the list of interested buyers starting with the first person before you get to the second interested buyer. A third group might say it's only for those who live in your neighborhood. Or it might have no rules. Read the description of the group page before you decide to join.
I learned the hard way since I didn't really pay attention to the difference between three of the groups I joined. I assumed that they were the same. One buyer was so upset that she was the first person to respond on one of my posts, but there were others who responded via PM first.
I noticed that there were sketchy sellers, who would scam local buyers when selling an iPhone or some other electronic device. Buyers beware. Check out the item before you buy.
Some buyers will haggle you for a lower price. Some may low ball you for 10% to 50% of what you are asking. But if you priced it well, you will have a good list of buyers to contact. For example, I priced a 6 box storage set from IKEA for $10.I had just started out selling, so I didn't research the item. I posted in the AM, and within an hour, I had over 10 buyers. But I was going down one by one until there was one who could pick up that weekend. It got so out of hand (25 people contacted me), that I had to mark the item as sold on FB, so that interested buyers would stop messaging me. This was a lesson on underpricing your item.
Remember when I said that I joined a FB group with over 35,000 members? That can be an overwhelming group to sell. A few people will haggle and message you an offer for 10% to 50% of your asking price. Some members will come from different cities, say over an hour drive, which can make it difficult to sell if you have to wait for them to respond and come pick up an item. I prefer the smaller FB group pages where your friends and neighbors have joined. The smaller FB group pages over 3,000+ to 5000 members were less stressful and closer to my neighborhood.
2. Craigslist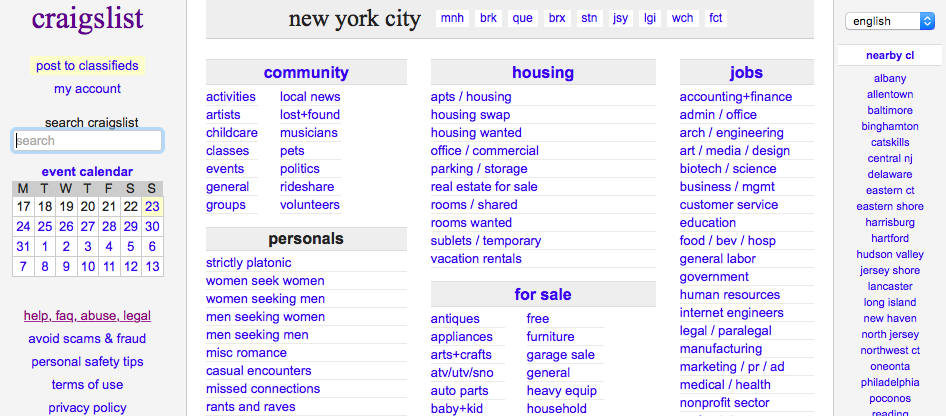 Don't knock out Craigslist…yet. Yes, it's outdated in some ways as buyers have to use email to communicate to sellers. There are people who are no-shows, and you will find some people who will haggle you on price via email or in person.
Craigslist is much slower than Facebook. It could be days before you hear from someone via Craigslist.
When to Sell: Anytime.
When people were avid users of email, it meant that there was a good time when people were looking, such as Thursday AM before the weekend started. But because you have a much smaller market to work with, you may find that anytime works best for you. Personally, it's still good to post closer to mid or end of the week, as most people will want to come on the weekends or after work hours.
What to Sell: Big ticket items and small ticket items.
I wasn't successful in selling our fertilizer spreader on FB because too many people were selling their fertilizer spreaders on FB Marketplace. So I lowered the price and cross posted on Craigslist, leaving the item on FB as well – seeing which site would help me sell first. In the end, I met the buyer at a local parking lot and sold the fertilizer spreader.
How to Sell: Because people are looking for certain items, it is best to be specific. For example, don't just say couch for sale. List the manufacturer, dimensions, condition of the item (excellent or good), make a remark if there are broken sections or scratches. Don't forget to add photos from several different angles.
I will say that giving away free stuff on Craigslist is the best way to clear out your stuff. But you can give away free stuff on NextDoor (they have a section for free stuff) and on FB as well. We had a college student who wanted our old three-seater couch, and we were able to email, then text after sharing our phone numbers to set up a pickup time.
3. NextDoor App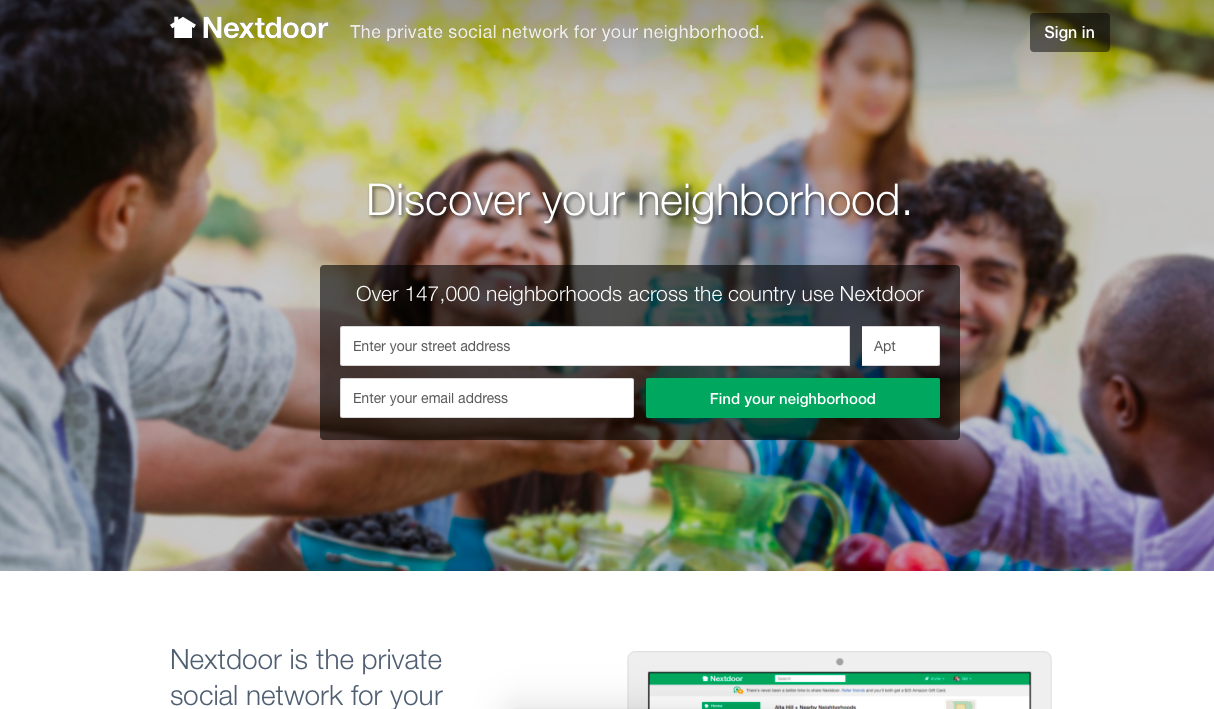 My girlfriend recommended an app called NextDoor. She was an avid user for about 6 months, telling me how great it was. She recommended that I sell my stuff on the NextDoor App. And people in your neighborhood don't tend to haggle you down on price.
NextDoor works like this: You sign up for the app on your iOS smartphone device or via email on your desktop. You type in your real name and your real address. No fake stuff. Then you will be assigned to a neighborhood. You can post questions and recommendations for local business, such as, "Can someone tell me the best mechanic for shocks and struts?" You can choose to post just to your neighborhood or to your neighborhood and 50+ surrounding areas.
Good Rule of Thumb: The more people you reach, the better chances of getting a response.
When to Sell: Anytime.
What to Sell: Big ticket items and small ticket items.
How to Sell: Because people are looking for certain items, it is best to be specific. For example, don't just say couch for sale. List the manufacturer, dimensions, condition of the item (excellent or good), remark if there are broken sections or scratches. Don't forget to add photos from several different angles.
I sold a very heavy and big tv stand, made of all wood. At the time, I was trying to sell around the July 4th holiday, which was already a bad weekend to sell. In very excellent used condition, I decided to keep the price as is and leave the post up for a few days. The right buyer, aka neighbor, was able to contact me and set up a time for pick up.
4. eBay
eBay is still a good market place for selling items, but not big ticket items or household items. Thus, it's not the best way to maximize your time before you big move to sell via eBay. However, I would sell on eBay other times of the year, when you are not in the process of a big move.
5. Apartment Therapy
Apartment Therapy was a recommendation from another blogger post.
I tried to sell our very large black desk, since it was a nicer piece. But in the end, Apartment Therapy was a bust because the market is for those living in places on the west coast, selling high-end furniture pieces. Not a single person from Michigan was using that site.
Good Rule of Thumb: Know your market before you post.
6. Garage Sale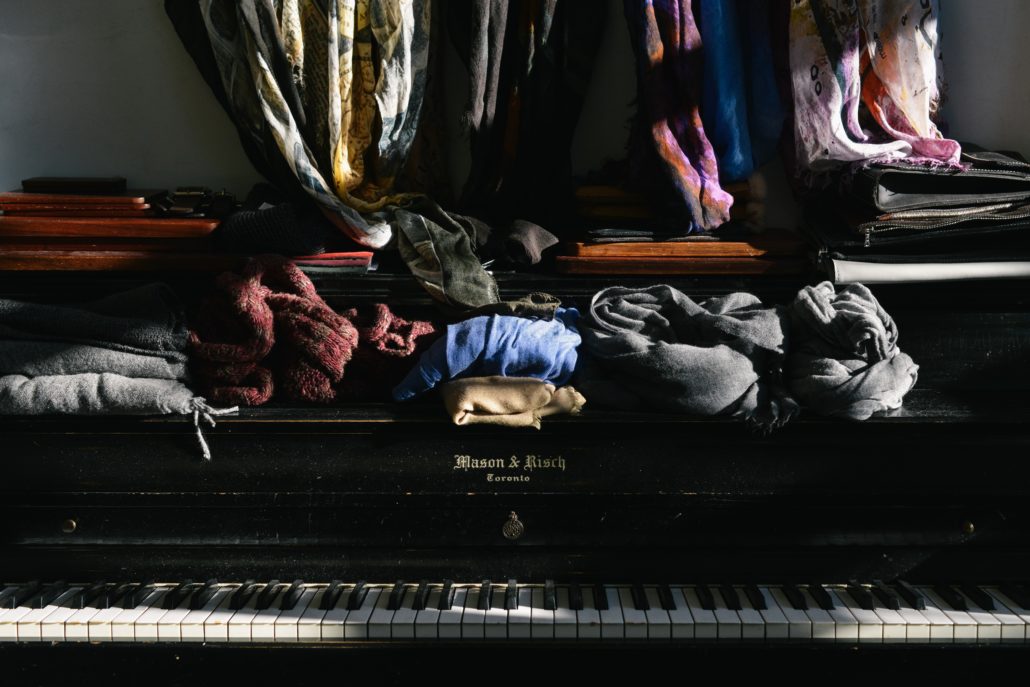 Host a garage sale. Yes, that's an option. Did I do that in the process of our move? No. Prof and I discussed that option since we had a very successful family garage sale in the neighborhood years ago. Between four families in our neighborhood, together, we sold over $1500. It was one crazy, rainy weekend. But we did it.
It's important to note that garage sales are great for selling quickly, but not at the highest prices. You will have buyers who tend to haggle, and it may not be worth it after all that pricing, tagging, moving stuff to your garage, etc.
7. Donate (Hear Me out)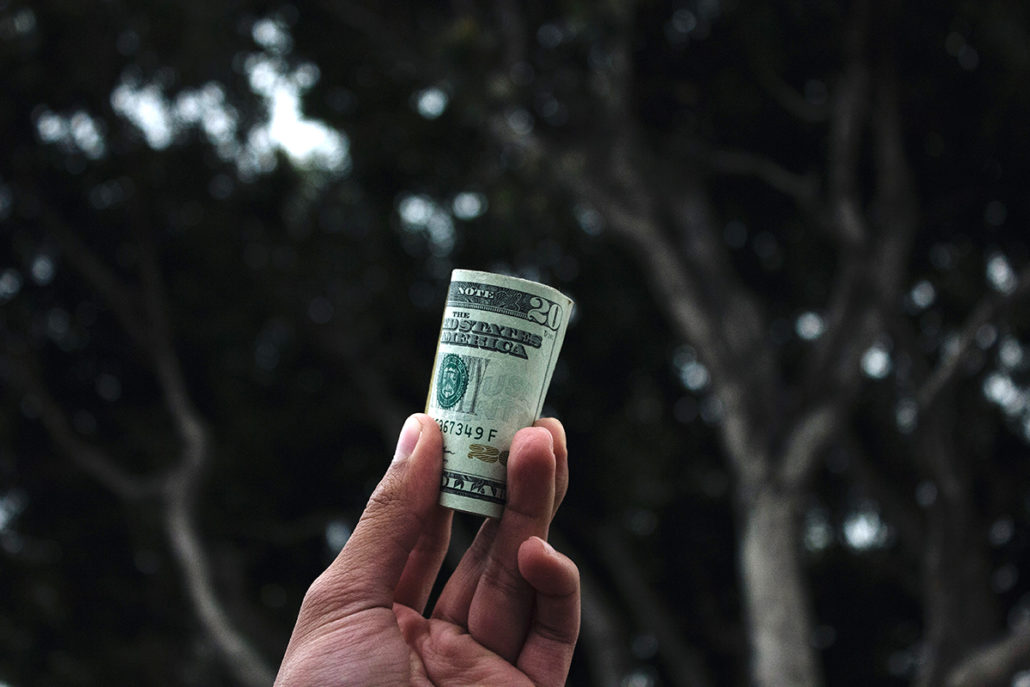 Betty, donate? You don't make money from donations. Well, you don't have cash on hand after a transactio. However, if you itemize, you can take a tax deduction. And that may be money in back in your pocket, thanks to Uncle Sam.
When to Give: Anytime they are open.
What to Give: Good, used condition (GUC). That's what you should donate. Note: You won't be able to donate that old tube tv, at least that's what one Salvation Army personnel said to a guy as I donating my items. And you cannot donate a pair of old crutches (even if you used them once) because they are considered as medical equipment.
How to Give: Itemize items you want to donate. Then donate. Once you receive your slip, you can staple those together.
Good Rule of Thumb: If you are having a hard selling the item, don't make a donation center a dumping ground for junk they cannot sell either.
Final Thoughts
If you have time to cross post on Facebook, Craigslist, and NextDoor App, then do it. It's more work, but you will be able to find a network of buyers. If I told you how much we made on selling our stuff, you'd be shocked. The time and patience paid off, and you will find that's great for saving to buy new things in your new place when you move.
REMEMBER THIS: If you priced it well, it will sell. =)
Pin It for Later: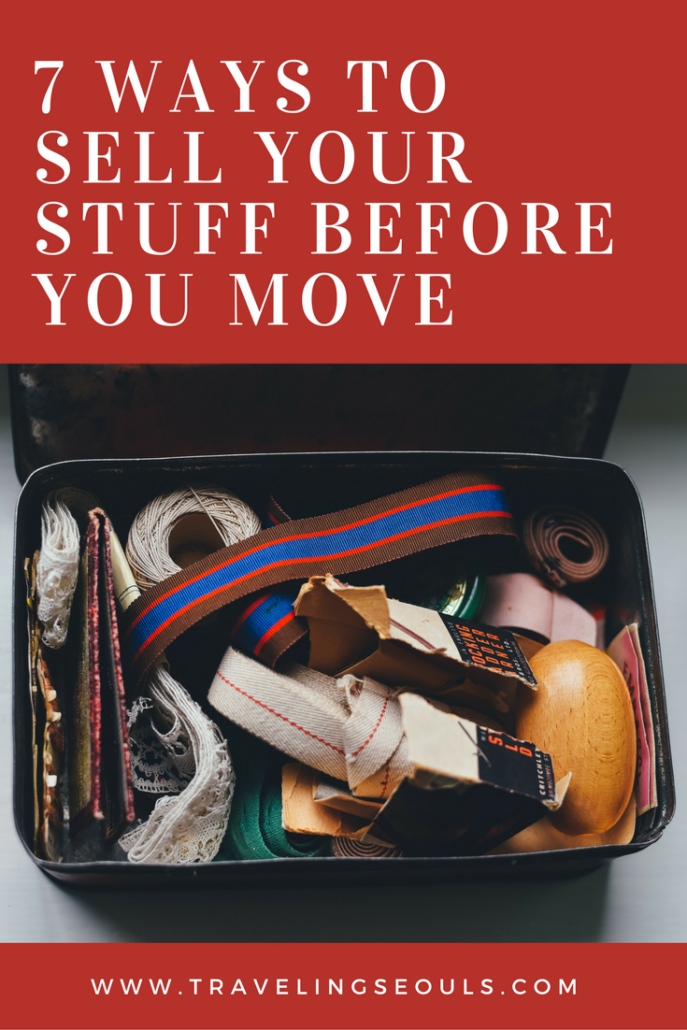 Please follow and like via: