Every summer we make an epic road trip. Last year, it was a last-minute trip to Toronto, Canada. The year before that? We went to Cleveland, Ohio AND Indianapolis, Indiana.
That's what summers are for, aren't they?
And this year? We went east. Very east.
We trekked it to the Berkshires in western Massachusetts!
With two kids in tow, we broke up our road trip in two five-hour days on the road. First stop? Great Wolf Lodge in Niagara Falls. After a fun-filled, kid-focused resort stay, we made it to the Berkshires, the western part of Massachusetts.
What's the Berkshires All About?
Berkshire County has a little over 100,000 people residing in the county. Pittsfield, Massachusetts is the city in Berkshire County. People in the area can drive to four different states – Connecticut, New York, New Hampshire, and Vermont within a two-hour radius. People refer to Berkshire County as The Berkshires.
Also, we have family in the Berkshires! Now that's what I am talking about! What better to see the sights than to see it with family who live and know the area? Thanks to my sis-in-law (SIL) and bro-in-law (BIL), we saw pretty cool things that were fun for kids AND adults.
Where to Stay
Hotels vs. Airbnbs in the Berkshires
There are a few hotels here, but the prices are higher during the summer season. My SIL recommended trying an AirBNB to get more space, since airbnbs are competitively priced with hotels in the area. Having never experienced a stay at an Airbnb, this was a new part of our travel experience. After discussing our Airbnb options with our SIL, we opted for an Airbnb that was a bit farther away. Our airbnb was a guest house with two bedrooms, one bathroom, a living room, and nearly stocked kitchen with breakfast items. When we arrived, our hostess gave a tour and travel advice about things to do in the area.
TRAVEL TIP: Beware of ticks! I cannot emphasize this enough. Our Airbnb hostess spent about 10-15 minutes educating us on the dangers, process of removing, and medicines needed if you get a tick on you.
What Can You Do in Western Massachusetts?
Proclivity for the Outdoors
While I am not a fan of the great outdoors, how can you not want to see nature in all of its glory when you see this?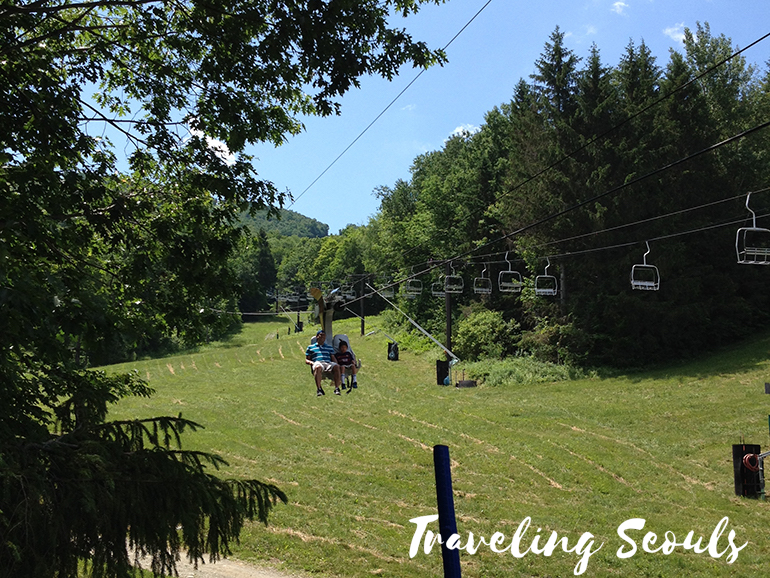 On day one, my SIL and BIL too us to Jimmy Peak Mountain Resort. During the winter season, it's a hopping place for skiing down slopes and drinking hot cocoa on a wintery day. But during the summer, it offers several outdoor activities to keep the resort just as busy.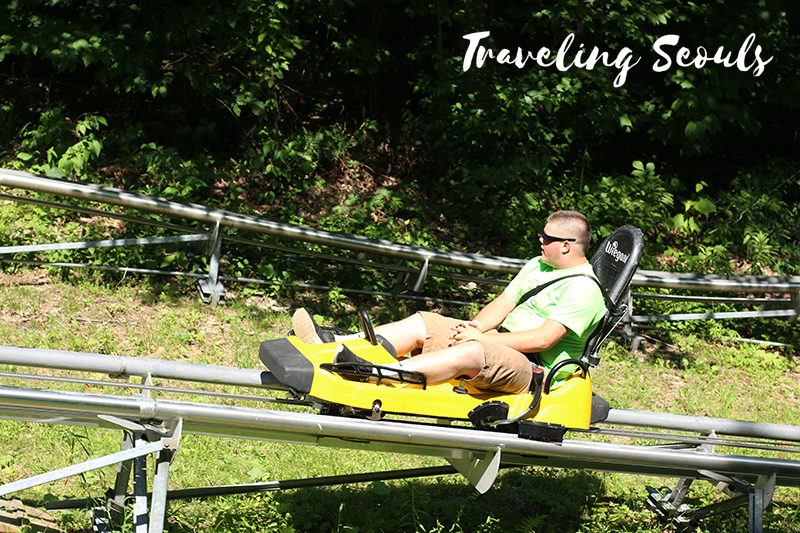 My favorite moments of the day were watching our boys enjoy this resort. Look at Prof and Linus taking in the view.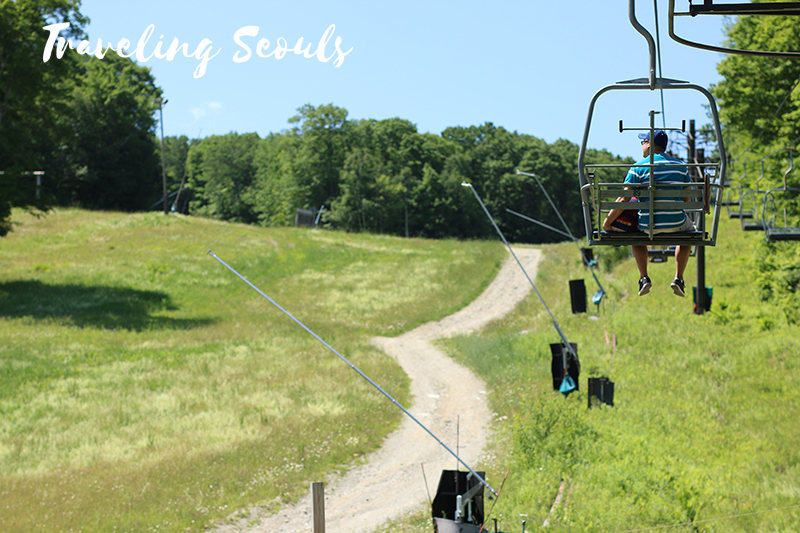 Because once you get off the ski lift, you can ride down the Alpine Super Slide. And that name is as it suggests, it's super long and you can go super fast. But if going fast is not your thing, then you can put on the breaks and go in the slower lane. After your first time though, you'll be a pro want to race down it with your kiddos like we did. Naturally, Piano Man beat me down this course since his lighter weight was used to his advantage. I recommend getting the day pass, as there is plenty of fun for adults and kids to go down the rides again. And again. And again.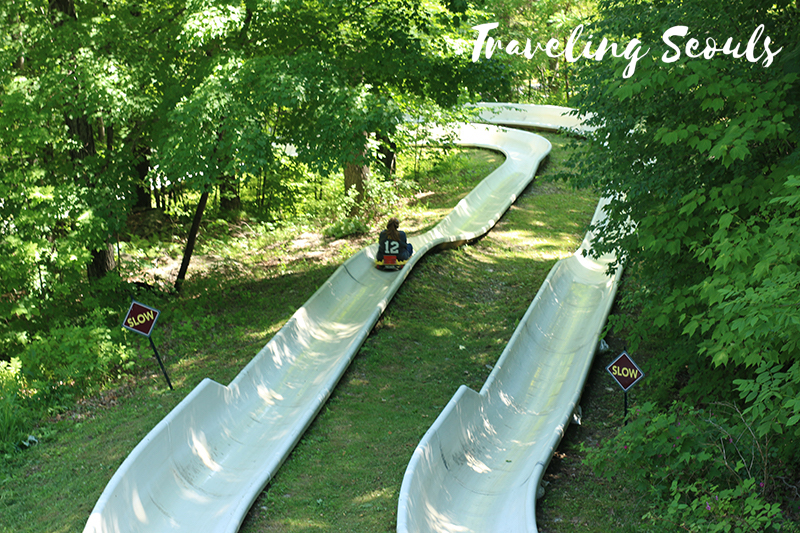 Play by the Water
On Lake Onota at Burbank Park, you can cool yourself off. It's not like the beachy lake waters of Lake Michigan, but you can still enjoy this public beach. My SIL mentioned that there aren't too many public beaches that allow you bring pets, so this is a good place if you love to bring your beloved furry family members on road trips.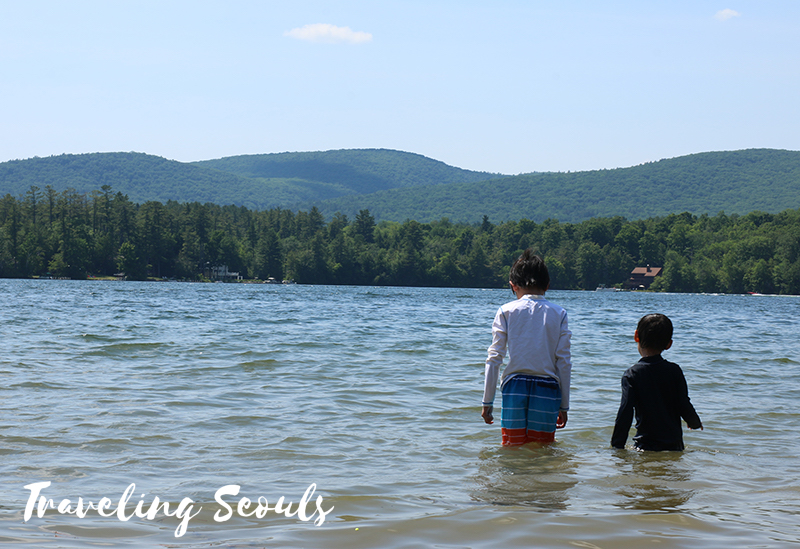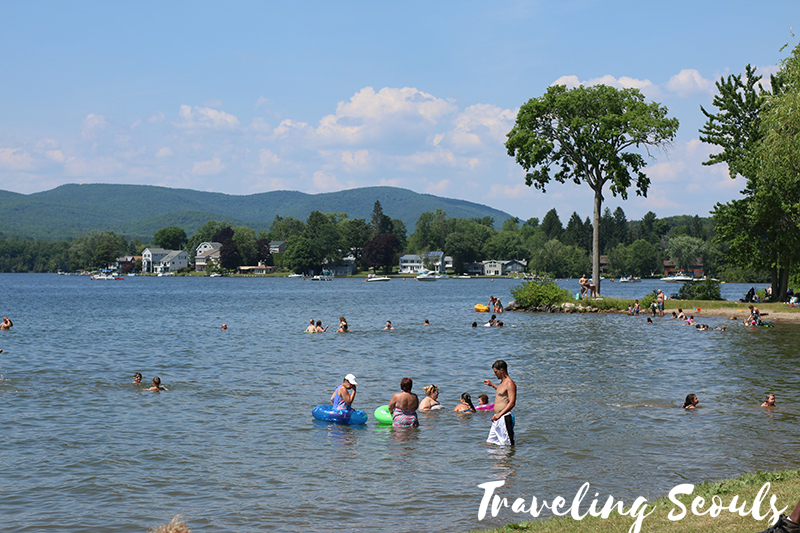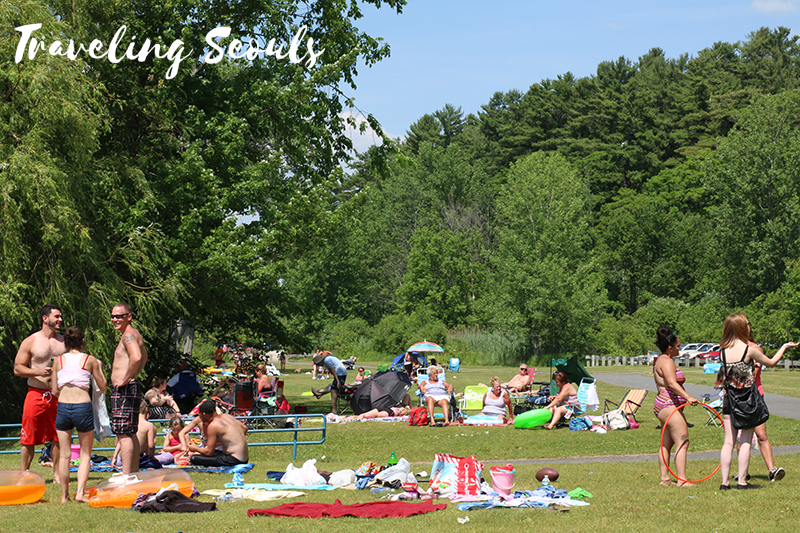 Go on a Nature Walk
Like I said before, you are going to be immersed in nature in western Massachusetts. The Pleasant Valley Wildlife Sanctuary was scenic. You can get lost in the wonders of this place, in the midst of the 1000+ acres in the Berkshires. Being animal enthusiasts, my SIL and BIL mentioned that if you're lucky you can watch beavers working hard, building dams and frolicking in the waters. Prof was looking forward to that moment, but we only saw one lonely beaver swimming far off in the distance – not really being able to capture that moment.
However, Linus and Piano Man enjoyed watching the frogs sit still.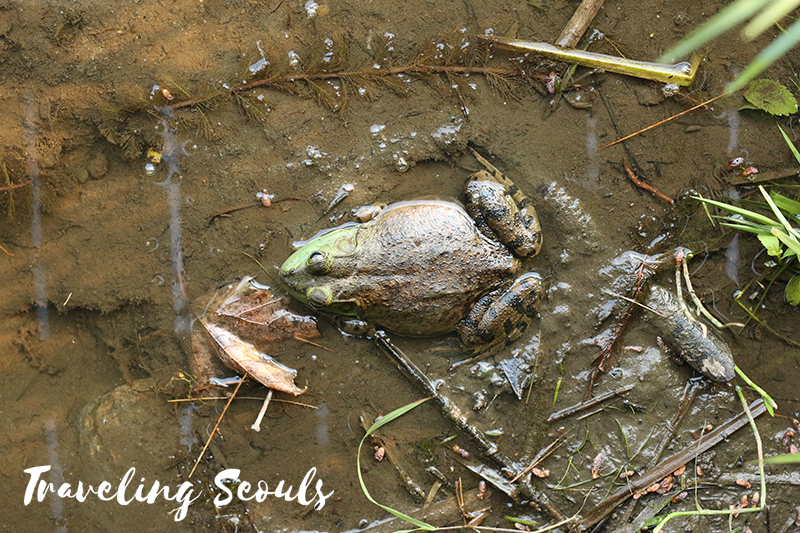 We hiked through the forest and crossed small creeks winding through the trails. Since we stayed on the trails, we were free from ticks.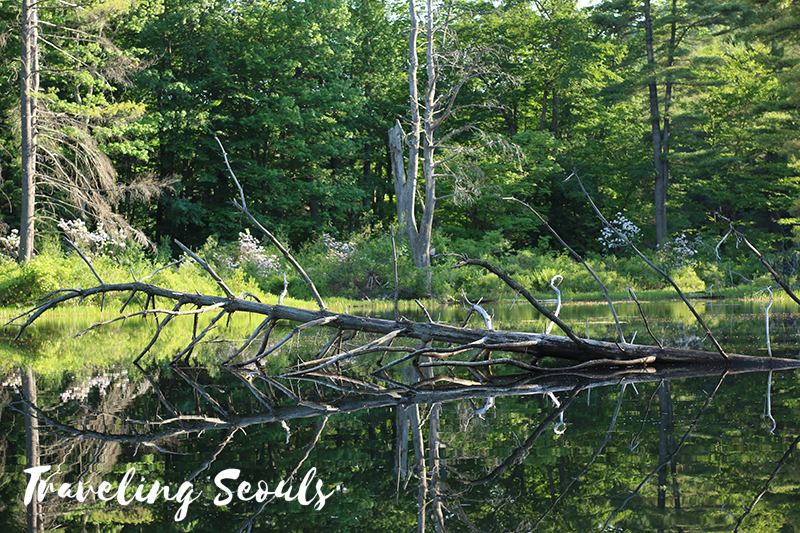 TRAVEL TIP: Spray yourself, especially your arms, legs, and even shoes with DEET
 (affiliate link). Yes, even your shoes.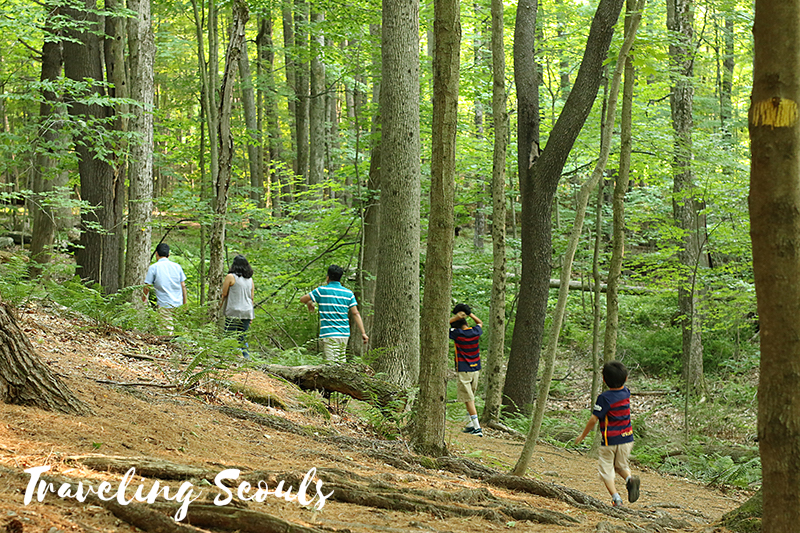 Asian Eats in Western Massachusetts
With a population of about 100,000 people, it's not like you are going to choose from a variety of Asian restaurants based on your budget and palate. For example, the nearest Korean grocery store in western Massachusetts is somewhere near Albany, New York about an hour or so away.
TRAVEL TIP: If you are looking for an Asian restaurant in the Berkshires, you will find that many of these establishments combine their Asian cuisine with Japanese sushi. Don't ask me why, but it seems to be a thing here. So you can just about get your sushi fix at any Asian restaurant.
Korean Restaurant in Western Massachusetts, Yes!
Did you know that there is a new Korean restaurant in western Massachusetts? Of course, we had to try it out. When we dined at Korea Garden, it was pretty quiet with one other group there. We ate the usual bulgogi, jjam poong, soon doonbu jigae, and kam poon gi.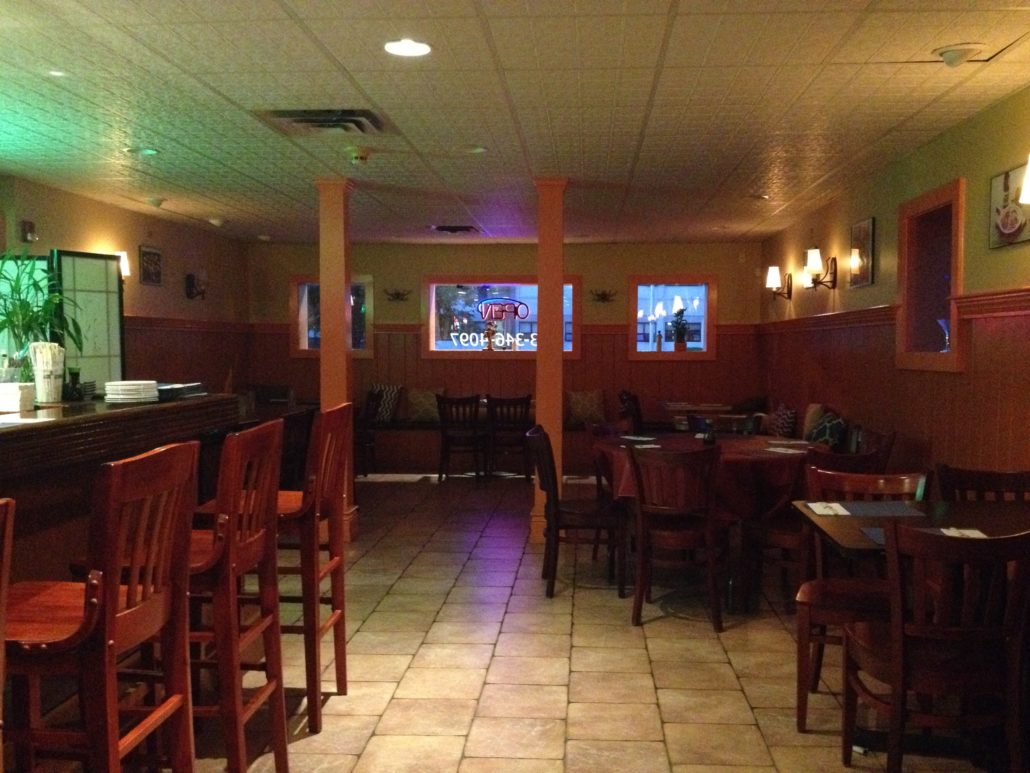 If I were to be honest, the broth in the soon doobu and jaam poong were the same. But I don't think the local clientele would notice it that much. The bulgogi was garnished with a lot more vegetables than what I expected (such as broccoli, which is not typical in any Korean dish). But hey, our boys got to eat some greens.
Although the Asian population in the U.S. is growing, Western Massachusetts does not have a huge influx as large metropolitan cities like Boston, according to the Metropolitan Area Planning Council (MAPC). Still, I am glad there is a Korean/Japanese restaurant in western Massachusetts. I am sure that every time we visit western Massachusetts, we will eat at this lovely establishment.
Thai Restauarant, Another Yes!
My sis-in-law and bro-in-law thought a local sports pub called the Purple Pub would have good burgers, which we would loved to try. But after being passed by the wait staff two times over and one person at the bar motioning for us to sit anywhere (with no available seating for six), we left the joint. I am sure the food could have been good, but the lack of service left a bad taste in my mouth.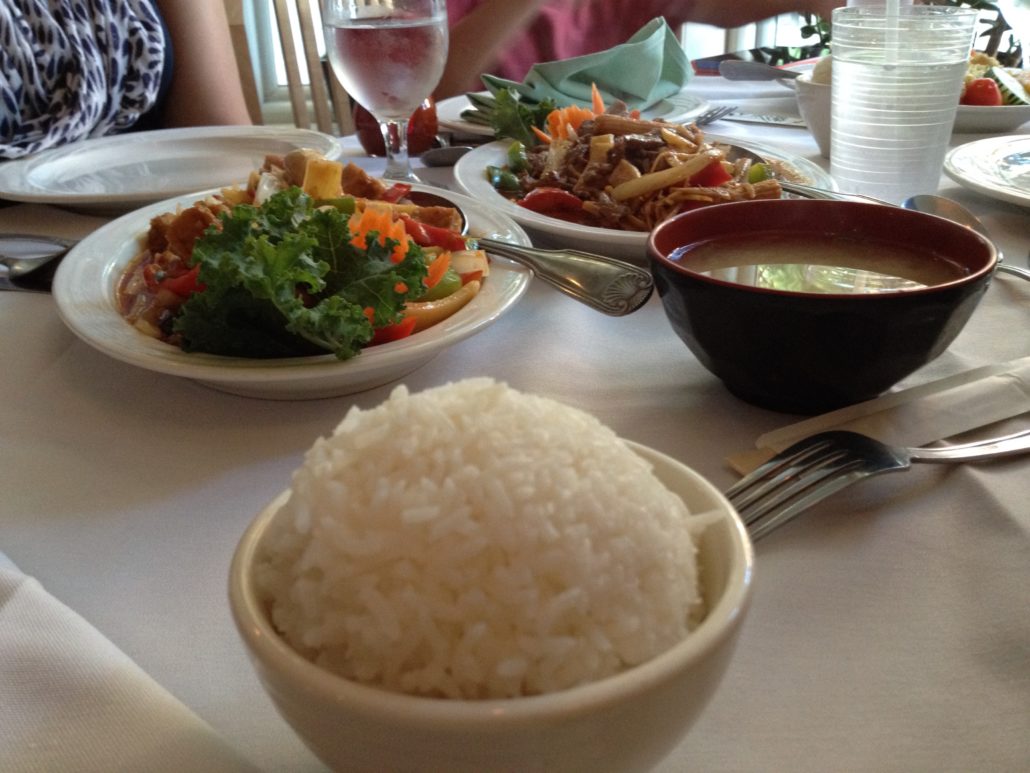 Thanks to Sushi Thai Garden, located in the vicinity of Williams College (27 Spring Street Williamstown MA), they had immediate seating available and served us promptly. Of course, when we received the menu, they provided a sushi order form as well.
I don't think I took a single photo of our food. Just eat and conquer good food when you see it. (And I had plenty of bad Thai food in Michigan.) This place was authentic and served us with the right spices and flavors that you will recognize when eating Drunken Noodles or a classic Pad Thai dish.
Ice Cream is the Cat's Meow @ Ben and Jerry's
You can't come to the east coast, especially in Vermont's territory and not try their Ben And Jerry's ice cream. We told the boys, it's like telling them to try Hudsonville ice cream in Michigan. For you Texans, it's like saying try some Blue Bell ice cream. Everyone's got a style and flavor to making ice cream. And Ben Jerry's is a signature east coast favorite.
And boy was it hot in July. The boys devoured their ice cream. D-E-V-O-U-R-E-D. You could say Ben and Jerry's was da bomb.
Local Soft Serve Ice Cream
You gotta try a local soft serve joint when you around the neighborhood. I think that's one of the best ways to get a feel for the neighborhood – people coming together over dessert – yum.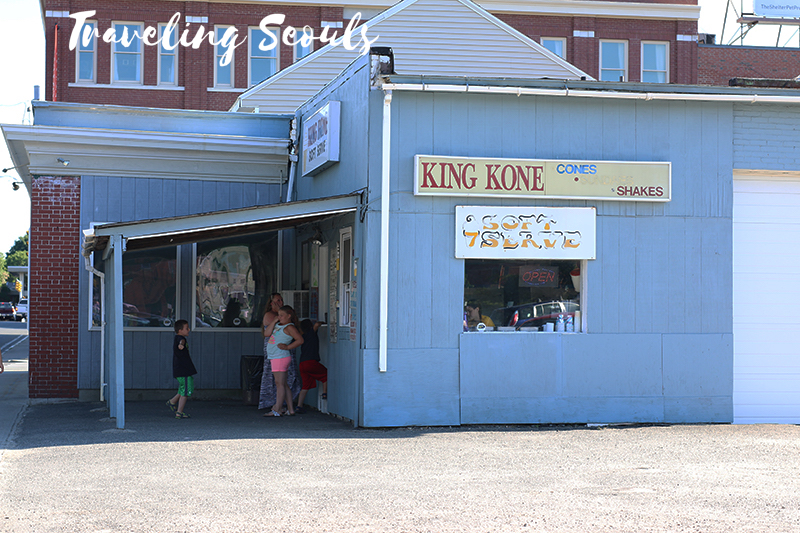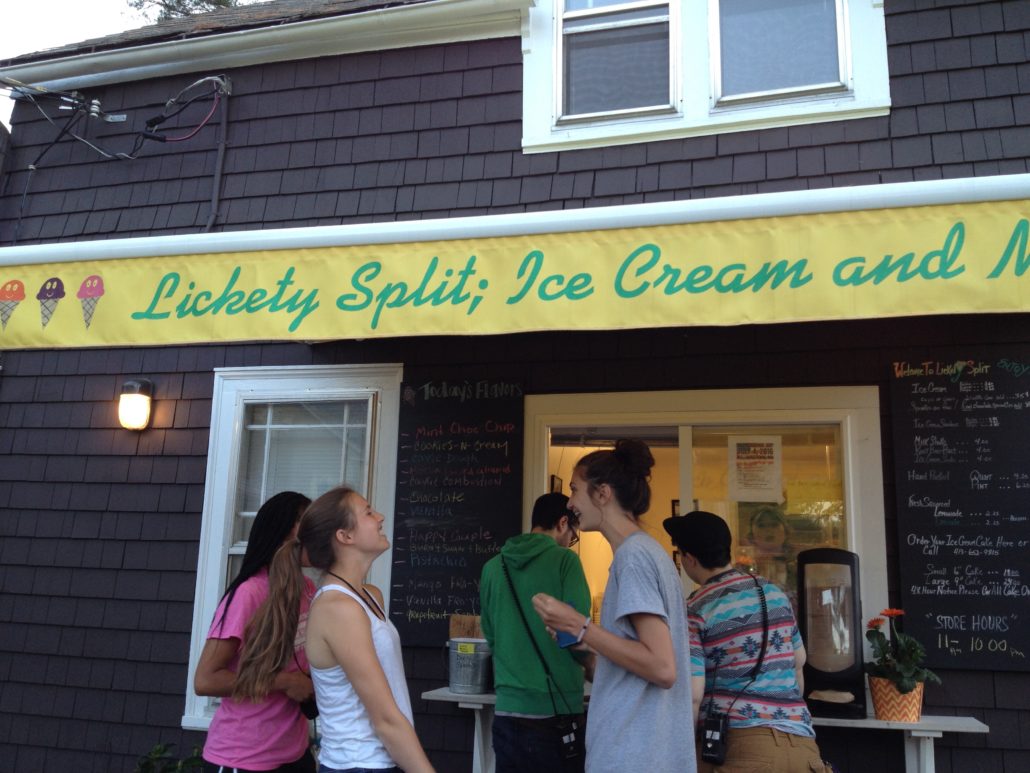 TRAVEL TIP: Here's what I learned about ice cream in the Berkshires. When you order sprinkles on top, you have to be specific. There's the rainbow kind AND the chocolate only kind. Based on our two experiences, the preference of sprinkles is on chocolate. The girl at this soft serve joint asked specifically, and the guy at Ben and Jerry's asked for sprinkles but didn't specify. When I said yes, he added chocolate sprinkles, which was not what Linus was used to. Oh no. That would not fly with little man. Thankfully, the young guy at Ben and Jerry's cleared off the chocolate sprinkles and added the colorful rainbow sprinkles Linus was accustomed to.
My Two Cents
For a traveler who doesn't enjoy the great outdoors, well, I think my heart is changing. The rolling majestic mountains of western Massachusetts was quite breath taking. I don't think I've seen beautiful green mountains like that since my time in South Korea. Because you know how bad the droughts in California are creating brown, dirt-filled mountain views. It's not a pretty sight.
The best part about seeing The Berkshires was seeing it with our family. Had it not been for them, we would not have traveled this far east of the U.S. Their neighborhood. Their home and community. Just lovely.
Thanks to our beloved family for showing us the coolest outdoorsy places in western Massachusetts. After this trip, I have learned that you can enjoy the great outdoors.
Disclosure: This website may be compensated for linking to other sites or for sales of products we link to.
Related:
Please follow and like via: