When I think of mountain resorts, I think of skiers and snowboarders racing down on white capped mountain tops, while sipping hot cocoa. But it's summer time. Do ski resorts close down for the summer? Nope, they reinvent outdoor adventure and create spaces of play and outdoor fun for children and adults.
That was our experience at Jiminy Peak Mountain Resort. When you arrive, you have to walk into the center and pay for tickets.
At Jiminy Peak, there are two parks:
Mountain Adventure Park
Here, you can ride the 6 different apparatuses and enter a KidsZone. Because this park is open for adults and kids of any age, we opted for this Mountain Adventure Park.
Aerial Adventure Park
This park is recommended for adults and children size years old and up. This option was out of the question for us, since Linus was below the age requirement. But if you have older kids, you could go on 6 individual elevated courses and 70+ obstacles and challenges.
Trying to accomplish both parks would have been crazy for us with two young children. We thought we would be in and out in about an hour or so, so we opted for the Mountain Adventure Park.
Pricing
Since it was our first time at Jiminy Peak, it was hard to decide which types of tickets to purchase. There was a whole list of options plus height requirements that made it difficult to assess the be option. Here's what I recommend, now that we've been there. My sister-in-law recommended we get the single-ark pass to Mountain Adventure Park for our boys (both were in the 38″-53″ height range), which cost $31.00. That allowed the boys to ride as many rides as they wanted throughout the day. For the adults, we picked the 6 Ride Book, which allowed any adult in our group to ride along with the kids. The 6 Ride Book cost $63.00 for adults.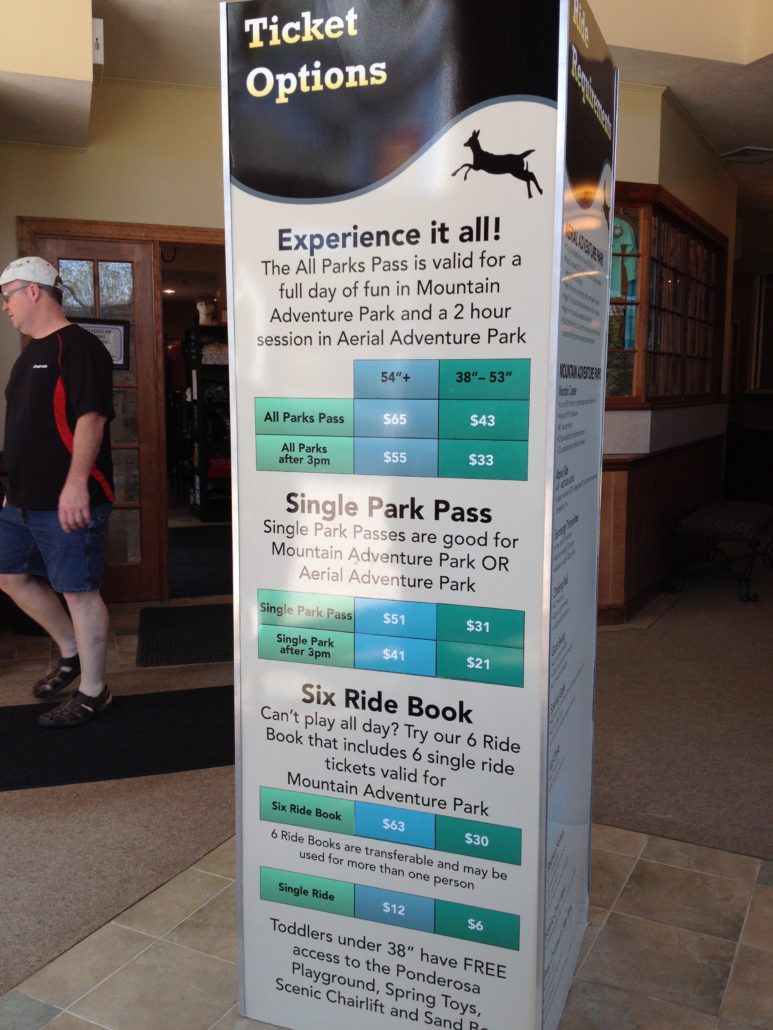 At customer service, they said if your child is too young to go on some of the rides alone, then you can accompany them on the ride (aka free for the adult). But that was not true on all of the rides, such as the ski lift to go down the Alpine Slide or the Mountain Coaster ride. However, for most of the other rides, you could accompany them for free.
For more details about their complicated pricing system, check out Jiminy Peak's website. You can get a reduced rate, if you purchase adult tickets online. I recommend talking with someone at the front desk and tell them how long you think you will be there. They can give you advice on best ticket options for you and your group.
Our Favorite Rides
I've listed all the rides available at the Mountain Adventure Park, in order of my favorites, beginning here:
Alpine Slide
This was our first ride of the day. I have to say that little Linus enjoyed this ride. I thought it would be too fast for our youngest member, but he rode in the front with Prof in the back. Linus felt the wind in his hair. But I think I captured one of my favorite father-son moments. Prof would point to things, and Linus would watch in amazement with his dad.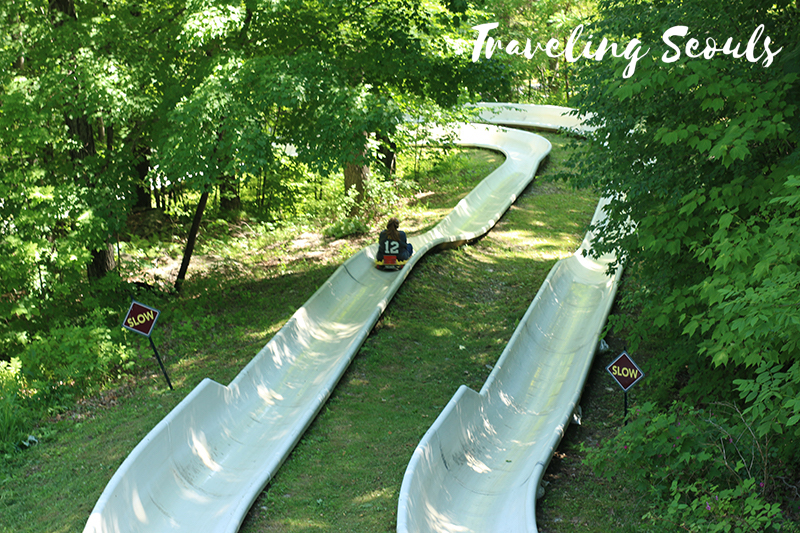 Mountain Coaster
Both of the boys went on this ride with Prof and Uncle C, but Piano Man asked to go this ride again. Hence, I think that was his favorite ride of the day.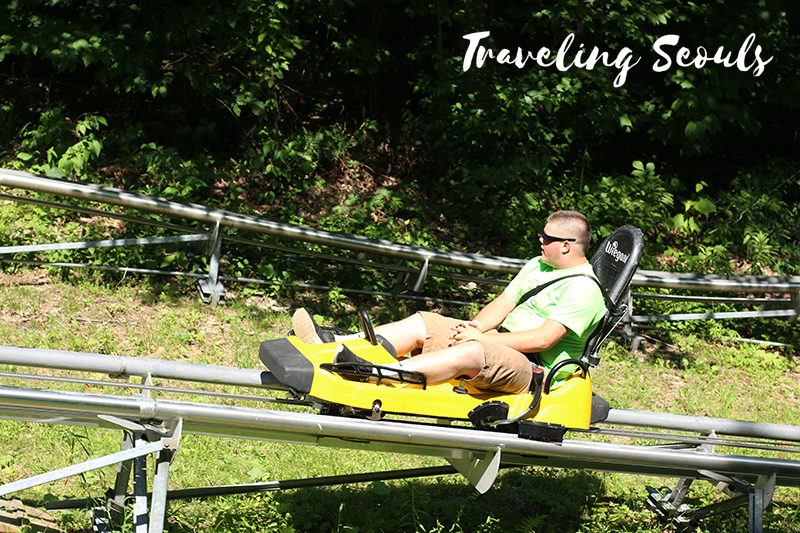 Soaring Eagle
Now this is one of those rides you can go on with your little mountain rider without a ticket. The machine pulls you back pretty fast, and then you get catapulted forward 700 feet. People really liked the ride, but I felt a bit nauseous and light headed afterwards. So much that I sat down in the KidsZone while the boys played on the playground.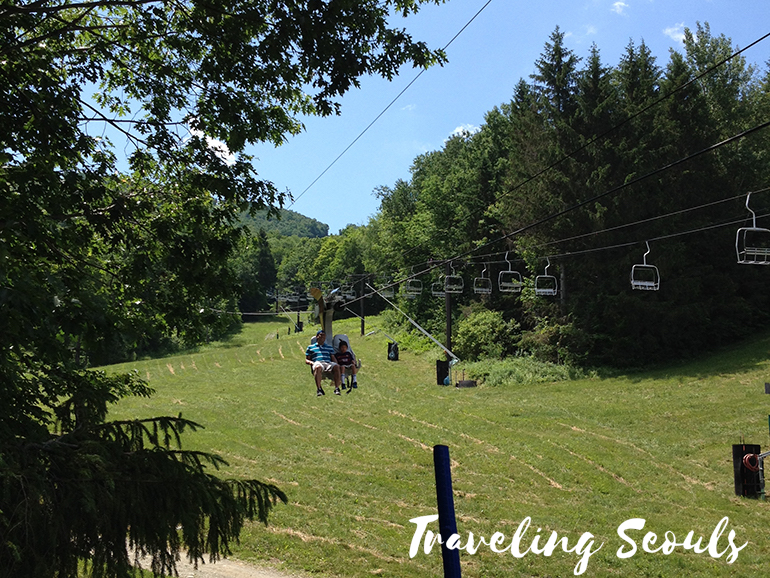 Euro-Bungy
While Piano Man has been on one of these before, this was Linus' first time. You have to see the expression on this little boy's face. If there are no lines, your child can stay awhile.
Priceless.
The Climbing Wall
A three-part rock climbing wall has a beginner, intermediate, and advanced level. On the beginning level and being a light weight, Linus climbed up pretty far to the top. Trust me, Linus surpassed his brother in rock climbing, a first for little man.
KidsZone
When you need a break, the KidsZone – an inflatable jump house, playground, and mazes (one for younger audiences and one for older kids). This is where I sat to recover from my nausea on The Soaring Eagle ride.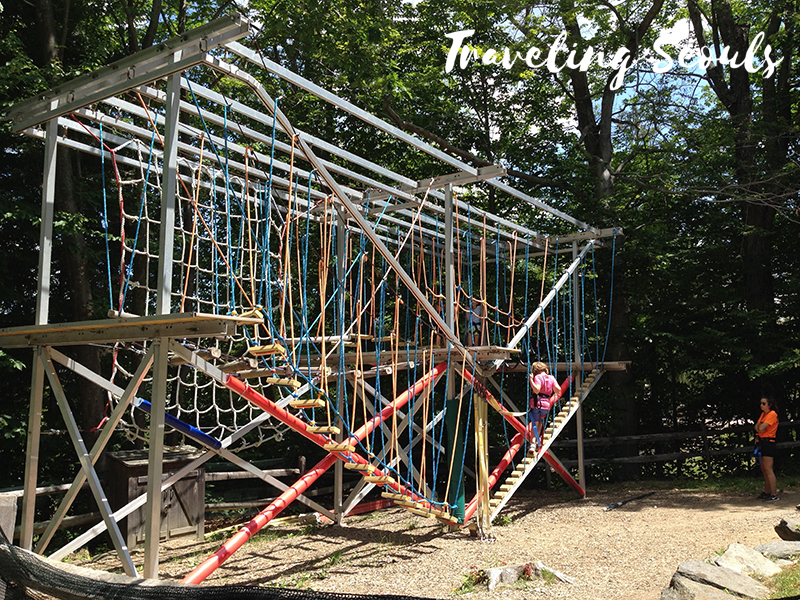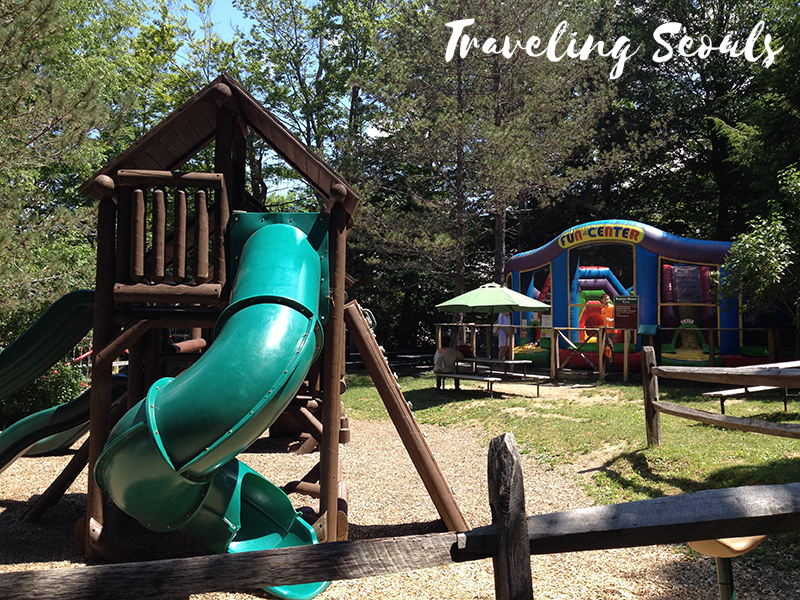 The Giant Swing
Not a single person in our group went on this ride. We were pooped from all the other rides. But it sure looked fun for those who did go on the ride.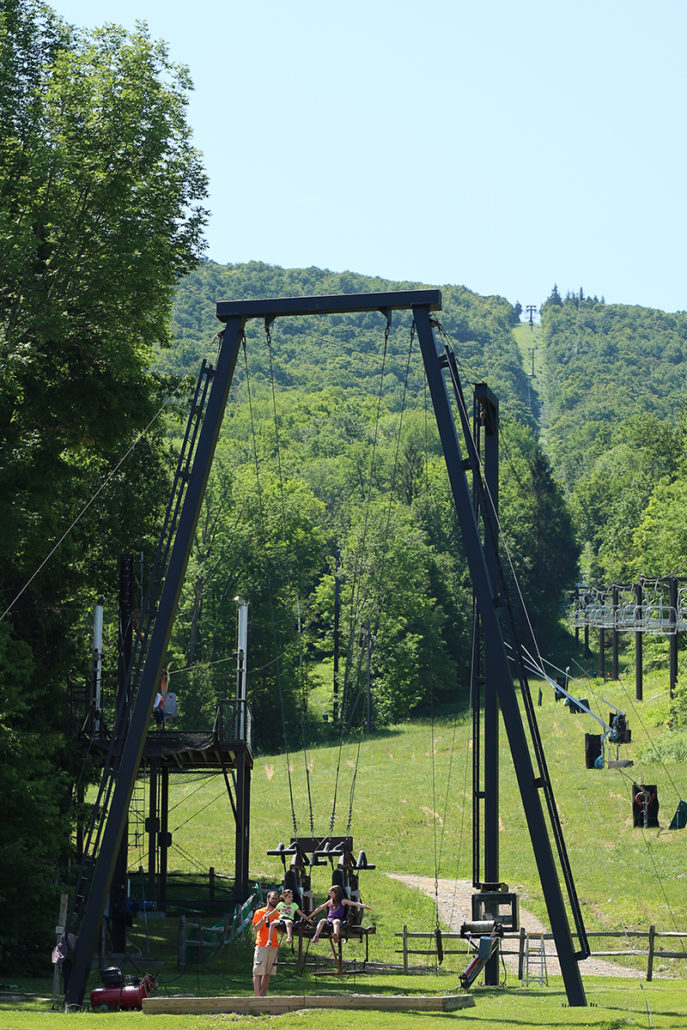 Final Thoughts
The best time to go was the start of the day. The lines are short, and the weather wasn't as hot and humid as it was at high noon. It got so hot that I bought two cold water bottles to keep us hydrated. (Oh wait, Uncle C got the boys slushies too.) And when you think you would only spend an hour or so, you could seriously spend the entire day at both parks and have a full day of fun.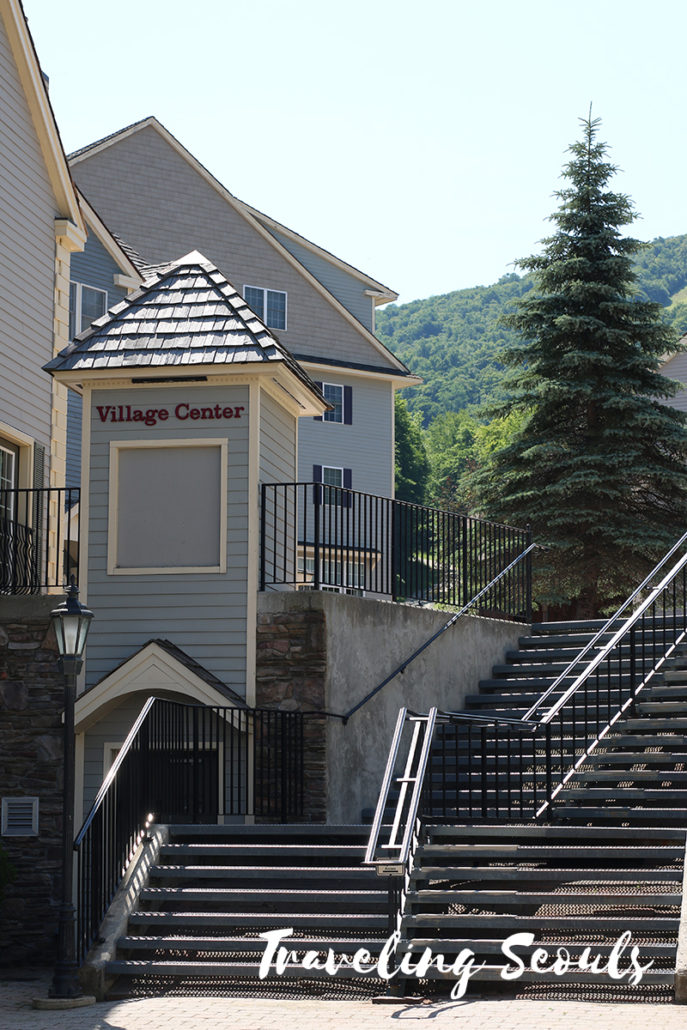 Address:
37 Corey Road, Hancock MA 01237
413-738-5500
Hours of Operation:
May through October
Open 7 days a week
Check the website for exact dates of operations (as they change every year)
Related:
Please follow and like via: