I'm rounding out our museum tour of Indianapolis with the Indianapolis Museum of Art (IMA). Ranked as the #1 Thing to Do in Indianapolis, according to Trip Advisor, we were fortunate to spend another quiet weekday roaming the spaces in this free art museum.
Did I mention that it's free? Art museums that are free, available to the public, truly shows you how much a city appreciates art. When an art museum is free and open during weekdays, evenings, and weekends, it gives the public a sense of community.
Although admittance was free, it's a bit of a drive from the heart of downtown. While it is available to the public, it's not necessarily accessible to the public.  But it was worth a drive to see this modern building tucked away from the city's inner limits.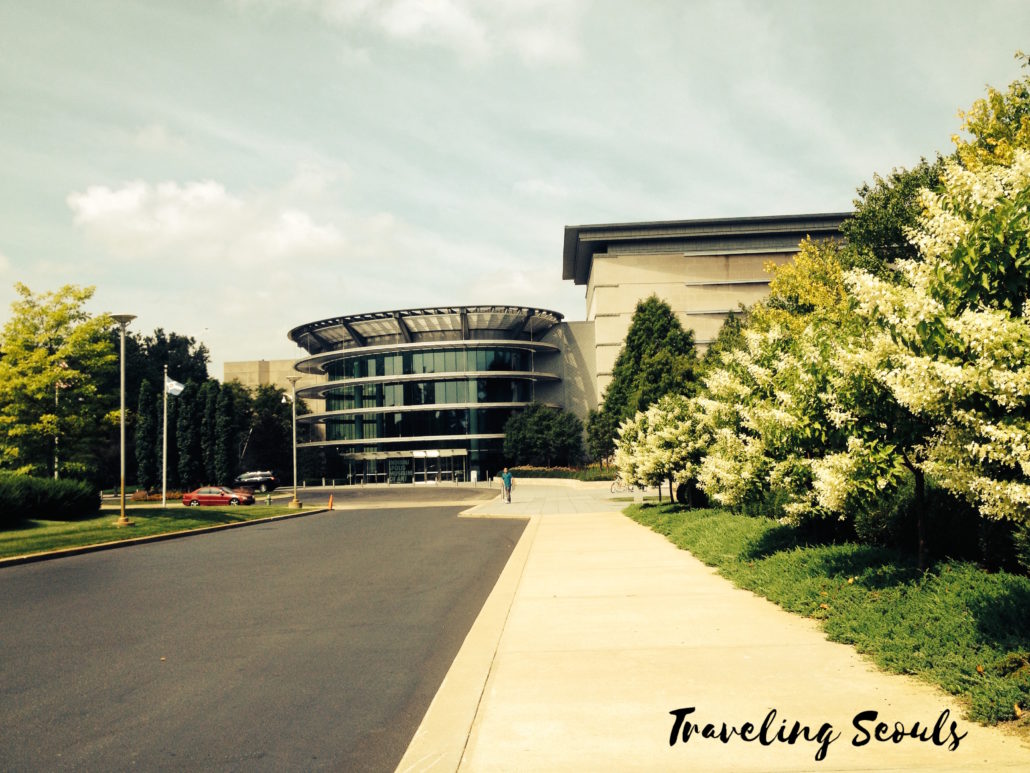 Architectural Space
Once you walk through the floor to ceiling glass entrance, you are greeted by a massive art installation. Two-stories high, you can be surrounded in colorful plastic, natural bamboo, and metal rods. Kids and adults can enjoy the foyer of the art museum before making their way to the museum's general collection.
I find it interesting that museum board members were inspired by University Circle in Cleveland, Ohio, when they decided to expand and renovate the IMA as the city's cultural center. It makes sense why I felt like the IMA reminded me of the Cleveland Museum of Art's space, which is located in University Circle.
IMA's modern atrium space had plenty of natural lighting mixed with tetris-like fluorescent lighting.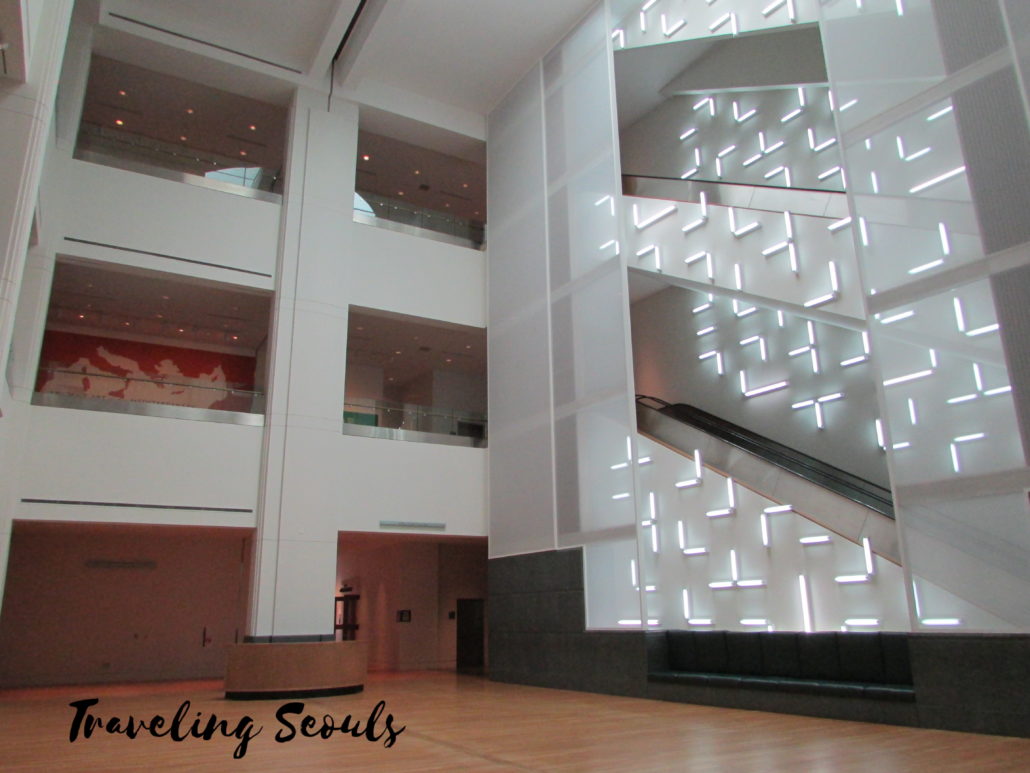 Contrast the modern atrium space with this medieval-styled space in Clowes Pavilion.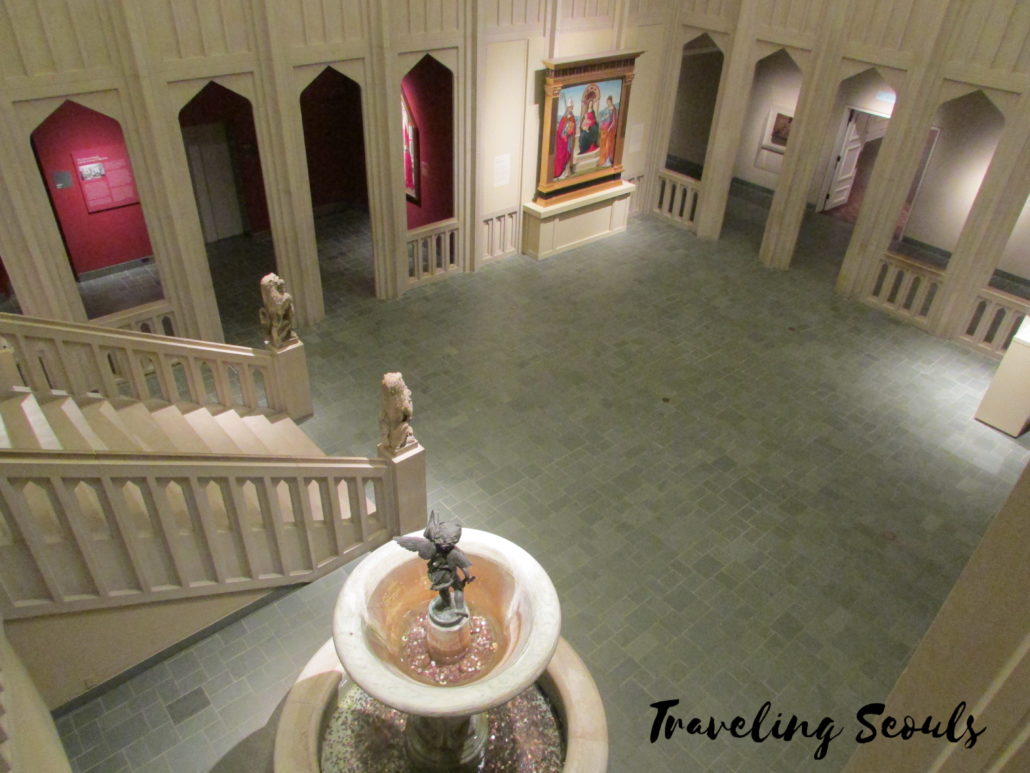 Then back to a more modern, airy space with painted bluish gray walls.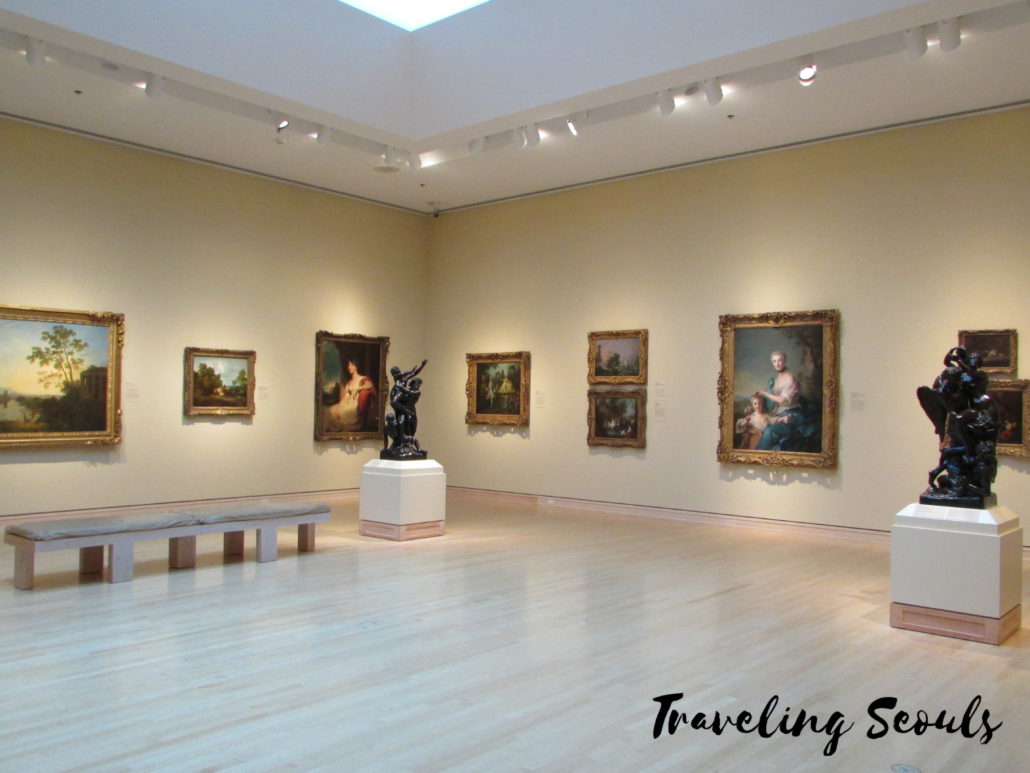 Walking into the Asian art collection, it was a solemn space with dark mood lighting, highlighting the beautiful jade colored pottery.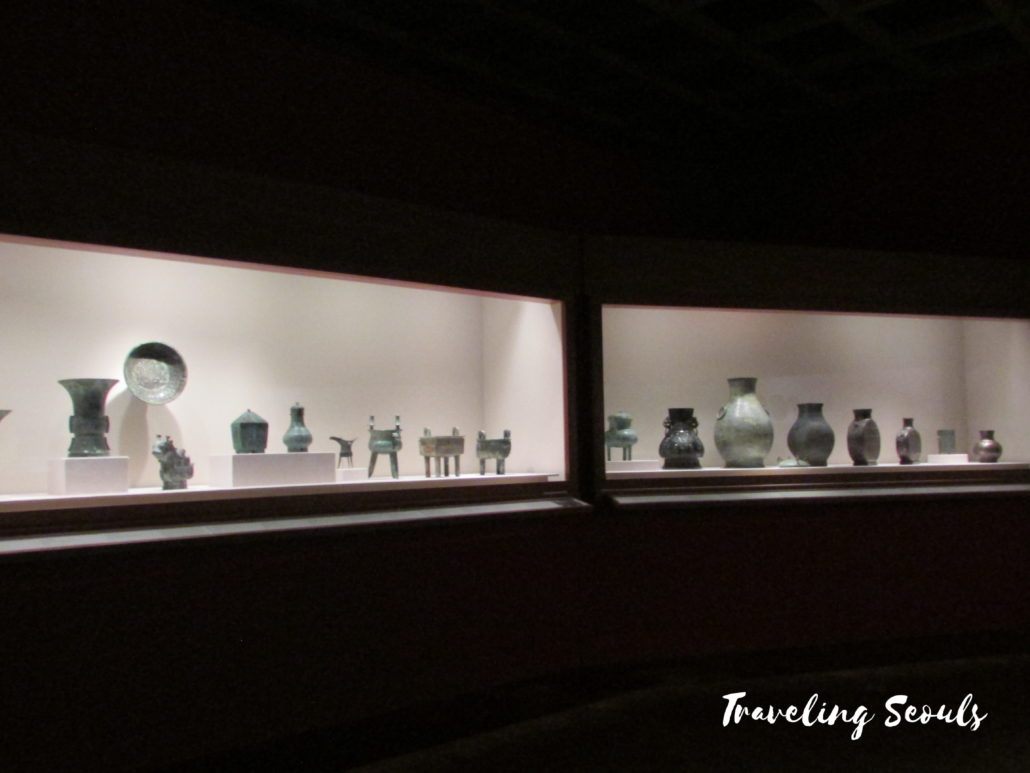 The Smallest Collection of Ancient and Mediterranean Art
Ready to check out their ancient and Mediterranean art?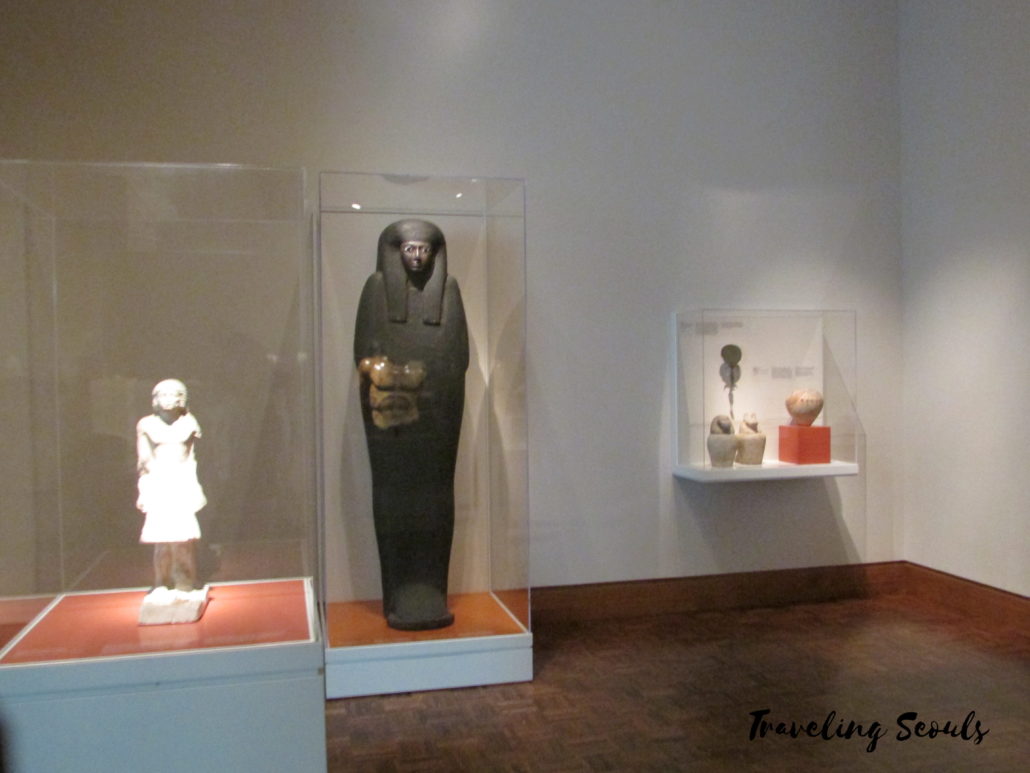 Okay, that's it. You saw it here – a mummy, sculpture, and smaller pieces of pottery. Well, at least there's a display case dedicated to some Cypriot work.
Museum's Specialty Areas – Modern, African, and Fine Art
So their ancient art and Mediterranean collection wasn't much to look at it, but I walked into a large collection of modern design.  You can see a lot of kitchy chairs.
A chaise lounge chair made out of cardboard. What a way to reduce, reuse, and recycle with style.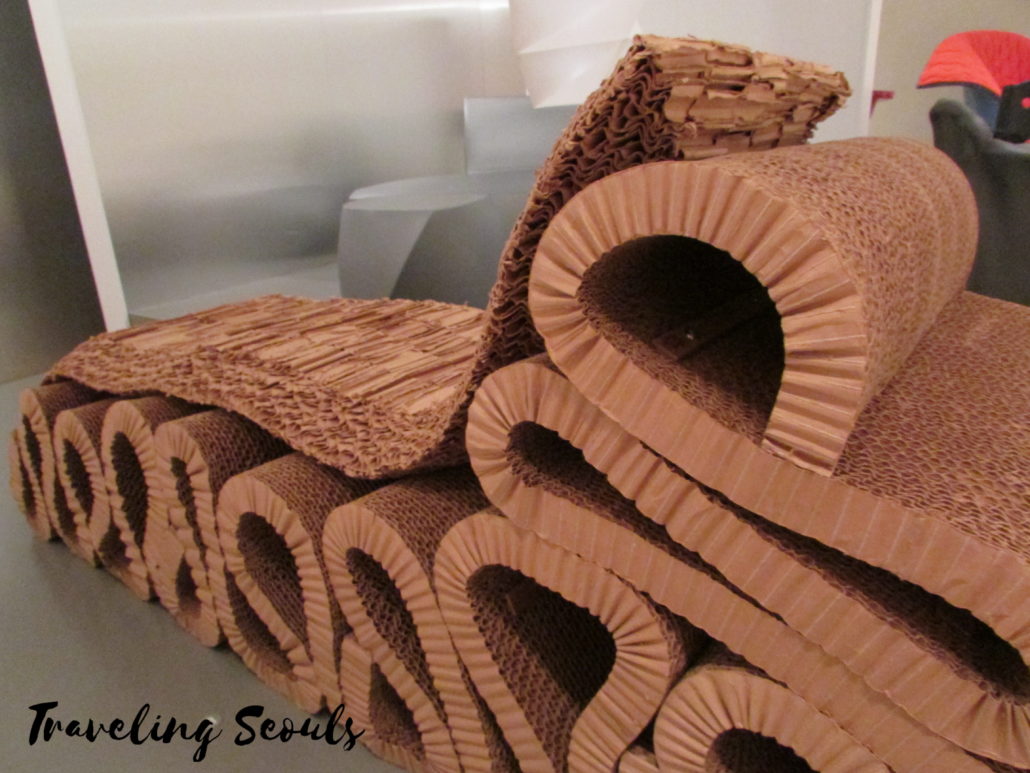 A feminine Impressionist-styled chair.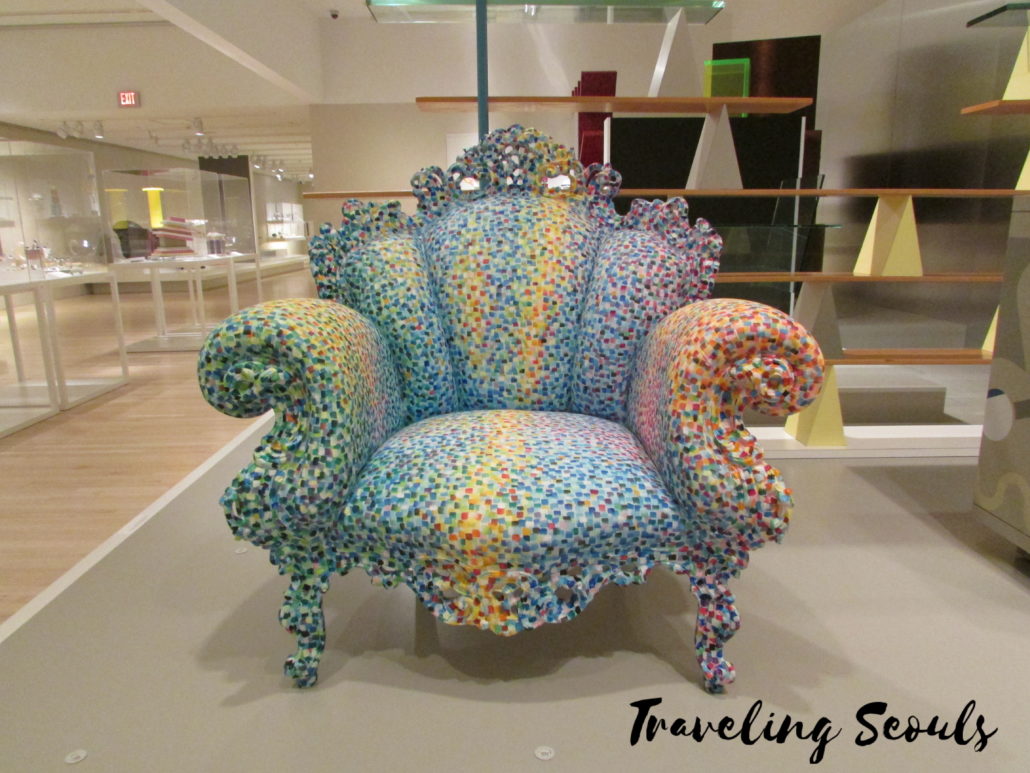 I could have spent more time here. The museum offered plenty of fun furniture pieces to look at, but I must say museum staff made me feel like I was a criminal-in-waiting. It was difficult to walk in this space without feeling their stares. However, I can imagine that museum staff have to tell visitors to stay off the furniture, which perhaps isn't as problematic with paintings on walls and sculptures on pedestals. Wouldn't you say that paintings and sculptures aren't as inviting at those modern artsy chairs.
We might have checked out their African and other fine art collections, if our kids were up for it. The IMA would have been better to visit on our first day in Indianapolis. After two days of walking, a short visit to IMA was just right.
Upcoming Georgia O'Keefe and the Southwestern Still Life Exhibit
Then I was shocked to see this.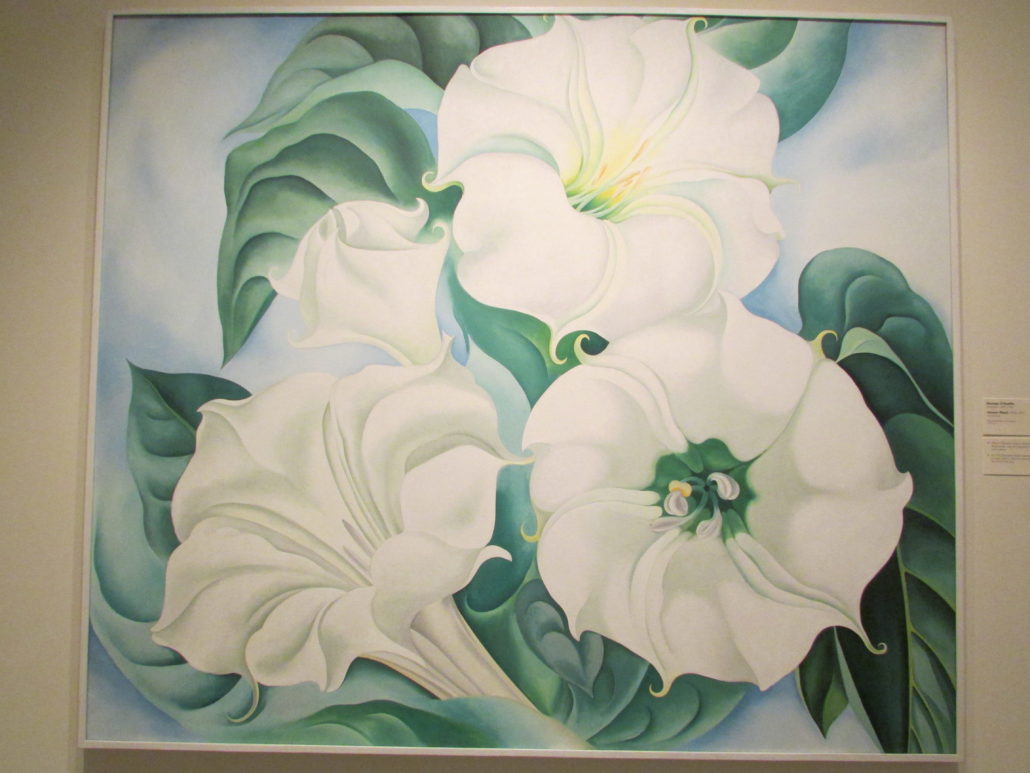 I've only seen and read about Georgia O'Keefe's work in books and on the web. The scale and precision of her work could only be appreciated when seen in person. No book or web photo could express the awesomeness. Wow! And the museum is going to showcase her work in an upcoming exhibit this November. Double wow!
Family-Friendly Activities at Star Studio
We ended our museum tour at the family-friendly/kid-friendly Star Studio, a creative art space for kids and art enthusiasts.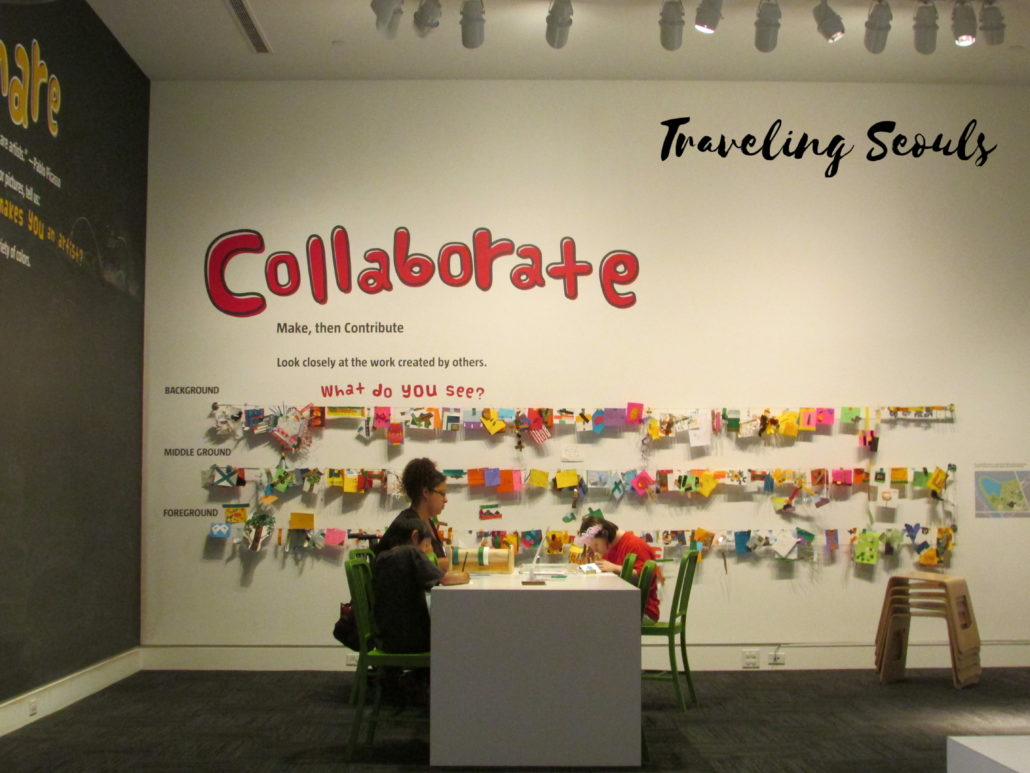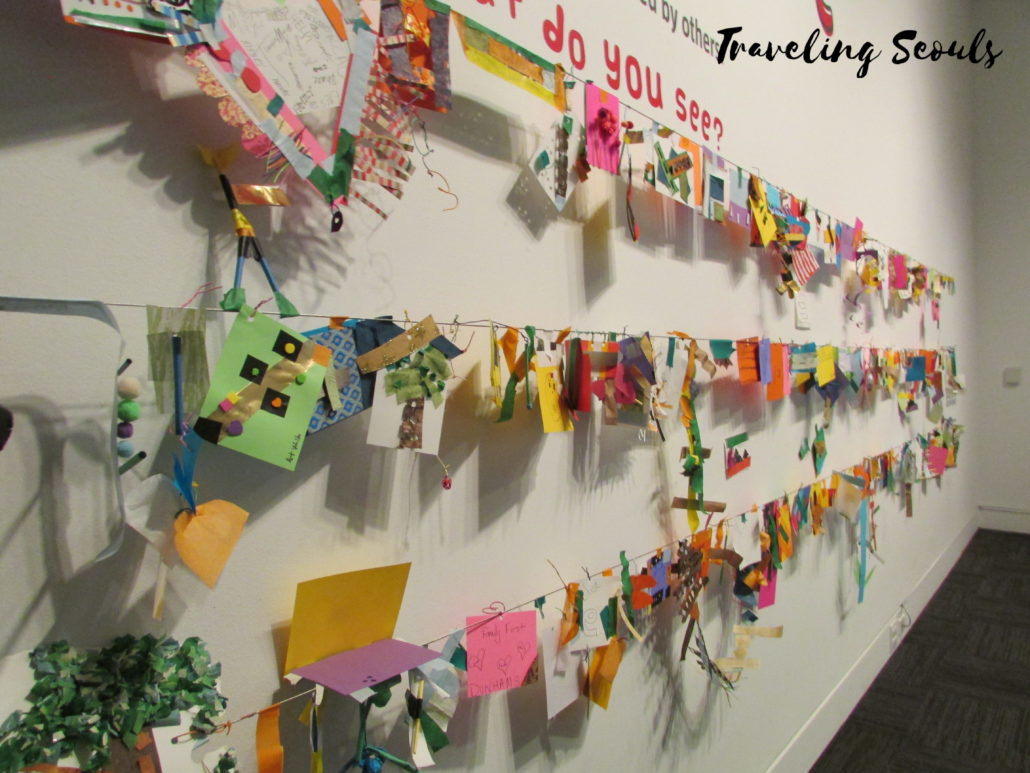 I wished I had done more research before our trip. Had we, well, then we could have asked for an art packet to get our kids hunting for art around the museum. They also offered plenty of other family-friendly activities on the weekend and other nights of the week – ALL FREE!
Now this is where our kids wanted to begin our museum tour, of course. This type of creative play is reminiscent of other museums, like the Cleveland Museum of Art or The Children's Museum in Indianapolis, because it gives kids a chance to let off steam. I mean, it's hard to ask kids to not touch an ancient artifact or famous medieval painting for an hour. Here, touching art is okay. Making art is way okay.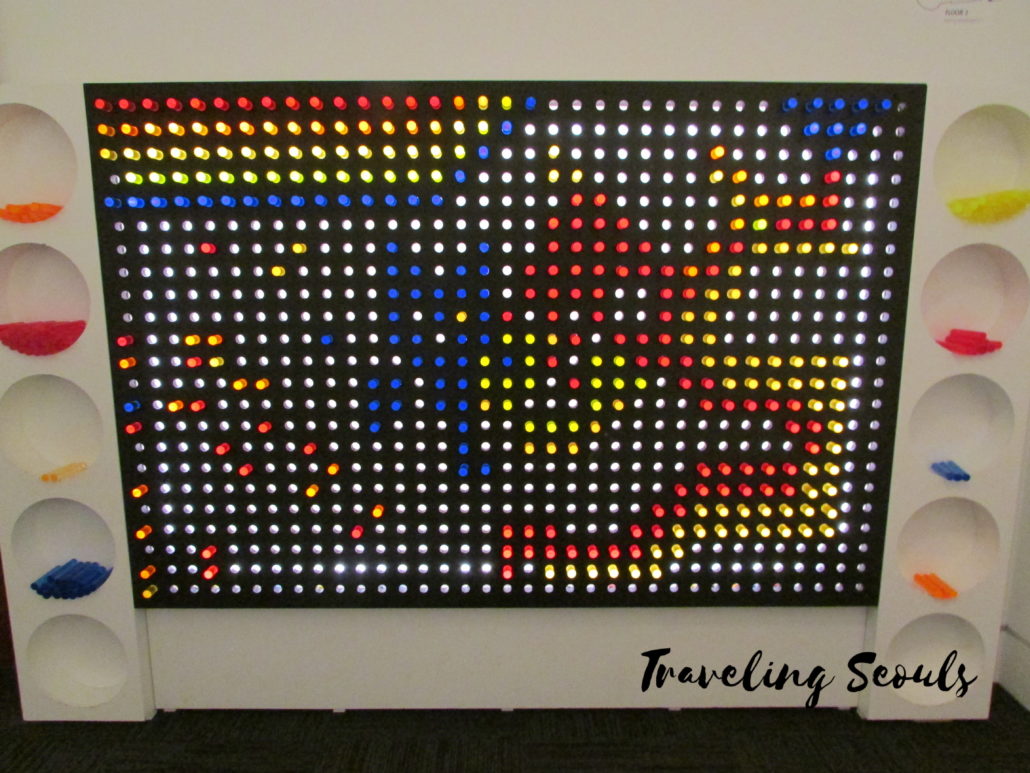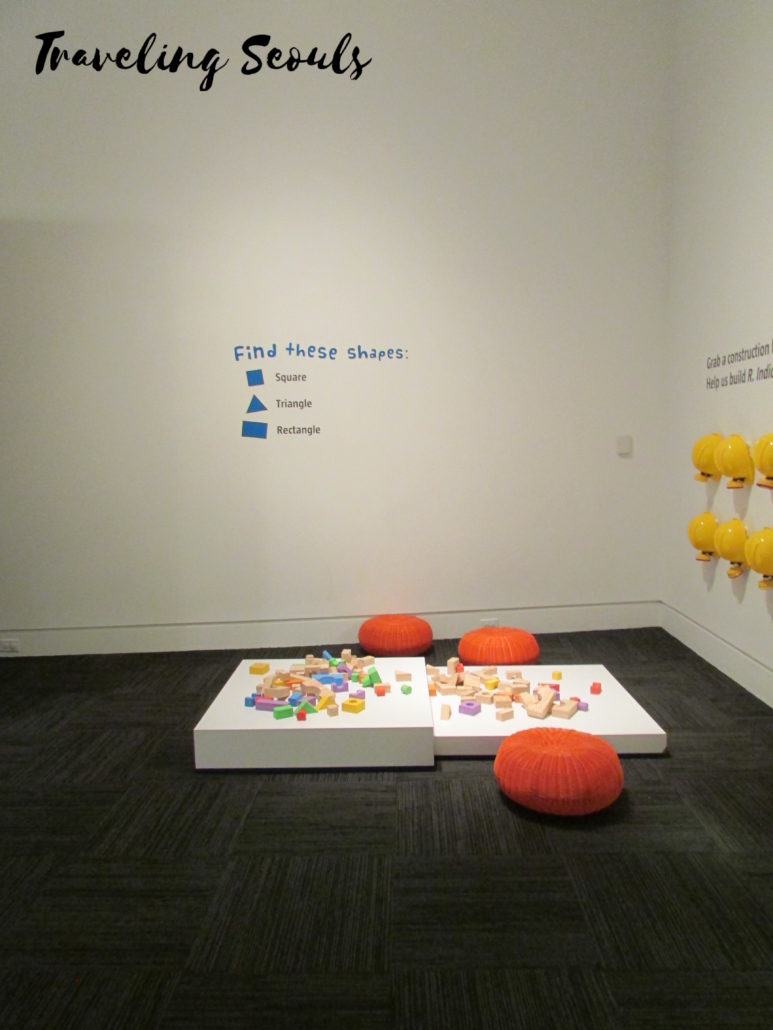 Then you've got the electronic media component added in the kid-friendly zone. With an iPad app, you can make your own Robert Indiana-inpired digital art too.
When you're done making, creating, and designing, you can share your photo here. Then it will be posted and shared on their electronic media wall with hundreds, thousands of other people. Technology is so ingrained in the culture of our children's generation; this is part of the way they process learning.
Outdoor Sculpture
I'd seen a smaller version of the LOVE sculpture by Robert Indiana, but it was nice to see the original.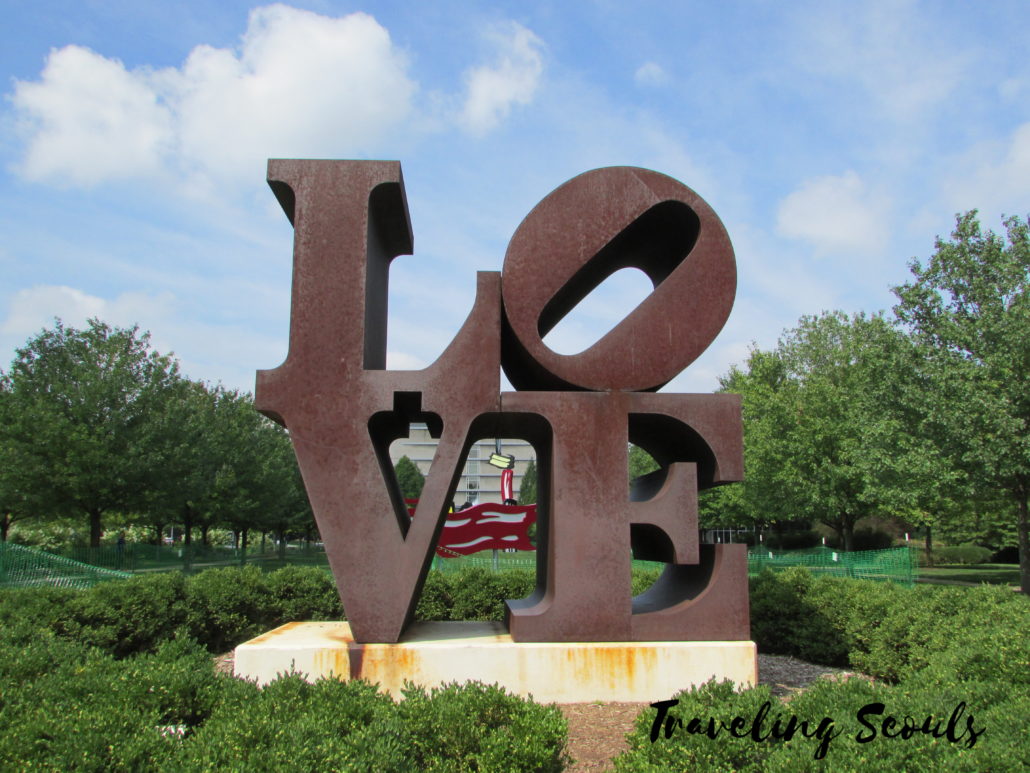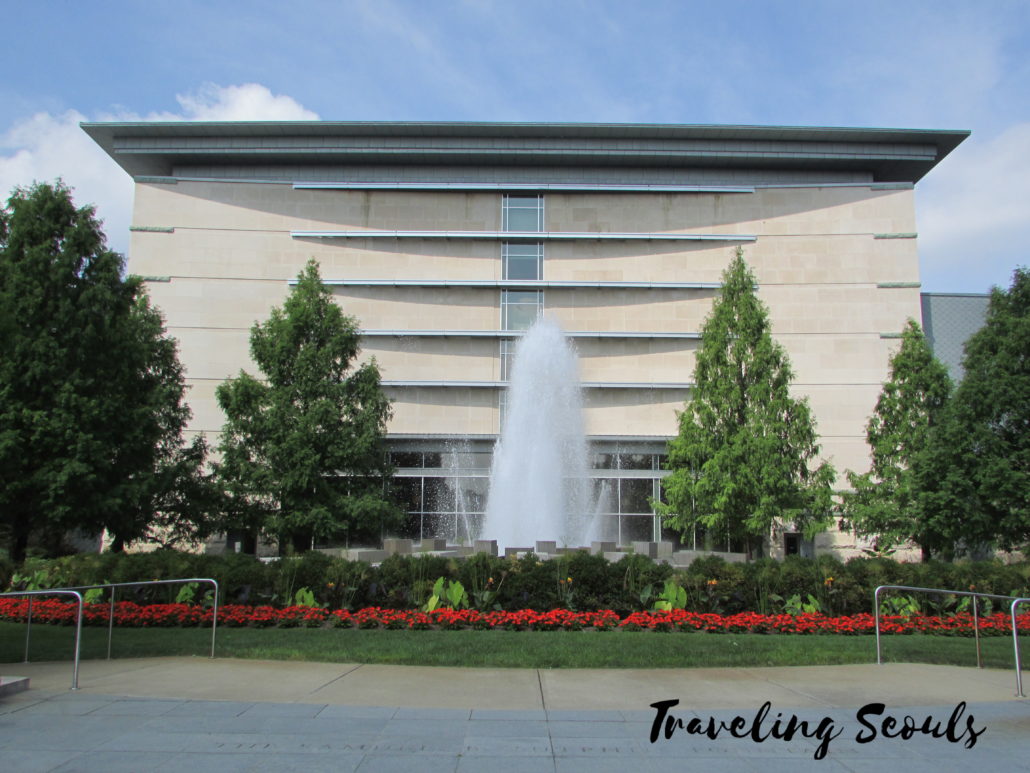 This massive 152-acre art museum has a little bit of everything. We wished we had more time to view more of this encyclopedic museum. Until next time, Indianapolis Museum of Art!
Related:
The Children's Museum of Indianapolis – Largest Children's Museum in the World
Indiana State Fair 2014
Cleveland Museum of Art
Please follow and like via: