Have you ever been to a state fair?
I'd never been to one until a week ago.
Just when I thought we were pretty much done with our summer travels, we decided to take a last-minute trip to Indianapolis. And when you're looking up last-minute deals, you wanna know the latest happenings in town. Once we booked our hotel, we noticed that we could catch the last day of the Indiana State Fair.
The moment we drove up to the state fair lot, it was overwhelming. I incorrectly assumed that the last day would mean little foot traffic. Cars lined up outside of the venue for a parking spot, which meant this was going to be a huge showing. You could hear monster trucks revving their engines at the stadium filled with loud roaring cheers.
Tons of people are walking, eating, waiting in lines, and listening to loud bumpin' music. This perked up our boys for some major fun.
At Midway
What's a Midway? I had no idea. I read that you could spend $30/person for an all day pass, which probably meant carnival rides but what kind?
This kind…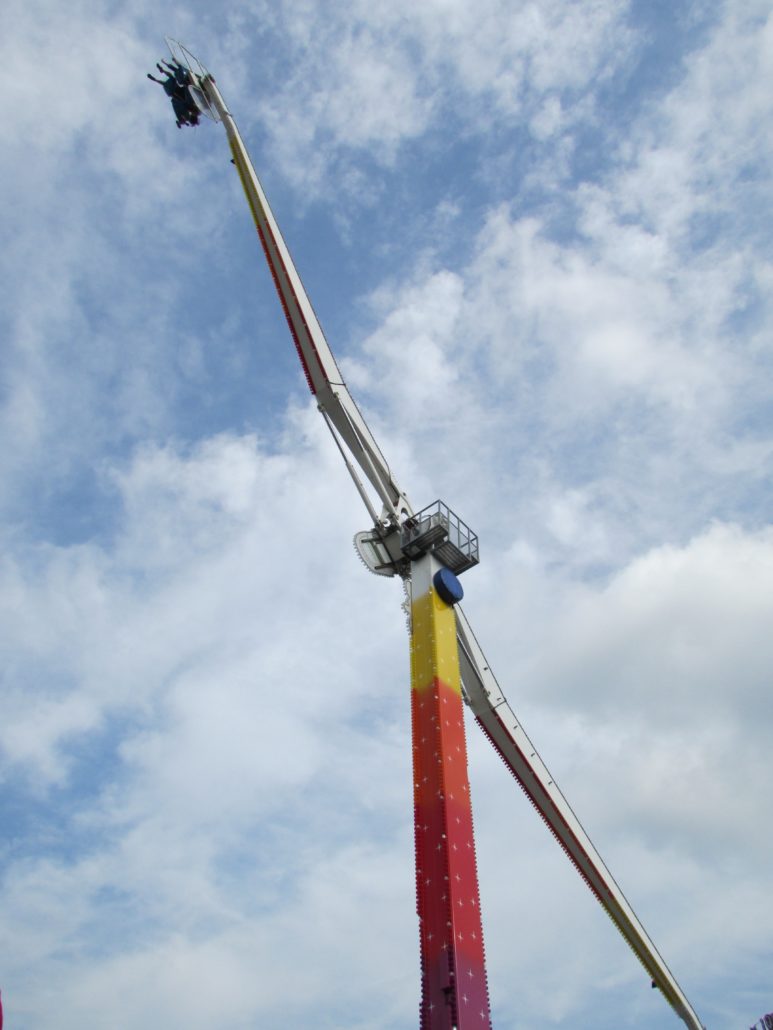 That ride greeted us at Midway, and it dropped a bit too close for my comfort. $30 wrist band passes were too steep for us first-timers, so we opted for the more economical route and purchased individual tickets.
Kiddie rides ranged in the 2-3 ticket range. Linus could ride only two alone, but with an adult, he had a few more options.
We quickly learned how fast those tickets run out on kiddy rides.
Carnival Games at Midway
Rides weren't the only thing enticing kids at Midway…the prizes got to them as well. Someone actually carried this huge guy around.
I kept replaying the scene in Despicable Me when Gru became upset with the carnival game vendor for cheating Agnes out of winning her stuffed animal. Too bad Piano Man didn't understand the way carnival games worked. He tried a few with no success. We watched a guy spend away his money trying to win a prize for his girl. The vendor then let the gentleman toss the basketball underhanded. Still the guy came up empty handed.
Livestock Show
We didn't take in a traditional livestock show, but we looked at cute baby chicks and ducks. Aww… aren't they cute?
Street Foods
I don't think the kids even noticed the plethora of greasy fried and sugar-inducing foods available to them.
You also knew which vendors were the good ones based on the length of the waiting line. And if you've ever had carnival street food, you know that funnel cakes are a classic. Linus took one look at that strange powdery white and yellow pastry mess and shook his head, no thanks. When I told him it was like a doughnut, he took one bite and was hooked.
Music Performances and Car Shows
Posters were plastered of different bands and music artists who performed. We heard plenty of cars drag racing and monster trucks pounding and crushing metal. We missed all of those events. Too bad that we couldn't even take a peek from the parking lot.
Overall Experience
I sat next to a little girl on our tractor ride around the fair. I asked her if she's been here before. She responded, "I come here every year." Then she looked at me like, "how could you not come here every year?" It was part of her family tradition to make an annual trip to the Indiana State Fair.
I witnessed friendly encounters all over the place. The state fair was laid back with plenty of activities for young and old. We experienced a slice of pure Americana life. However, there were a few things I could have done without – the sheer volume of human excretions was too much. I felt like I was walking our family around a mine field of vomit, most notable around street food vendors and spinning rides.
I could see why people would come back for more all summer long at the state fair. It's an experience to see your favorite artists, car racers, or just to hang out with friends or family.
Now that we've checked off state fairs on our travel to do list. How about you? Have you been to the Indiana State Fair?
Related:
TRAVEL: Indianapolis Children's Museum
TRAVEL: Go Free to the Indianapolis Museum of Art
TRAVEL: Indiana State Fair
Please follow and like via: