UPDATE 10/23/2016: I found out a few cool other travel tips from friends, read more below to get an insider's view.
October 23rd, 1956 is a very important date, a national holiday, in Hungary. It marks the date of when Hungarians revolted against the former Soviet Union. Rather than go in detail about the history of the events when Hungarians revolted against Communist rule, you can read in greater detail here:
GWU's National Security Archive on the 1956 Hungarian Revolution
Wikipedia's Hungarian Revolution of 1956
If you are in town on the weekend of October 23rd, then you are in luck. Entrances to museums are free, and you can take a closer look at the history and cultural aspects of Hungary.
In honor of commemorating 60 years since the uprising,  you can experience some extra special free events in Budapest. 
Seven Museums/Buildings That You Can Enter for Free
While you may be looking for museums and building entrances that you can enter for free in the city, such as the Parliament Building, House of Terror, and others, you will be pleased to note that several museums will be open on October 23rd as well. Check out my comprehensive list here:
1. Parliament Building
Walk through the grand staircase, check out Cupola Hall, and see the Holy crown (possibly see St. Stephen's hand) for free on October 23.
TRAVEL TIP: Actually, you can go inside the Parliament Building on the day before. Perhaps it's because it is the 60th anniversary, which is why Hungary opened up its doors for the entire weekend (Saturday/Sunday).
Hours of Operation: Opens at 11:00 am to 6:00 pm (last entry at 5:00 pm)
Address: Kossuth Lajos ter (square)
Website: http://latogatokozpont.parlament.hu/en
2. House of Terror Museum
This three story building walks you through the period of Communist rule in Hungary from WWI and WWII through the end in 1989. It houses a dark basement of the prison cells and candlelight vigil area, as well as other darker parts of detainment and imprisonment. There is also a ceremony at 3 pm. (NOTE: Not recommended to take young children.)
Hours of Operation: 10:00 am to 6:00 pm
Address: Andrássy út 60., district VI.
Website: http://www.terrorhaza.hu/en
For More Information: See House of Terror Visual Guide
3. Hungarian National Museum
The Hungarian National Museum will be open for free to all visitors on October 23rd. There will be an exhibition detailing the events of the 1956 revolution and after. If you have a few hours, see the rest of the museum's enourmous collection of art and artifacts.
Hours of Operation: 10:00 am – 6:00 pm
Address: Múzeum krt., 14-16., district VIII.
Website: http://hnm.hu/en
4. Hungarian Museum of Military History (Hadtörténeti Intézet és Múzeum)
If you are into military history, then this museum is for you. In this museum, you will find relics from World War I and World War II. If you visit, you can look at historical military uniforms, models of planes, tanks, and reenactments of various battle scenes, and see inside the cockpit of an old warplane.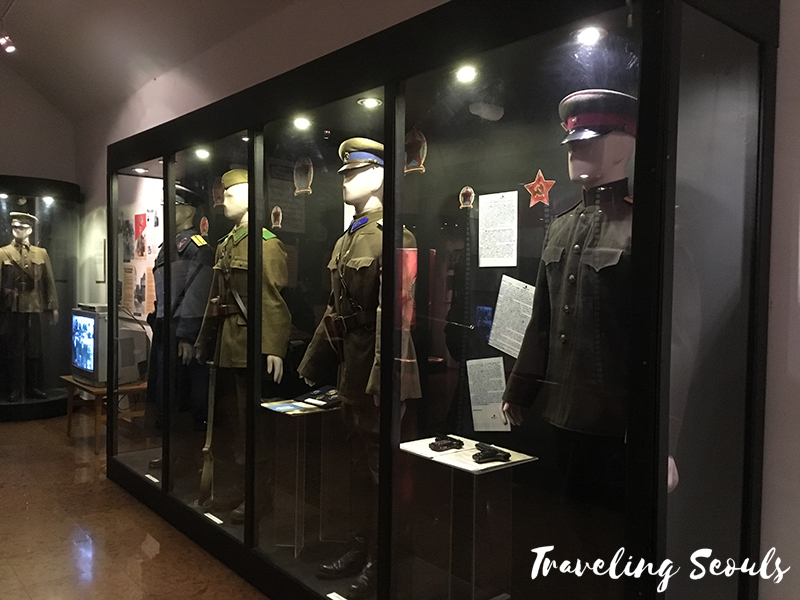 TRAVEL TIP: Don't take young children, unless you are prepared to talk about the history of WWI/WWII. Also, there are a lot of graphic black and white images of death, which are not suitable for younger audiences.
Hours of Operation: 10:00 am to 4:00 pm
Address: 1014 Budapest, Tóth Árpád sétány 40. (in the area of Buda Castle)
Website: http://www.militaria.hu
5. Memento Park
Going to Memento Park on October 23rd may have a special meaning as this museum of former Soviet Union communist monuments will remind visitors of the grave historical period in Hungary. Want to see more images? Check out my visual guide inside Memento Park.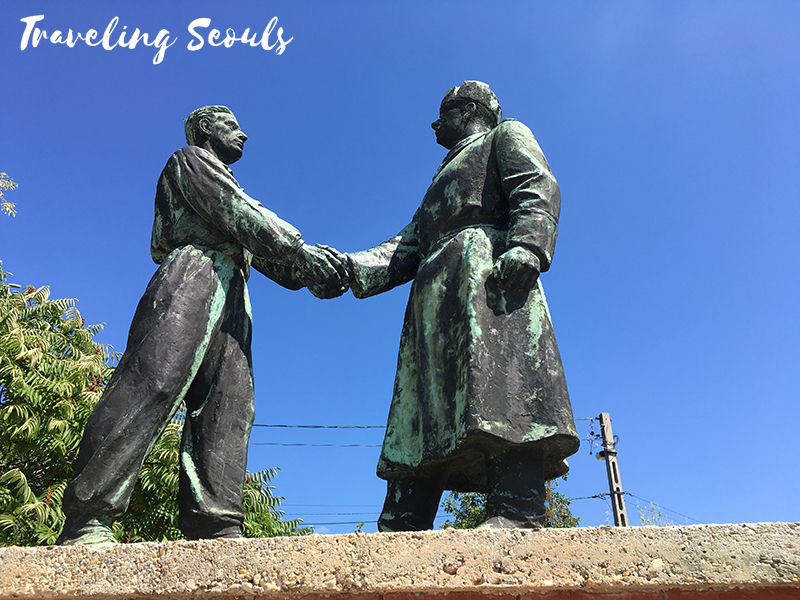 Hours of Operation: 10:00 am to dusk (which is much quicker during the fall season)
Address: Balatoni út, Budapest 1223 Buda, District 22
Website: http://www.mementopark.hu/?lang=en (in English)
For More Information: See the Memento Park Visual Guide
6. Museum of Applied Arts
Check out the permanent collection in the third largest applied arts museum in the world at the Hungarian Museum of Applied Arts. While this museum is not related to the events on October 23rd, this museum houses a collection of applied art items from Hungarian donors. While some of the items in the museum were destroyed or stolen during WWII, what remained after WWII shows you how much Hungarians appreciate art. Forgo the 2000 HUF entrance fee and go free for the day or part of the day. You can see more by checking out the Museum of Applied Arts Visual Guide.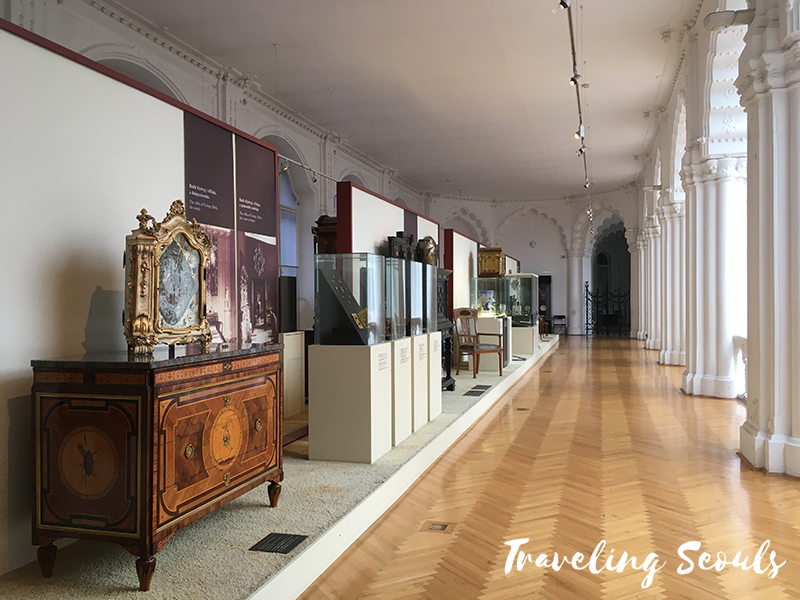 Hours of Operation: 10:00 am to 6:00 pm
Address: 1091 Budapest, Üllői út 33-37.
Website: http://www.imm.hu/en/
For More Information: Museum of Applied Arts Visual Guide
7. Aquincum Museum
Aquincum is considered Hungary's little "Pompei," according to its website. While not directly related to the uprising of October 23rd, this place is a fantastic piece of ancient history where the Romans once inhabited. Even if you cannot make it all the way to the outskirts at Aquincum, you will be pleasantly surprised to see the one and only musical instrument found by archeologists, now housed in the museum.
Hours of Operation: 10:00 am to 6:00 pm
Address: 135 Szentendrei út, 1031 Budapest
Website: http://www.aquincum.hu/en/
For More Information: See Aquincum Museum Visual Guide
Free Local Events Remembering the Hungarian Uprising of 1956
If you wish to be out in the open air, then scroll down for more information for free events in Budapest that allow you to walk in the beautiful outdoors.
1. Reenactment of Tram rides during October 1956
Take a ride on a vintage tram, which young actors (acting as paperboys) will perform from days of yesteryear. This reenactment will run from October 23-25, 2016 and again on October 30 to November 1, 2016.
Tram Line 6: Széna tér stop – Jászai Mari tér – Nyugati pályaudvar – Blaha Lujza tér – Corvin köz
Tram Line 49: Móricz Zsigmond körtér, Kálvin tér
2. Ceremonial Events at the Parliament Building (Kossuth Lajos Square)
If you don't feel like going inside the Parliament Building, check out the free events held throughout the day:
9:00 am – Raising of the flag
3:00 pm – Memorial ceremony and speech by the current Prime Minister (PM) of Hungary
3. Outdoor Exhibit at Városháza Park
You can read about the historical events of the uprising, a visual storytelling, at Városháza Park. This photographic exhibit shares the stories of the Hungarian and Polish uprisings. Attend this outdoor exhibition and learn more about the history from a visual perspective.
4. Concert at Papp László Sports Arena
Too bad I found out about this free concert at the last minute, but for future reference, you can get free tickets to this event.
Start Time: 7:00 pm
Address: Stefánia út 2., district XIV.
Website to Buy Tickets: http://www.eventim.hu/en/
5. Light Show on Buildings (dates for 2016)
Here is a listing of light shows to check out in Budapest:
Erkel Theatre (II. János Pál pápa tér 30., district VIII.) – 22. October at 6:45 pm
Papp László Sports Arena (Stefánia út 2., district XIV.) – 23. October at 6:00 – 7:00 pm and 10.00 pm – 11:00 pm
Corvin Department Store (Blaha Lujza tér 1–2., district VIII.) – 24. October at 6:45 pm
Town Hall of Újpest (István út 14., district IV.) – 31. October at 6:45 pm
St. Stephen's Basilica (Szent István tér 1. district V.) – 04. November at 7:00 pm
House of Terror Museum (Andrássy út 60., district VI.) – 04. November at 7:00 pm
Did you attend any of these events or museums? How was it?
Related:
Please follow and like via: