80% of our journey in Budapest is complete.  While month three (mid-point) was the lowest of my low, there were redeeming qualities about living and learning about Hungary's culture.
Since we had been traveling so much with our college students (Slovakia/Poland and Vienna), I felt exhausted from traveling. I think the kids felt burned out as well. When we lived in Cyprus, our first trip off the island would be over Thanksgiving break (a good three months of living in country before traveling), but this year we decided to stay in for Thanksgiving in Hungary.
Initially, I thought most of our students were traveling on Thanksgiving to Slovenia and Greece, but many came back on Thursday to celebrate with us. This now meant, "Where in the world can I get a bunch of whole grilled chickens in Budapest to feed 20 people?"
How to Spend Thanksgiving in Budapest
Thanks to a lovely Hungarian friend, she came with me to a local Syrian restaurant and helped me order 8 whole grilled chickens that were to be delivered to our flat. Now let me tell you that it's not easy to order whole grilled chickens in Hungary. When we got to the restaurant, my friend asked the gentleman if he could make grilled chickens. Unsure if he understood what I was requesting (not souvlaki-style), I used Google to show him the image. He then waved to us to follow him to the back of the kitchen. After showing the cook the photo, the possibility became a reality. Well, sort of.
The guy asked me how many chickens? I said for 20 people. He said, "okay, 18 chickens."
What?!!!?! 
After negotiating it down to eight chickens, it now came down to price. I was fine with the total amount, but when I wanted to pay by credit card, he said, "Forint (aka cash)." I was a bit confused and then asked about delivery to our flat. He said, "Nem (no in Hungarian). How was I going to carry eight whole grilled chickens from Blaha Luja metro to my apartment? On the metro in rush hour traffic? 
After some texts with Prof and a talk with my friend, I was ready to walk out. But the gentleman stopped us and ran out the door. Seconds later, he came running back and said yes to paying by credit card and delivery of the chickens for only 2000 HUF more.
I said thank you very much in Hungarian and hugged my friend for what felt like 45 minutes to order chickens for Thanksgiving.
Prof had come back from a conference in the States and brought back all the sides you could imagine – gravy, stuffing, and cranberry sauce! We bought the rest of the supplies to make all the usual side dishes, and the students came with plenty of dishes of their own. I would say that we had a diverse food setting that would make our friends and family drool back home.
By 5:30 pm, we had plenty of food, fun, and laughter to make it a Thanksgiving holiday to remember.
We relaxed and enjoyed our first walk through the Christmas markets in Budapest, and the boys had a lovely time. Piano Man enjoyed the ambiance and festive lights, while Linus (I think) enjoyed the lollipop that was the size of his face!
Come on, take a look at this amazing 360 view:

Shopping and Gratitude
And of course, there is Black Friday in Budapest. Piano Man read an ad near his school that said Black Friday in English, but I dismissed the idea that stores would do Black Friday sales. Wouldn't you know it, some expat friends confirmed that they did a little Black Friday shopping in Budapest. Thank goodness, it's nothing like the craze back in the States. Black Friday is one of those things I do not miss, and I was glad to be spending it here quietly with our students and my beautiful family.
I am forever grateful for my wonderful husband who is a rock to our students and to us during our five-month stint in Hungary. I am grateful for our rambunctious boys. I see their relationship grow deeper because they rely on each other for support and friendship in ways that I don't they would have been able to develop in the States.
Season of Advent
We are in our last days of living in Budapest. The season of Advent is already upon us, and my perspective about Hungary has changed. I have forgiven and forgotten about the metro incident last month, and I see Budapest in a new light.
Pin It for Later: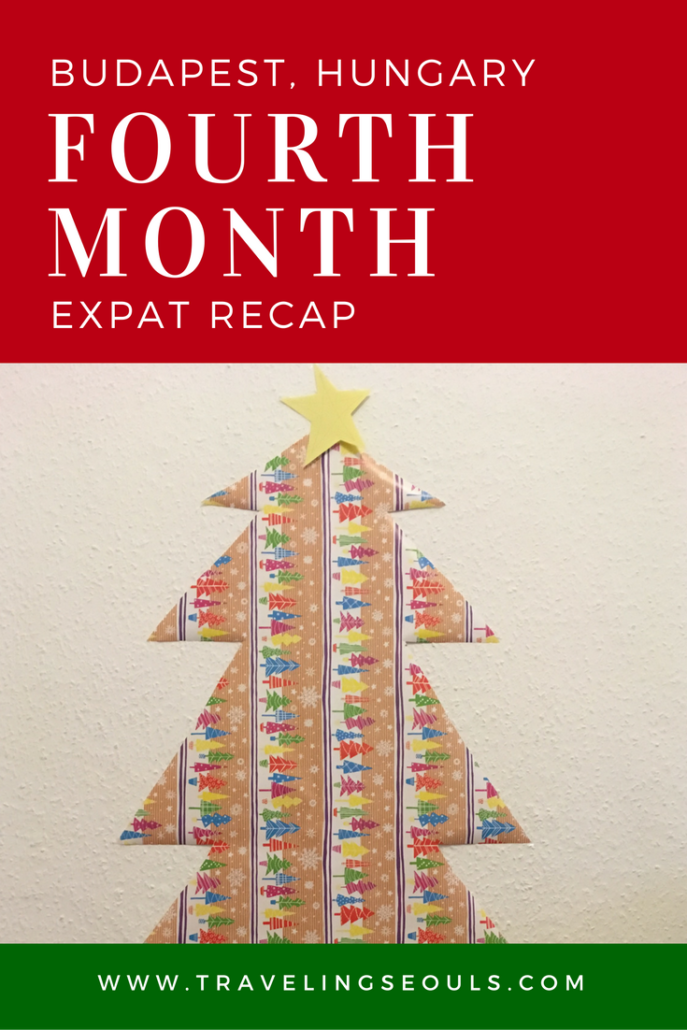 Related:
Please follow and like via: