We've got some news.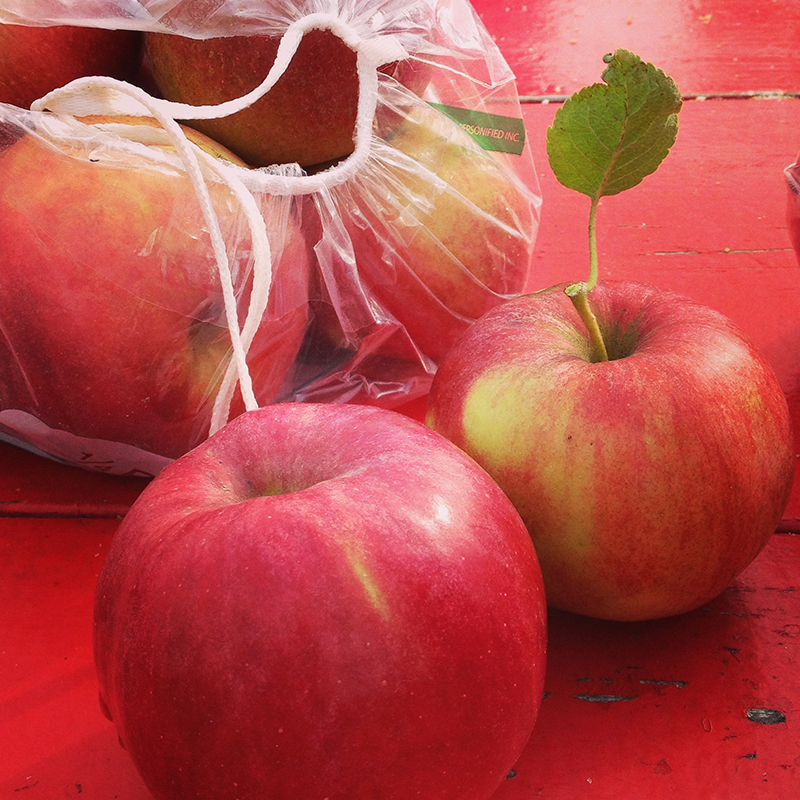 We're moving to the Big Apple. Yes, that's right. New York City, here we come!
But before we make the big move across state lines, we decided to have one last camping trip to the Upper Peninsula (U.P.), our last hurrah with our fellow Korean friends in Michigan. Last year we tried a night of camping at Ludington State Park, which turned out to be a wonderful experience. We decided to make this camping trip a two-for-one: 1) another overnight trip with eight families and 2) adding a second leg to the U.P. with my close Michigan gal pal and her family.
I read billboards to check out Pictured Rocks, a national treasure all over Michigan. And with our big move, there was no time like the present to make this trip to the U.P. But to make the drive from Grand Rapids, Michigan, to the U.P. takes commitment and over 6 hours of driving. (You know how tough that can be with two young ones in tow.)
Here's our original itinerary for our road trip to the U.P.:
Muskegon State Park – 1 Day
Traverse City – 1 Day
Tahquamenon Falls State Park – 2 Days
Muskegon State Park – Camping Overnight (Day 1)
Muskegon State Park had a mix of woodsy feel mixed with the winds and sounds of waves from Lake Michigan's shoreline. With over 240 modern and semi-modern campsites and two mini-cabins, there is plenty of space for you and your friends to join in lots of camping fun. There's a playground for kids, places to go swimming, picnicking, fishing, and boating. You can even go ice fishing in the winter.
Because of our move and our other friends' move, many of the moms had little time to coordinate a meal together for dinner. We opted for a more BYO-everything meal and share everything meal (BYOEM).
RELATED: Korean Group Meal Planning Checklist
While the families took the kids on a walk to Lake Michigan to catch the sunset, Prof and I stayed behind. Prof caught a cold, so we relaxed by the fire. We prepared for our smore-making fest, which was just as fun as last year.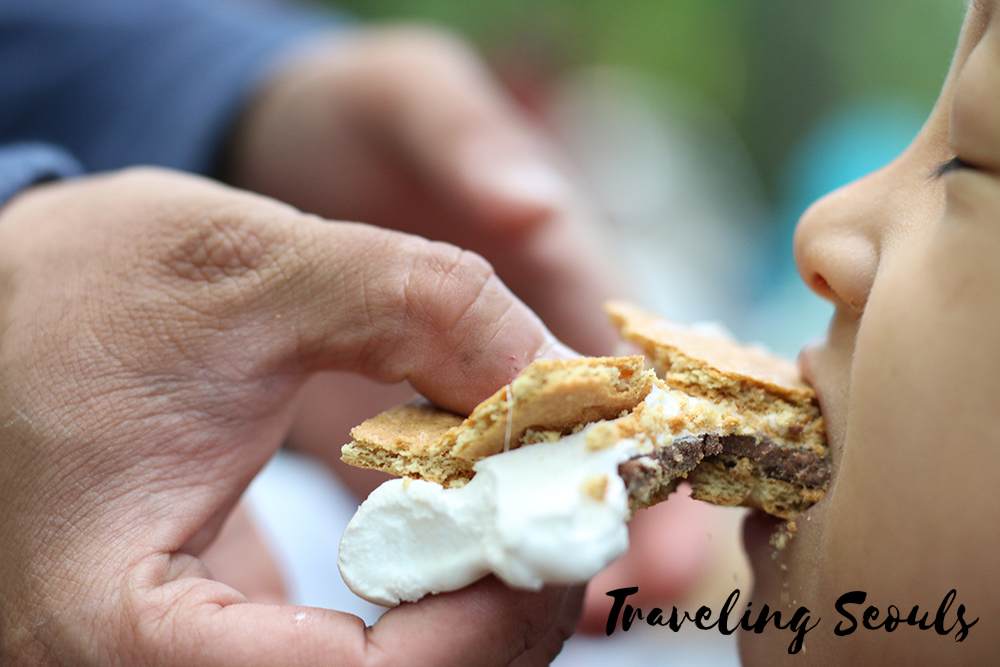 (Photo: Last year's delicious smore-making fest.)
Nightfall quickly approached, and we got the kids ready for bed.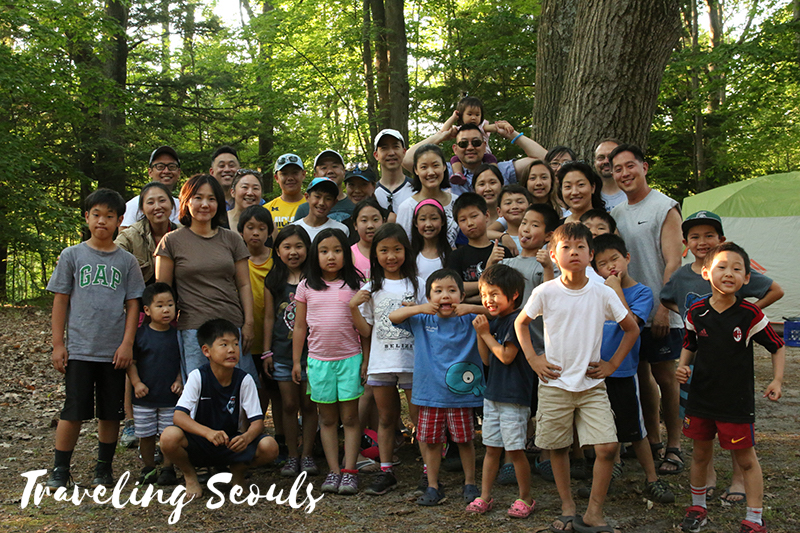 (Photo: Annual families photo. We've grown to eight families!)
Unlike the quiet woodsy feel at Ludington State Park, the winds from the lakeshore kept me up at night. But at least there were few mosquitos occupying our tent space.
Next morning, we ate leftovers then headed off for some more morning beach fun.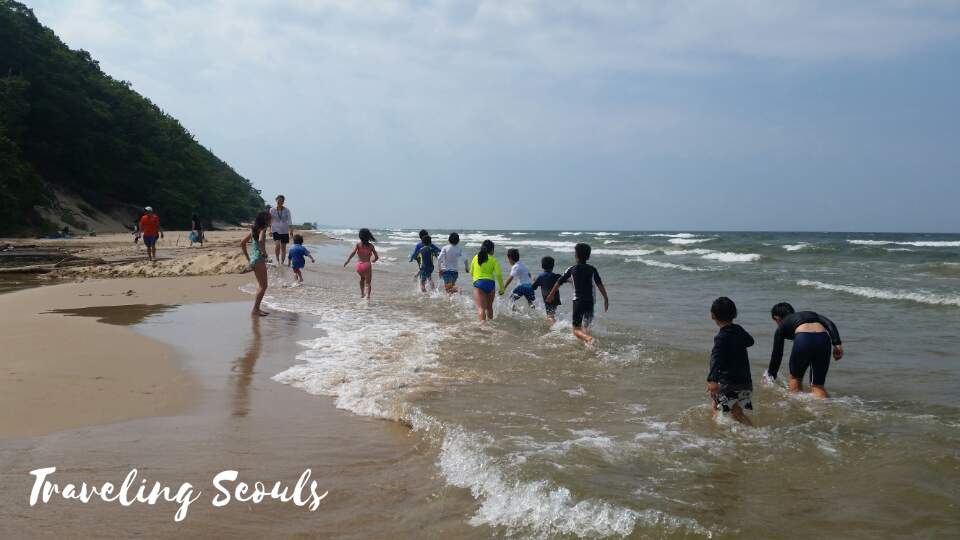 We said goodbyes to our friends. This would be our final Korean group camping adventure in Michigan. However, with Uncle J and Aunty A and their kids, we trekked onward to Traverse City.
Traverse City – Stopover (Day 2)
Traverse City is known for its Cherry Festival in early July. But since we were making a one-night pit stop in Traverse City in June, it would be more of a casual visit all about comfort than pushing for that full camping experience.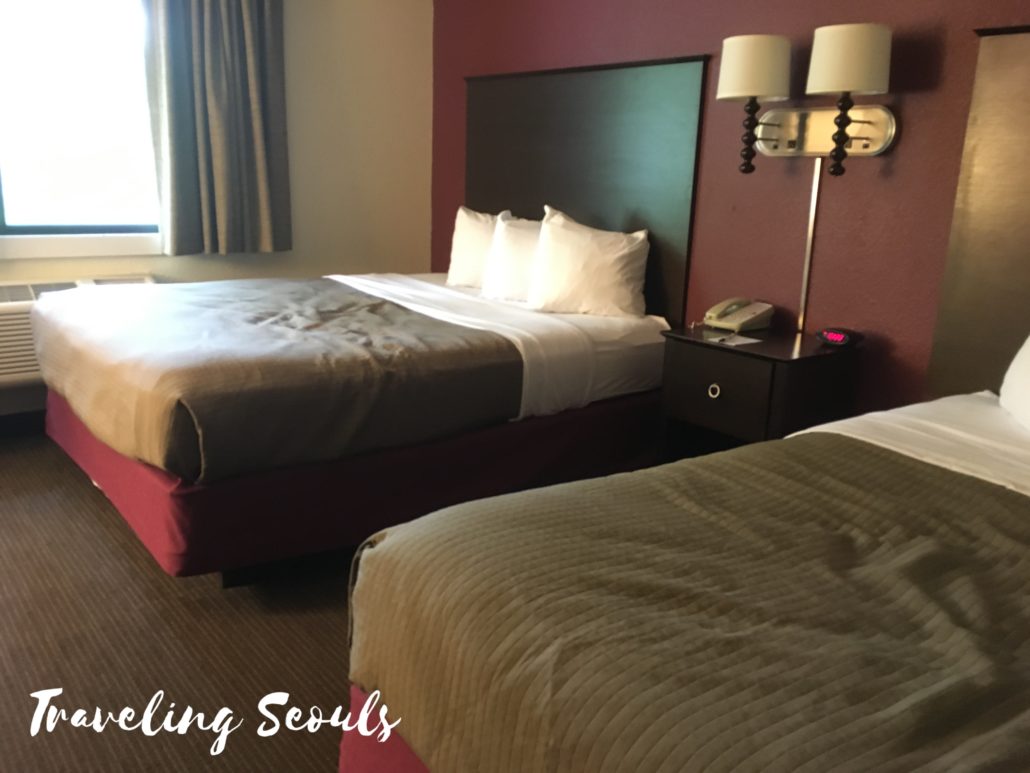 The guys hung out with the kiddos at the pool, which was a nice retreat from a rough night of sleep in Muskegon. My girlfriend took me on a short drive into town to check out one cool local shop called Cherry Republic. Cherry Republic makes anything and everything with cherries. Their stuff is goooooood. I picked up a couple of candy bags for the boys, while my friend picked up some delicious salsa. They even have stuff for kids: A cherry ball pit for younger kids, and a game of checkers for older kids – how cool is that?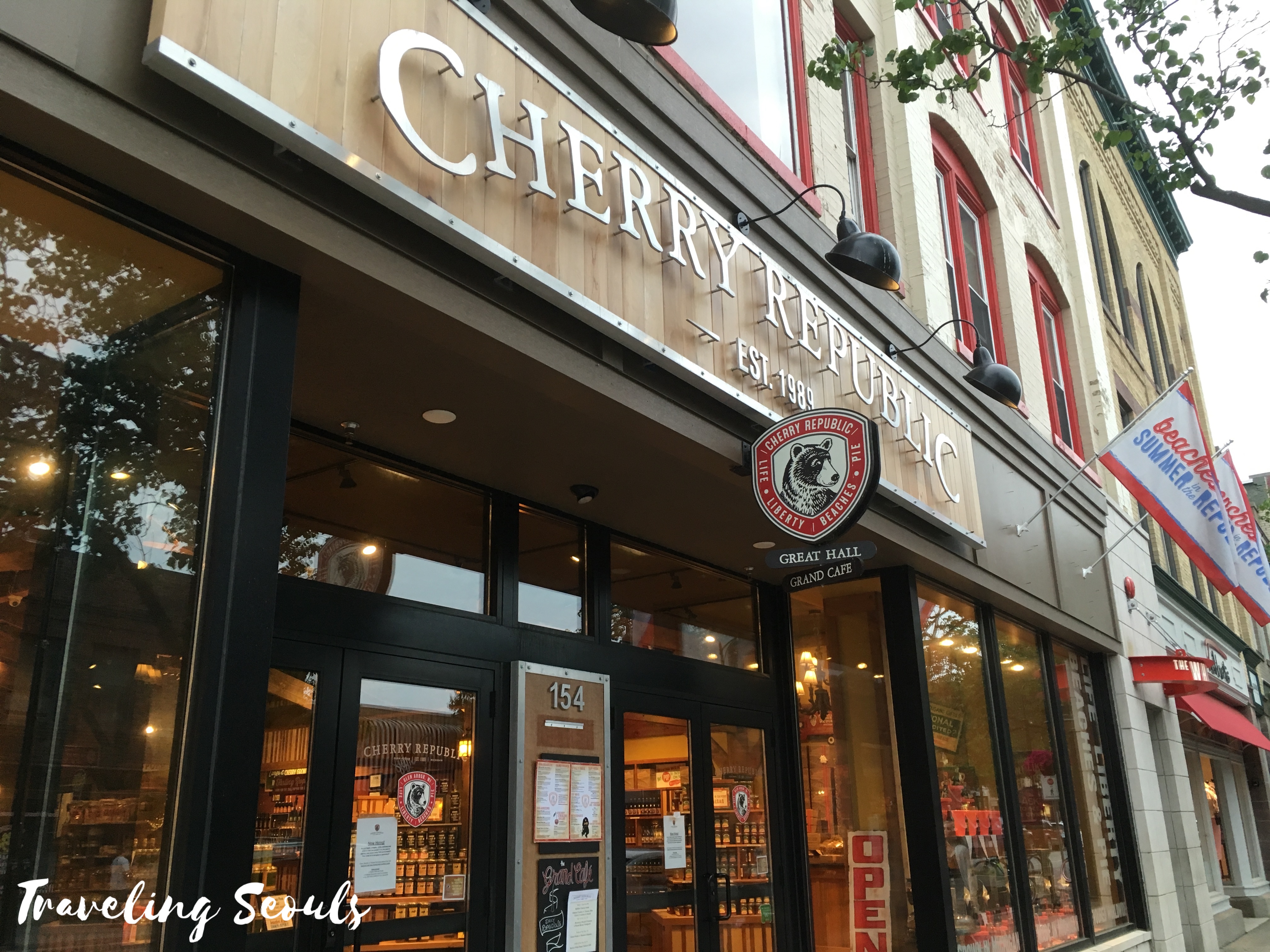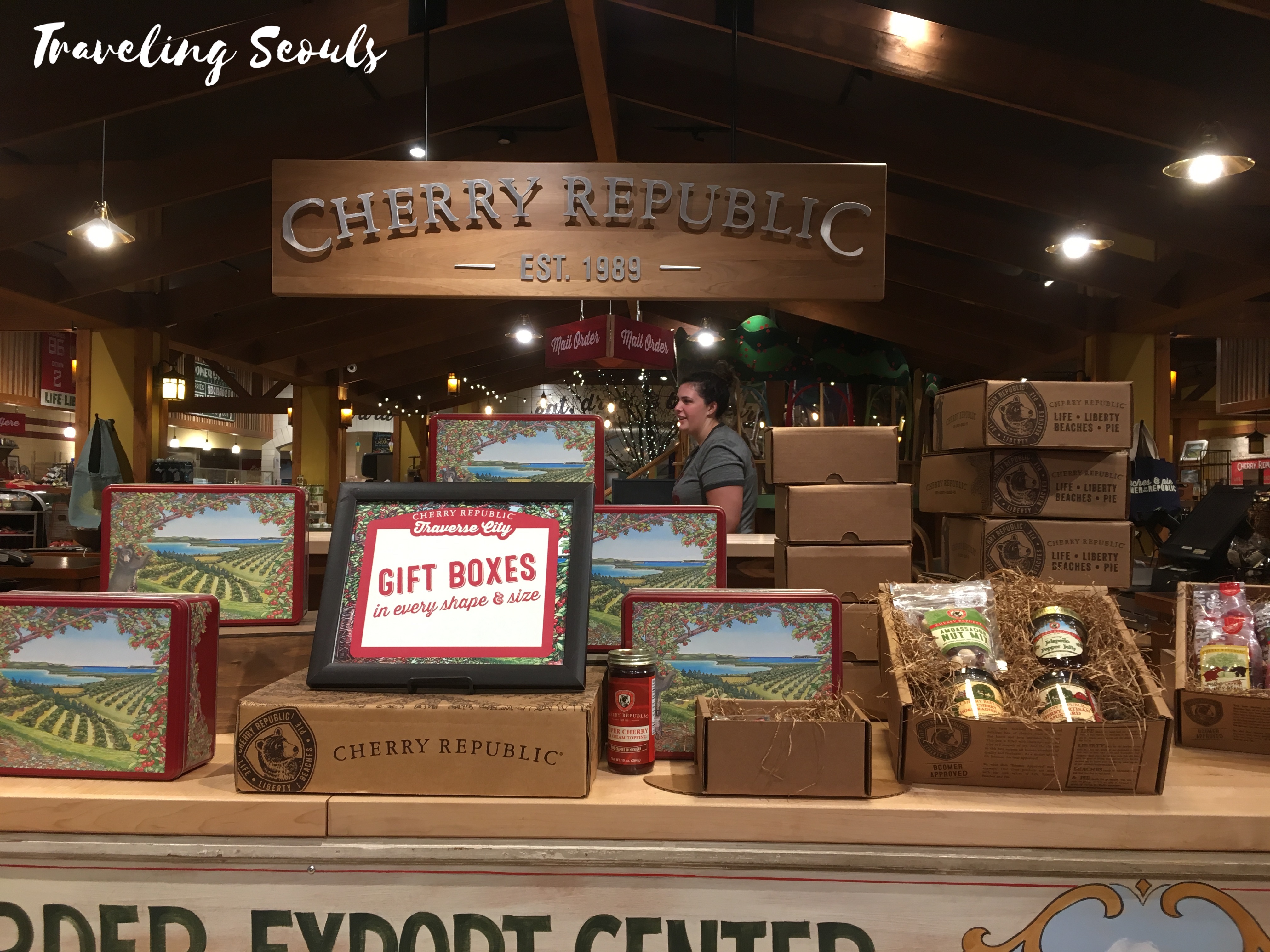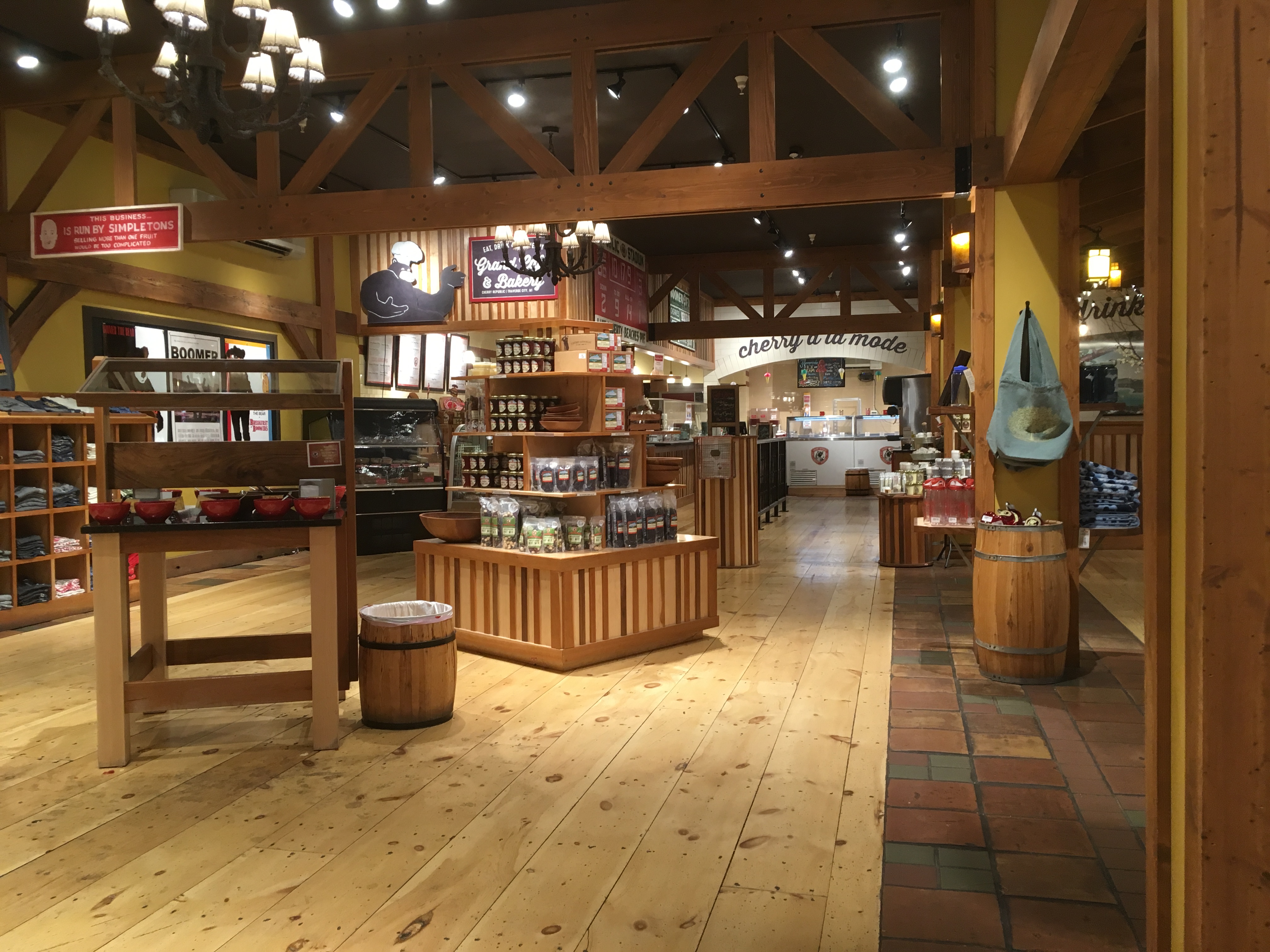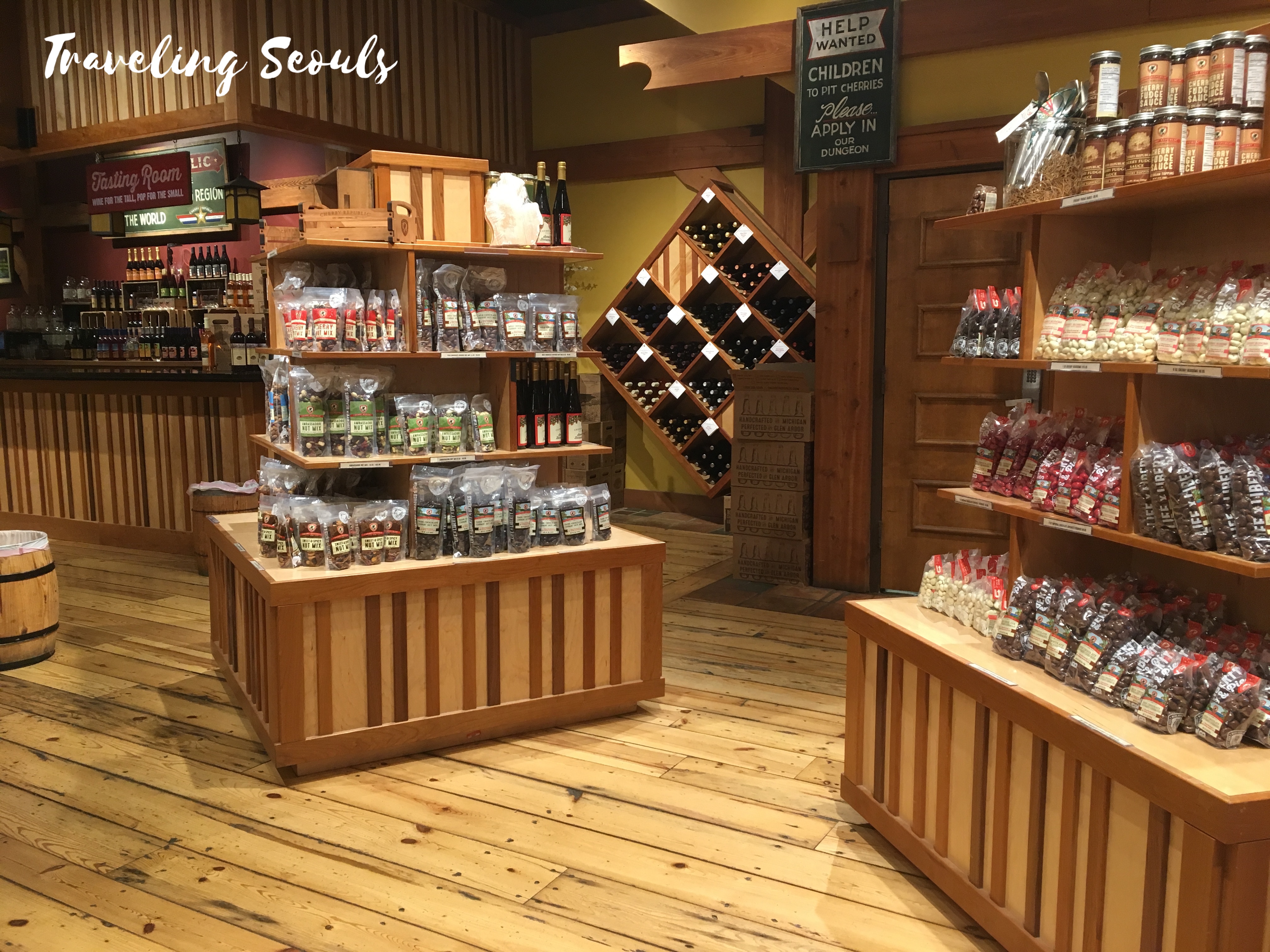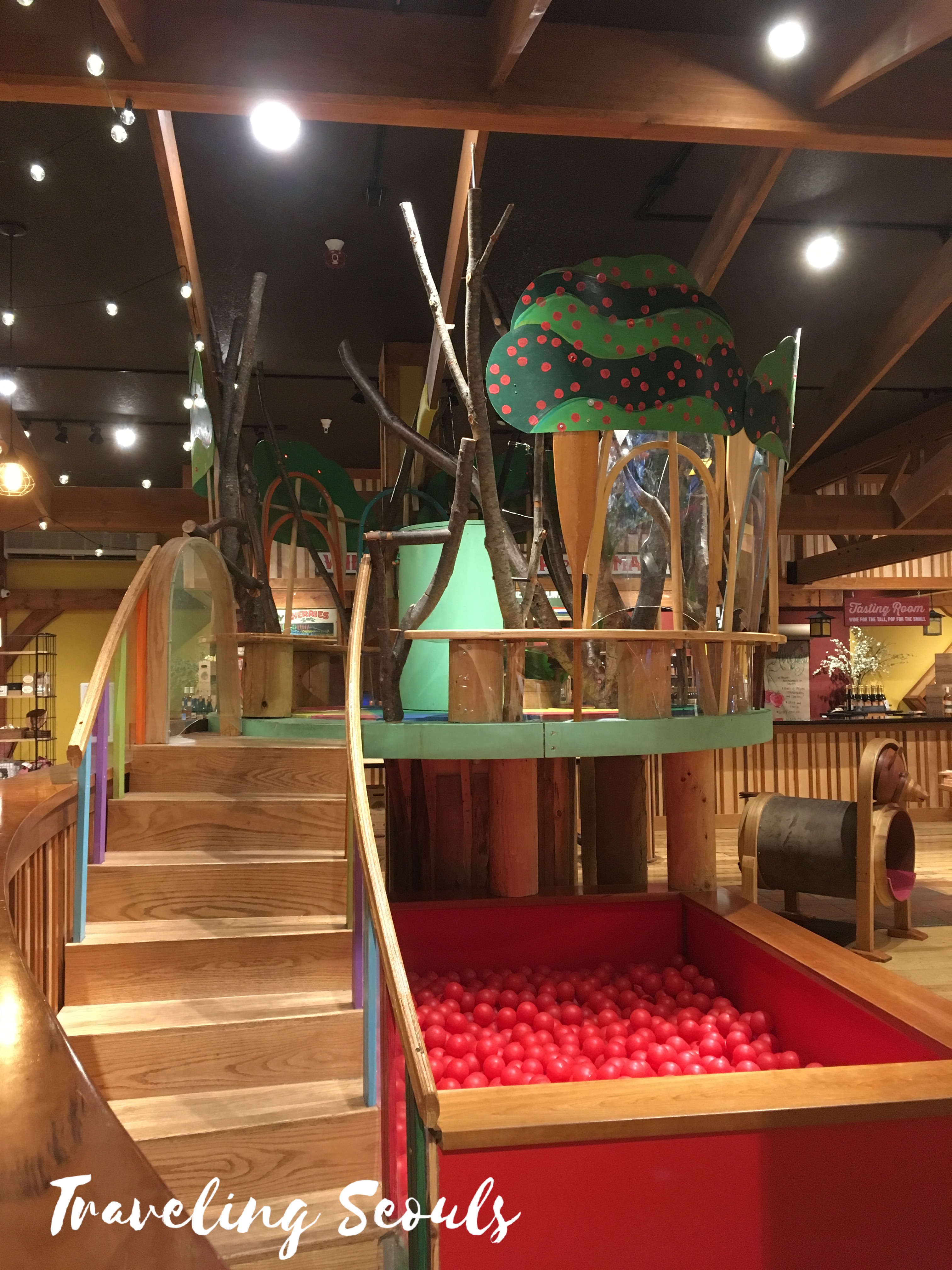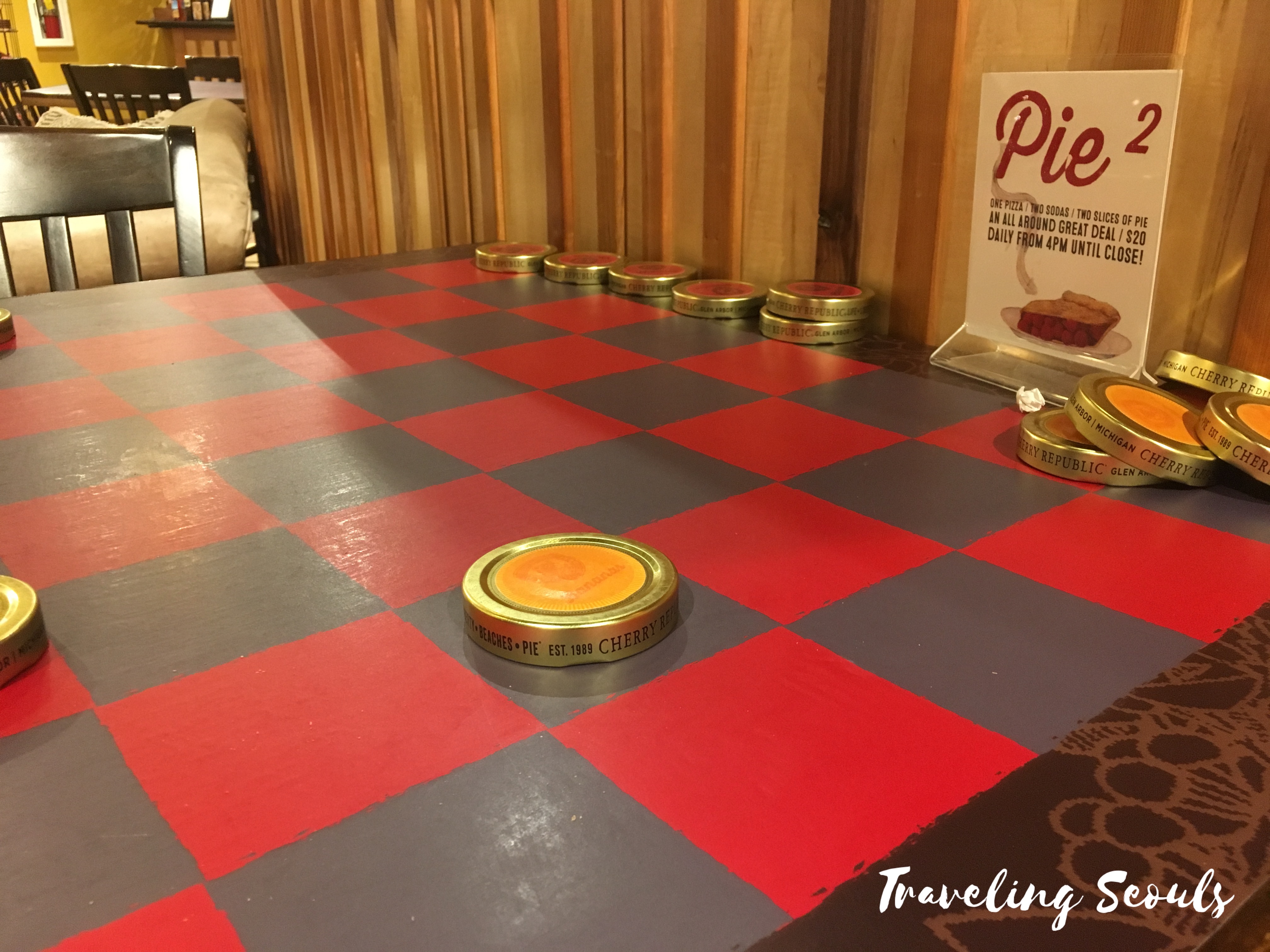 Pictured Rocks National Lakeshore (Day 3)
Seeing the majestic rock formations and picturesque waterfalls at Pictured Rocks was the entire reason for this trip.
Reservations at Pictured Rocks
Originally, we talked about camping at Pictured Rocks National Lakeshore, but because it's a national park, they don't offer reservations like the state parks in Michigan. Campsites at national parks are on a first come first serve basis. I read reviews on Google that people would drive around camp sites for hours and ask campers if they could be next in line for that campsite. If they could, then those next in line would drop their gear to let others know that they reserved that spot. If we were a small group of campers or didn't have young children with us, then I may have been tempted to drive around and waste gas to find a campsite. You could also secure a hotel reservation, but you should reserve those fast. Because of the potential rain forecast, we tried to reserve a hotel reservation the night before our trip to Pictured Rocks and all the nearby hotels were booked. Thus, we opted to keep our campsite reservation at Tahquamenon Falls State Park.
Still want to try your hand at camping at Pictured Rocks? GO HERE FOR MORE INFORMATION
Sightseeing at Pictured Rocks
Pictured Rocks National Lakeshore offers a wide-variety of outdoor activities, such as kayaking, hiking, sightseeing cruises, etc. It's not for the casual camper or for those with young children. Don't let the Pictured Rocks website fool you. It's beautiful, but you should be prepared for lots of exercise. (And if you can tell, I am not an athlete nor an avid outdoorsy person.) Other friends went on a kayak at Pictured Rocks and said it was hard work. They also said that kayaking would take a full day.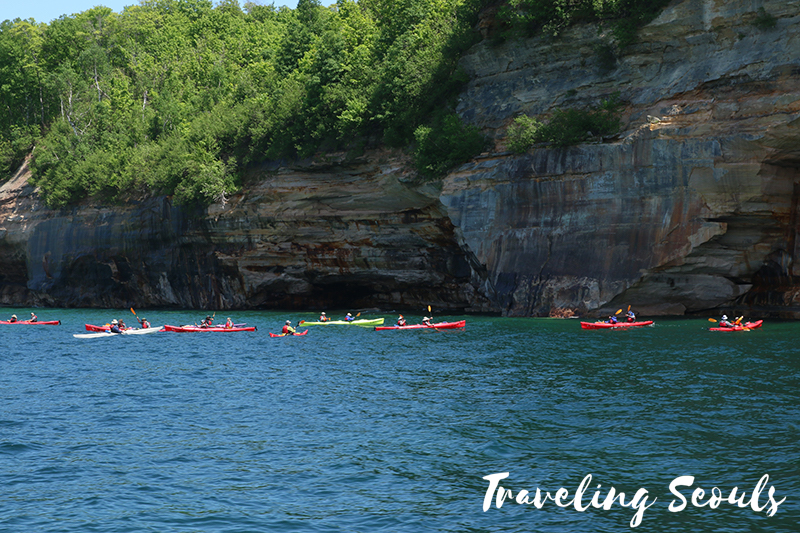 We opted for the two-hour tour on Pictured Rocks Cruises. Honestly, going on a cruise is the best way to see Pictured Rocks. You can't get better views than from the water.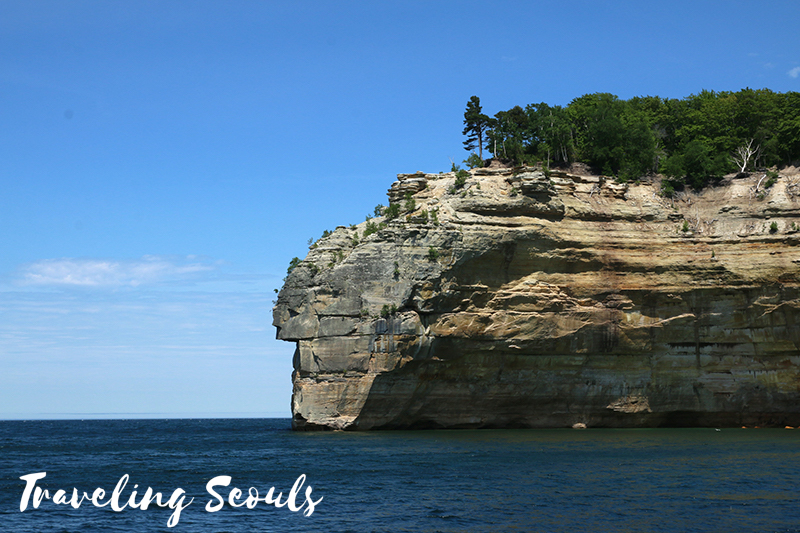 For more detailed information about Pictured Rock Cruises, you can see a map and the photos I took during our cruise. (HINT: I'll even tell you where the best spot for pictures is on the cruise.)
Luckily, we didn't get rained out.
Tahquamenon Falls State Park (Day 3)
By late afternoon, we made it to Tahquamenon Falls State Park. We checked into two lower falls campsites. It was kind of quiet on a weeknight, except for the mosquitos. They were out for a good meal, and we were the targets. No amount of Off! Insect Spray
or Off! Mosquito Coils
 (affiliate links) kept those little bugs from eating us, especially our kids.
Camping Overnight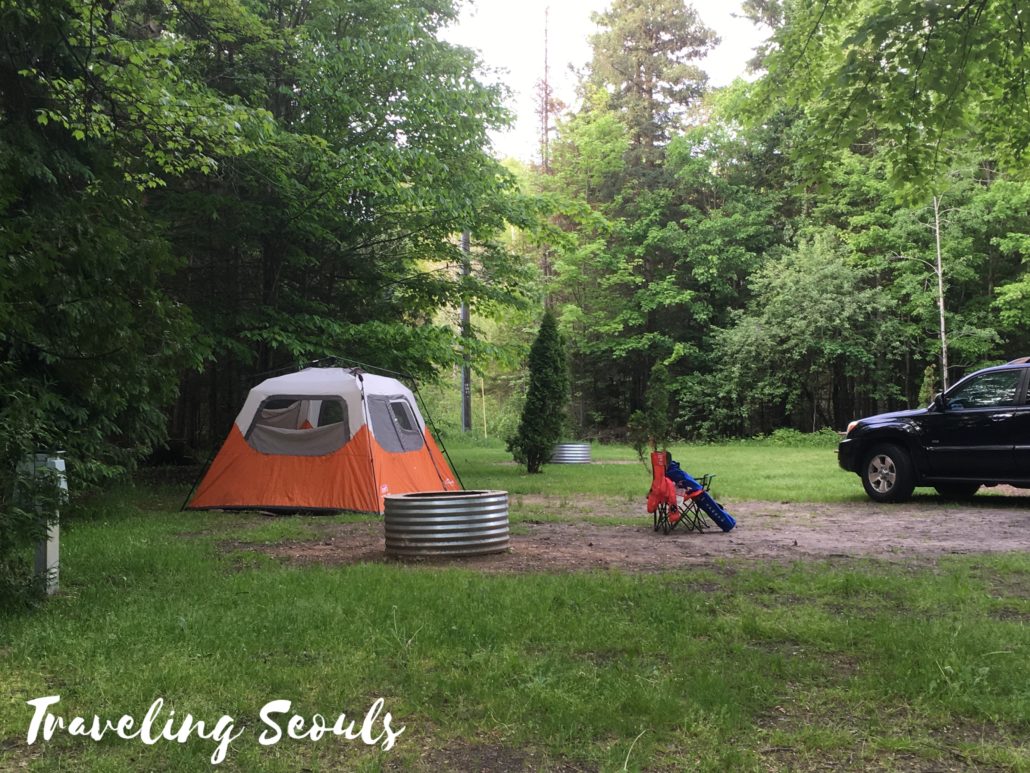 We cooked kimchee jigae (Korean kimchee soup) and doenjang jigae (Korean bean curd soup with tofu). Surely, the mosquitos would not like to smell that, but no. They kept coming at us during dinner.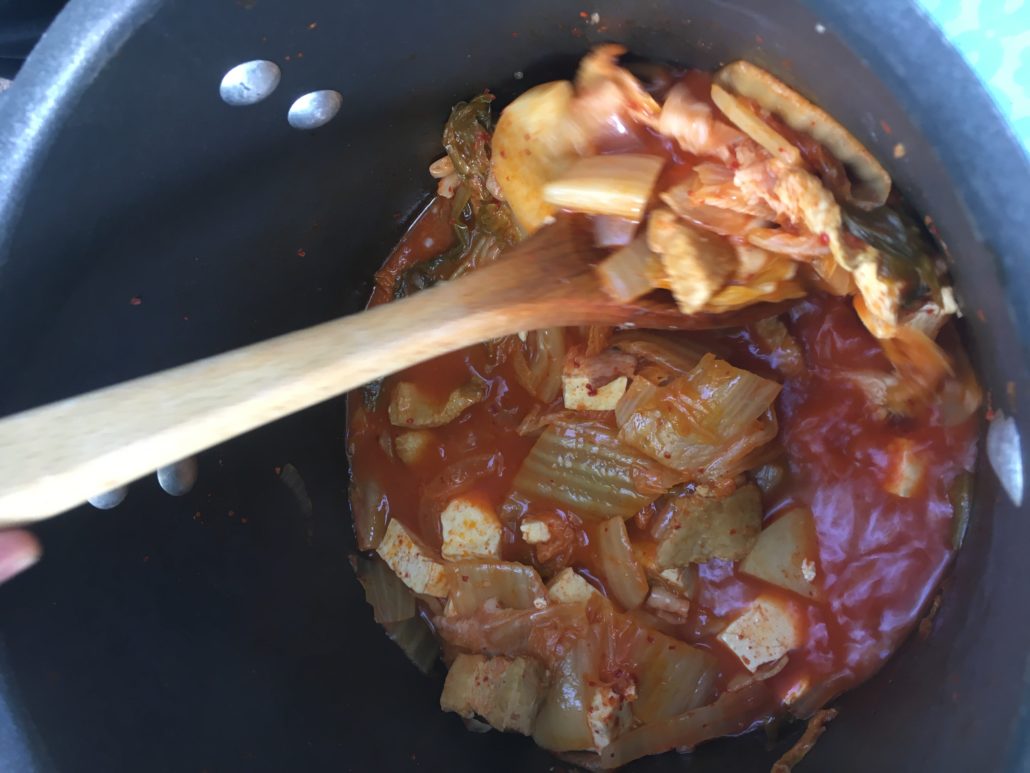 After dinner, we went on a fishing excursion. The water was moving fast, and we didn't have the right kind of bait. But the kids tried their hand at fishing anyway.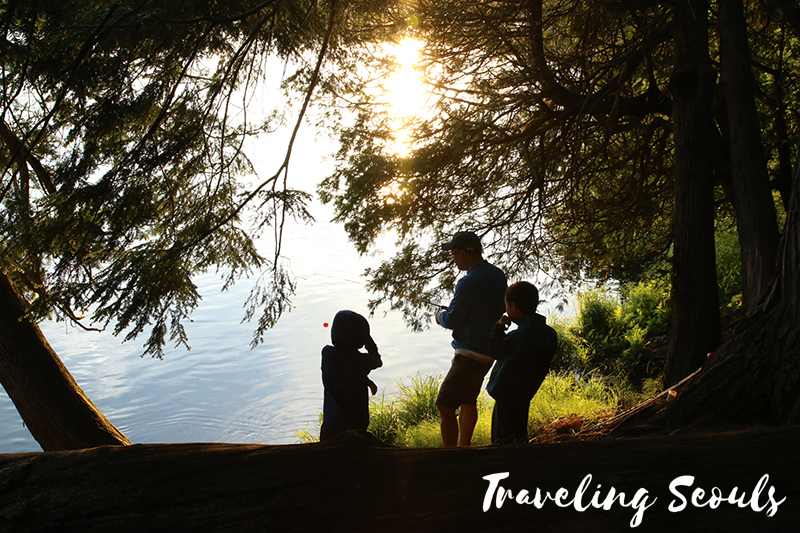 I noticed a small playground on our way back, which was a nice place for kids to retreat if they wanted to burn off some more energy. We made more smores, pulled out some glow sticks and called it a night. Tahquamenon Falls is much quieter than Muskegon State Park. The night air was still and quiet, which helped us to sleep better.
Hiking in the Lower Falls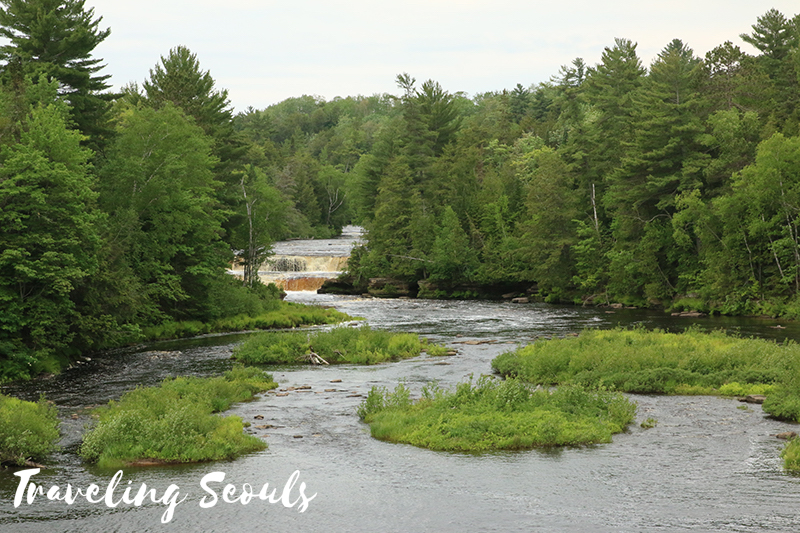 By morning, we took a short walk to the lower falls. When we arrived, we found out that the boardwalk was closed. If you wanted to get closer to the falls, we would need to rent a boat to get across for $20. Because this would be our last camping trip in Michigan, we thought, "YOLO!" The paddle allowed for only one person to paddle, and Uncle J was our designated paddler.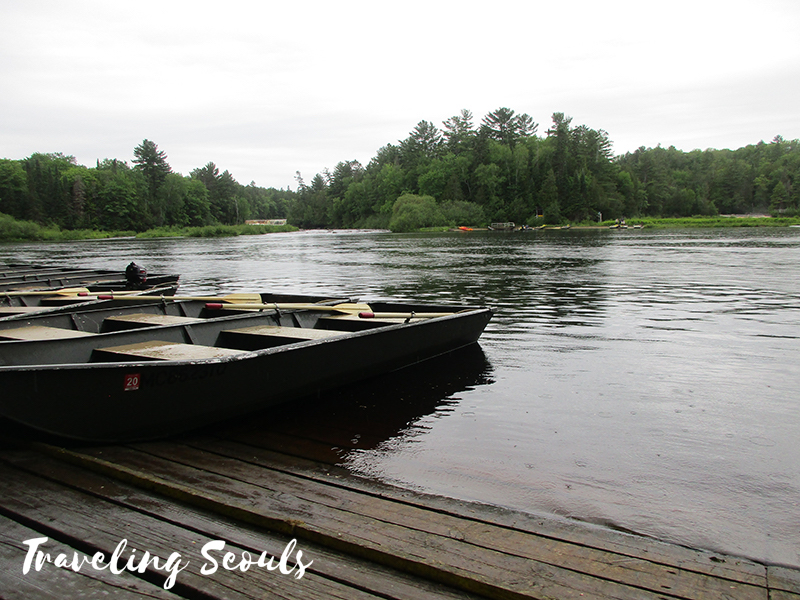 We hiked around, and Uncle J and Aunty A were quite the adventurous, outdoorsy couple. With their two kids in tow, they played in the waterfalls and walked across the fast moving waters. Prof took the boys, and I casually walked a few steps or two in the waters. See, even I pulled my leggings and got in!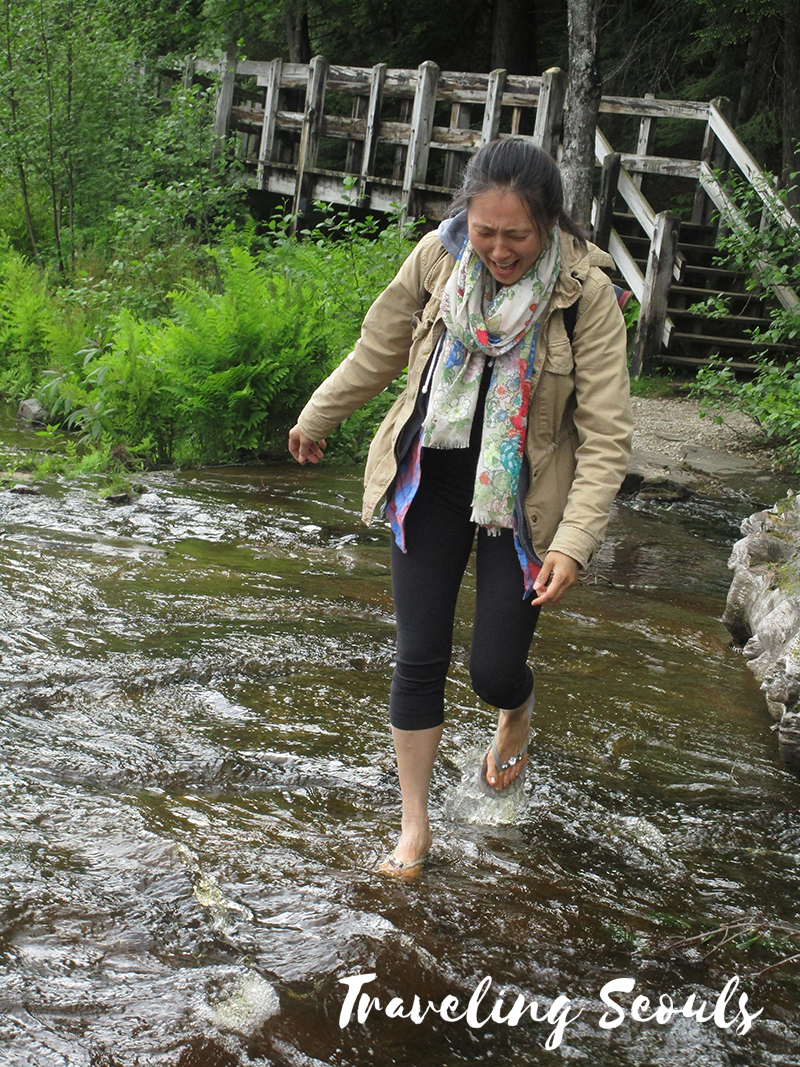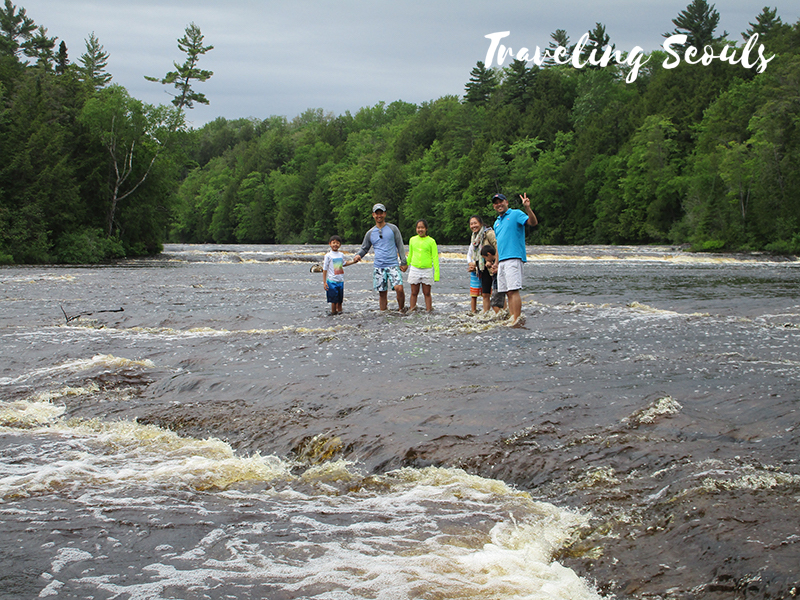 Thanks to our friends, I learned to let go and pulled up my black workout pants and walked in the brown tannin filled waters, which made the waters look like a root beer float.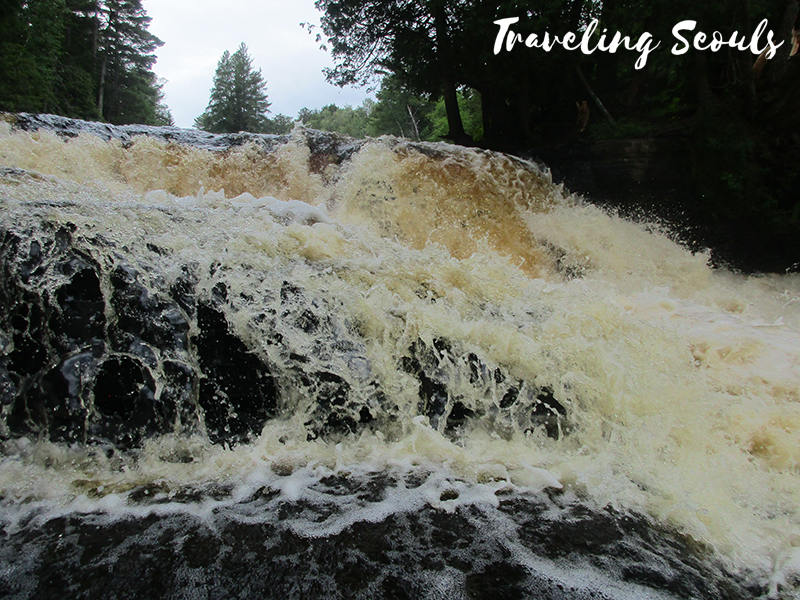 We felt the trickle of water droplets indicating that we needed to go. Fast. Uncle J rowed, while Aunty A, a musician, picked a fast pirate tune for us to sing to. Boy, did we get rained on.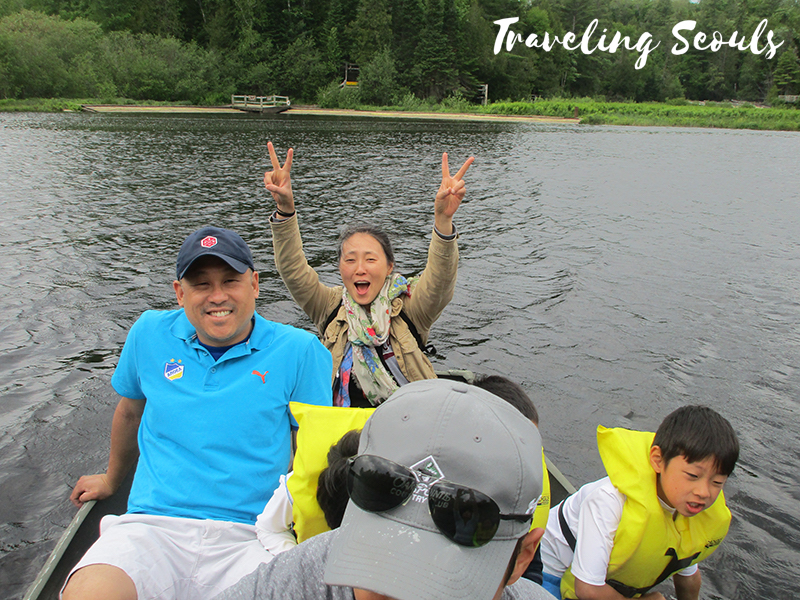 (Photo: Before it rained.)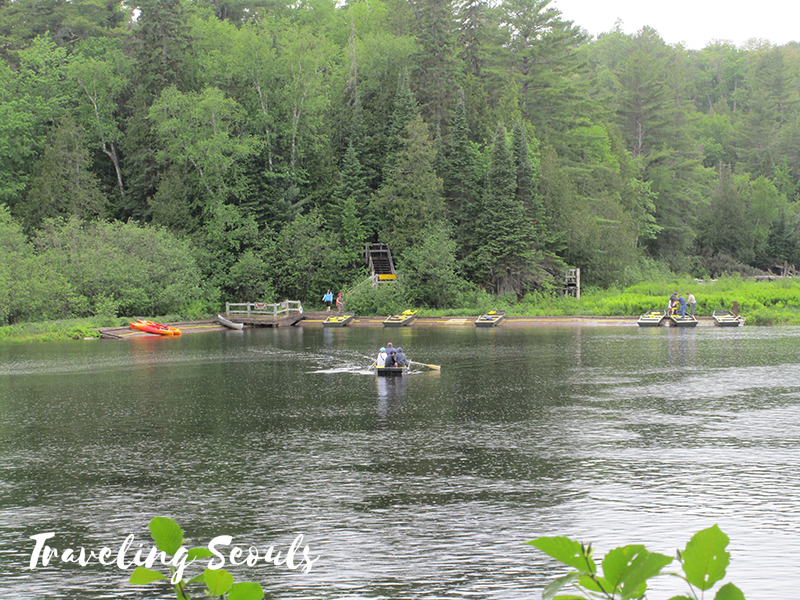 (Photo: Getting rained on.)
We packed up and pushed on our way down back to Grand Rapids.
Lunch at The Fish House
For lunch, we ate at The Fish House. Aunty A and Uncle J dined here before, and we were impressed at the business of the restaurant. I think it's always a good sign when a restaurant is packed during lunch hour. Fried fish and fried chicken strips were a hit. The owner of the establishment even came out for a photo-op. The friendliness of the staff and delicious food made it a highlight stop on our way back home.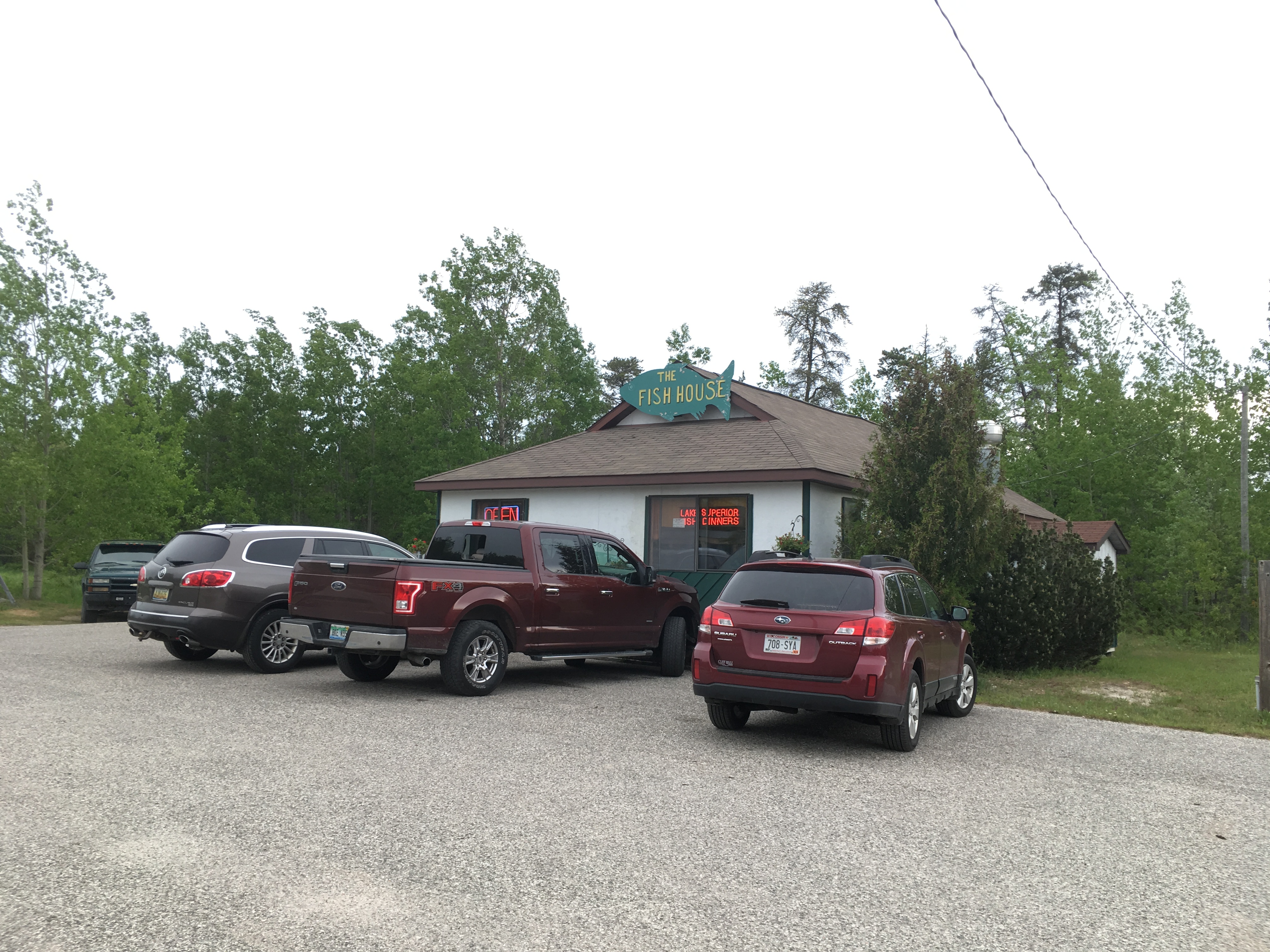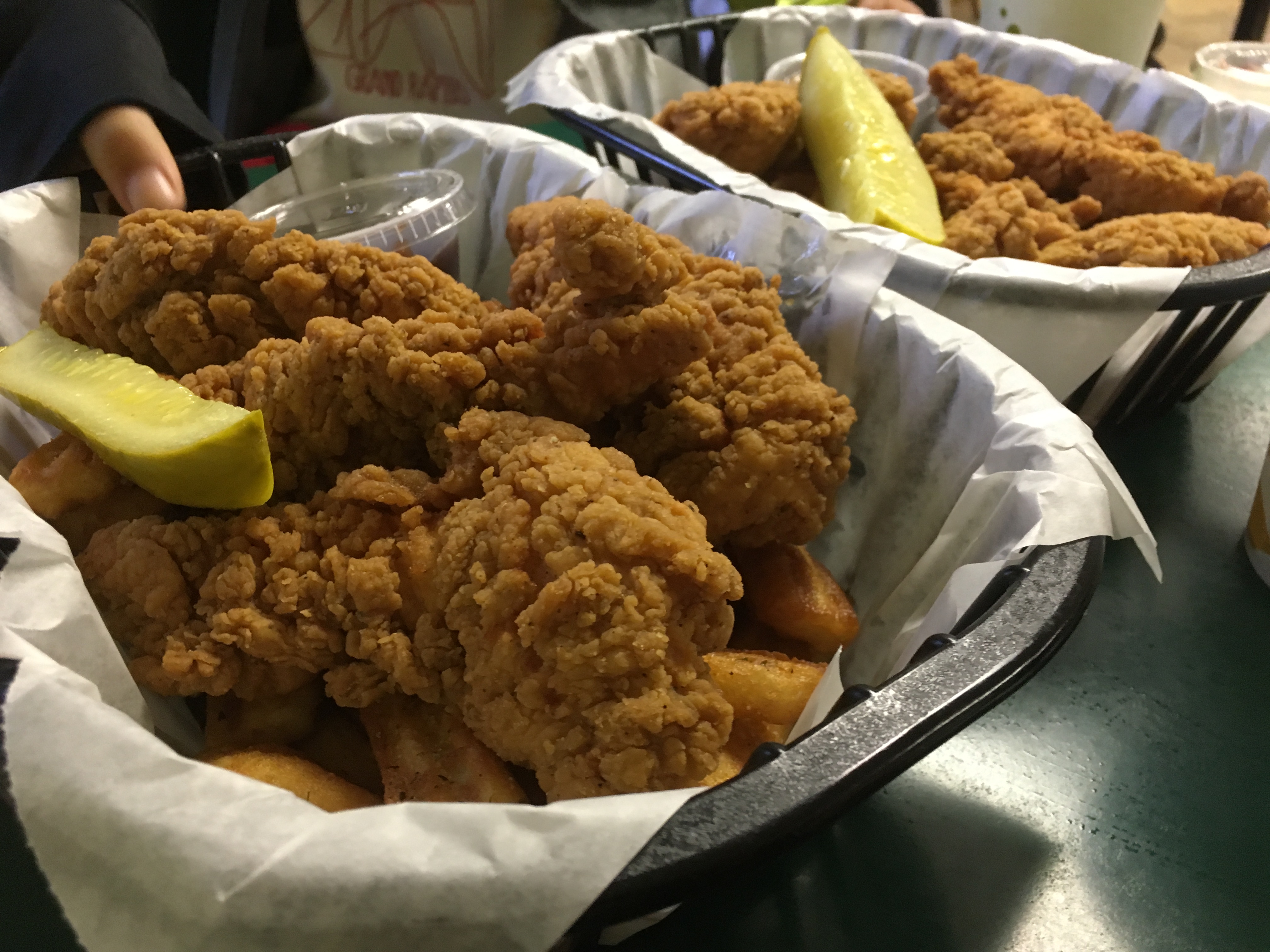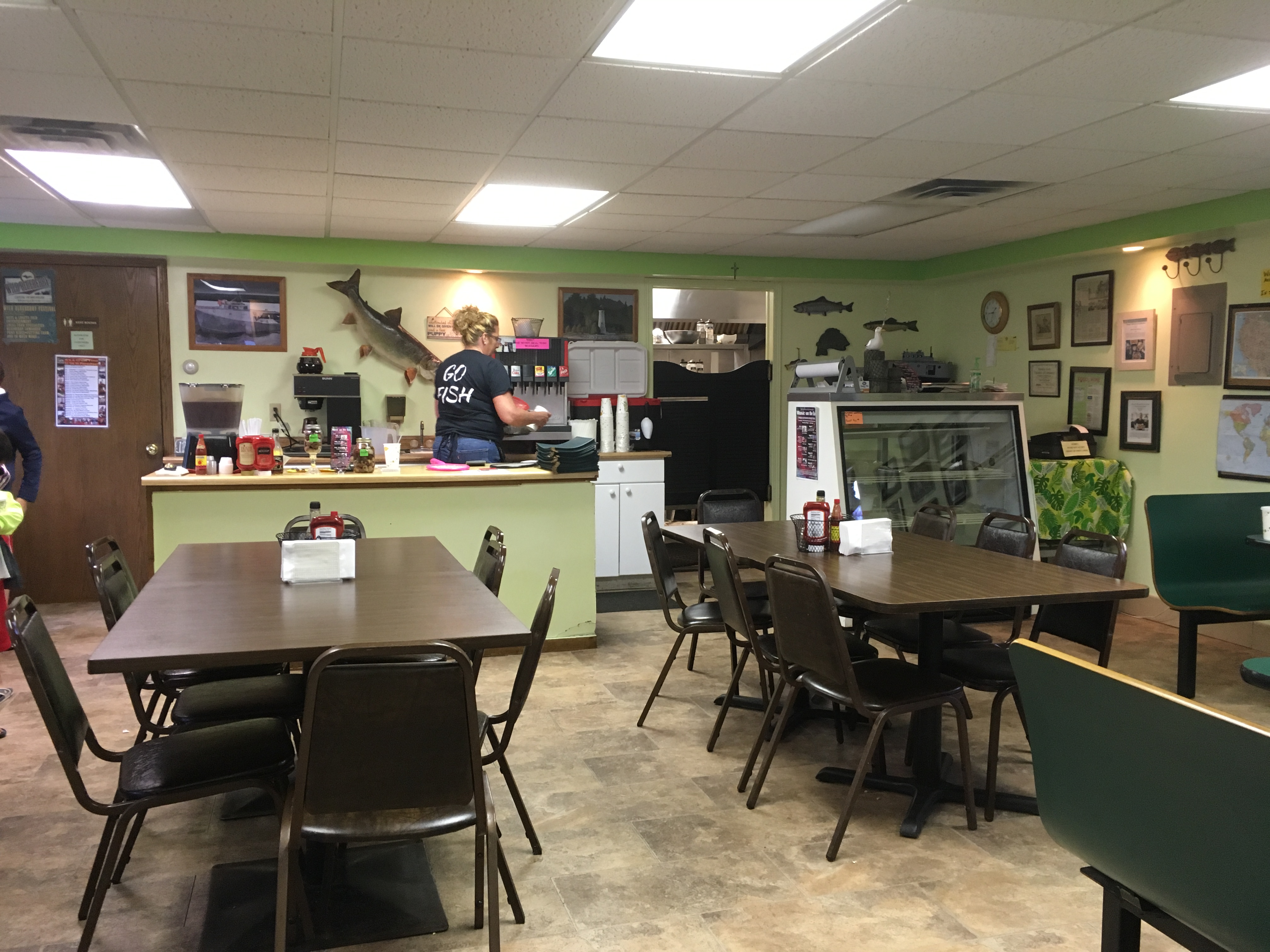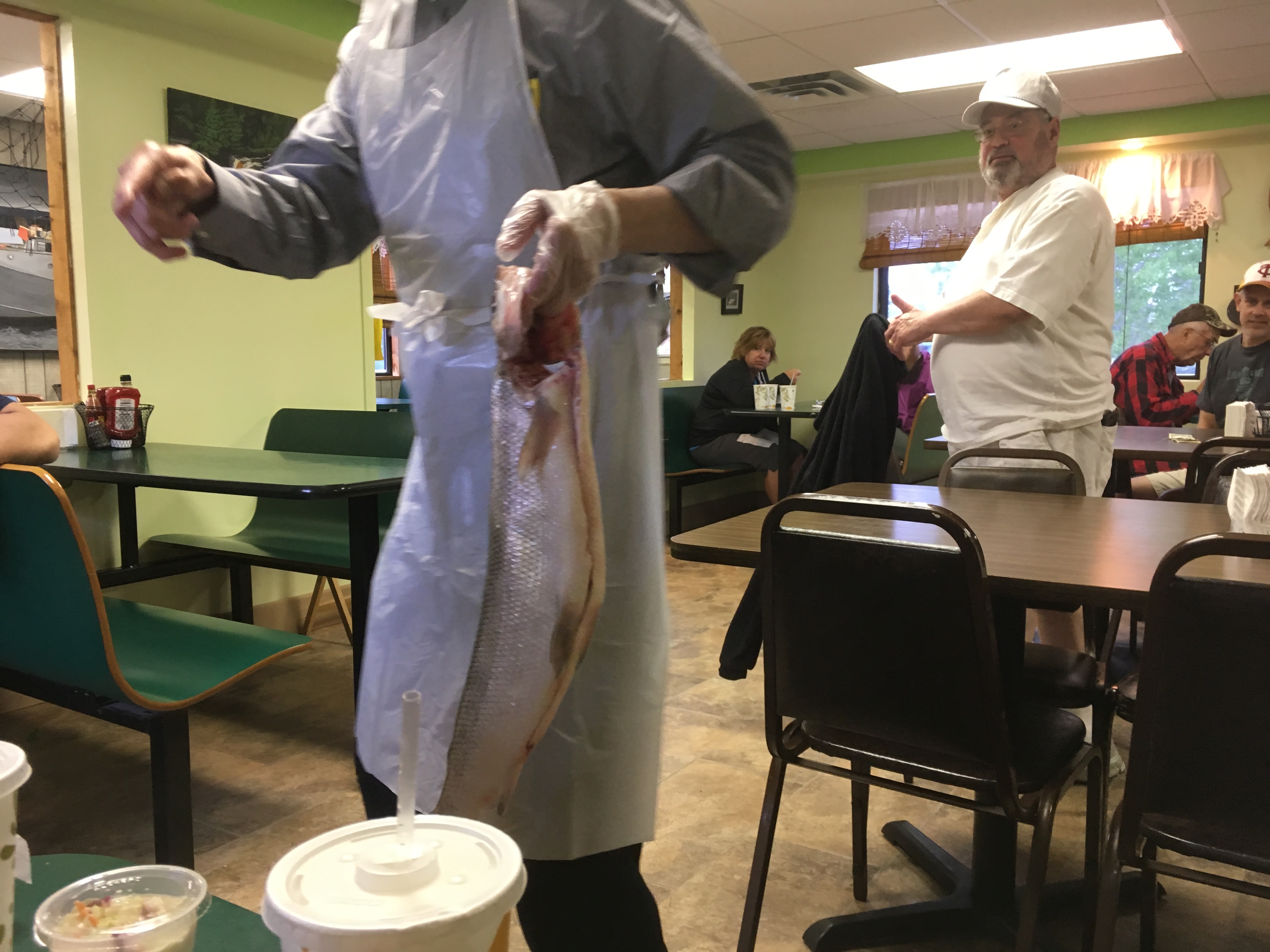 By dinner time, we arrived back in Grand Rapids. We arrived a day sooner than expected, but the road trip to the U.P. is one that we will never forget. YOLO, Michigan. YOLO, Michigan. 


Related:
Pin It For Later: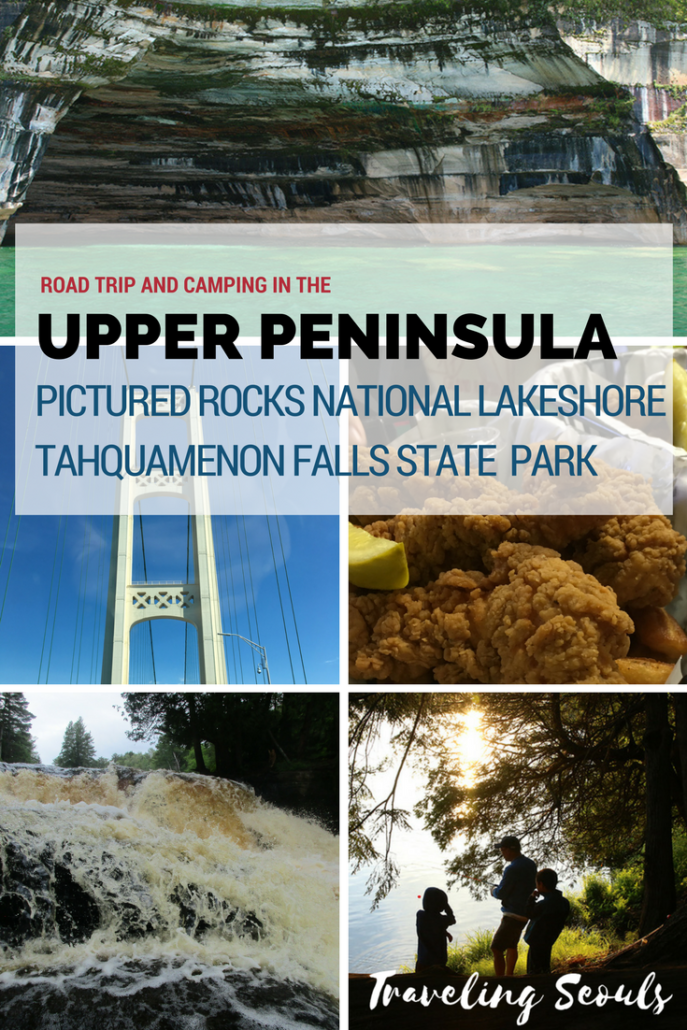 Please follow and like via: