Do you love coffee (kávé in Hungarian) and specialty cakes?
I do. Personally, I am not one for drinking coffee alone. I find that drinking coffee (or tea with some of our students) and trying delicious cakes is the perfect way to get to know the students and Budapest better. In no particular order, here are the coffee shops (and some cake shops) In this post, I'm going to give you an inside view and experience of each place so that you can make your choices on your next visit to Budapest.
1. Alexandra Book Cafe (Lotzterem)
Alexandra Book Cafe is probably one of the most popular tourist stop to grab a cup of joe. In fact, I've been there twice! Housed on the second floor of the Alexandra Bookstore, people come in to have a meal or have coffee/dessert in a gorgeous golden decorated ceiling. While not on the cheaper end, it's a mid-range pricing makes it affordable to stay for a few hours to unwind and enjoy the interior space.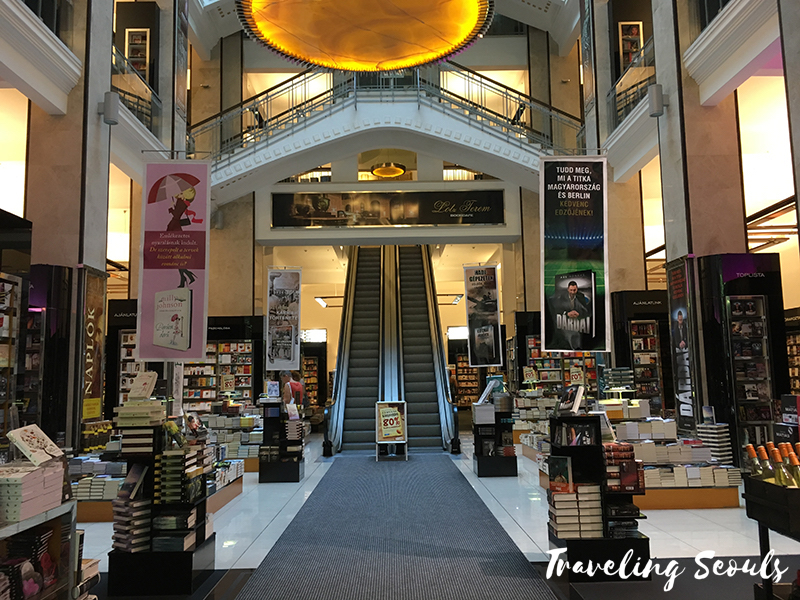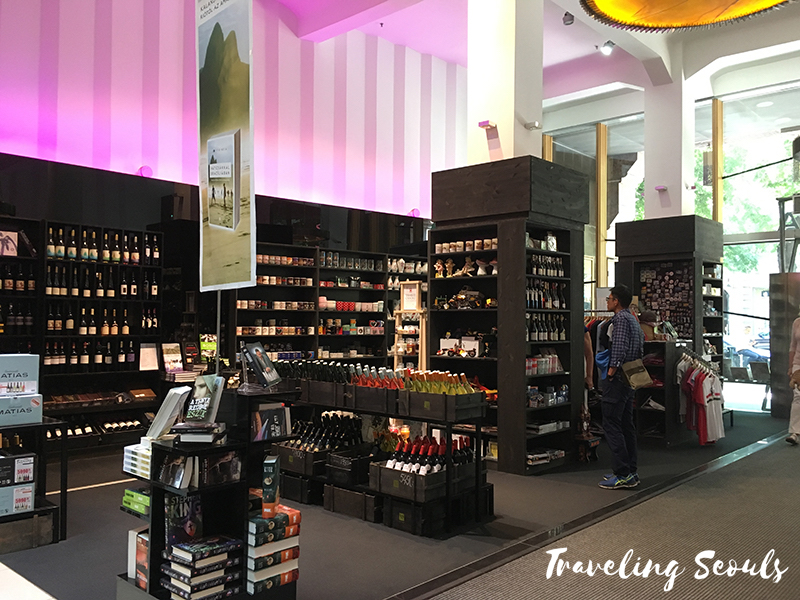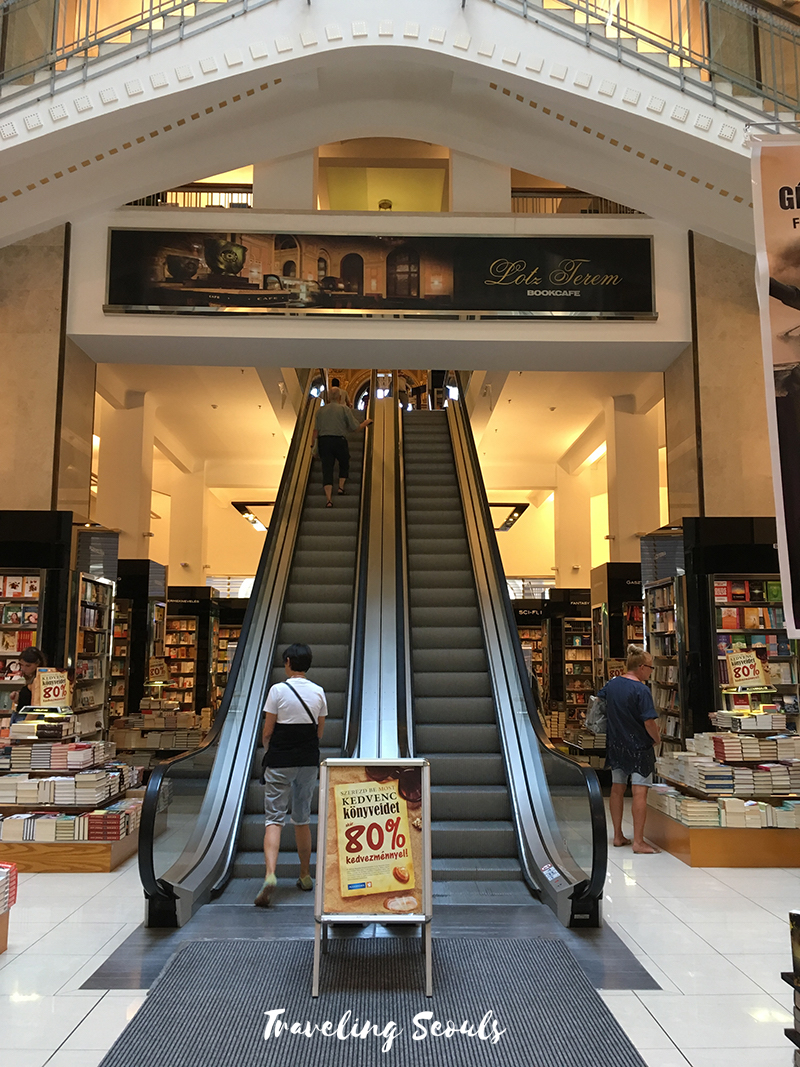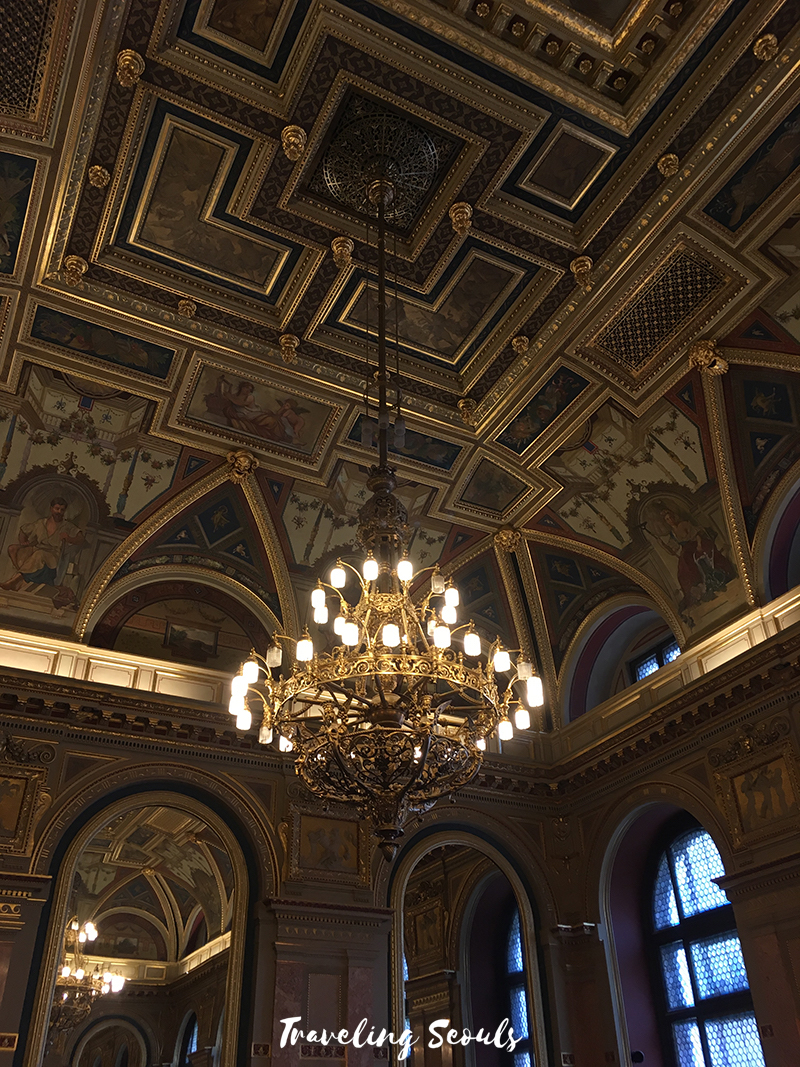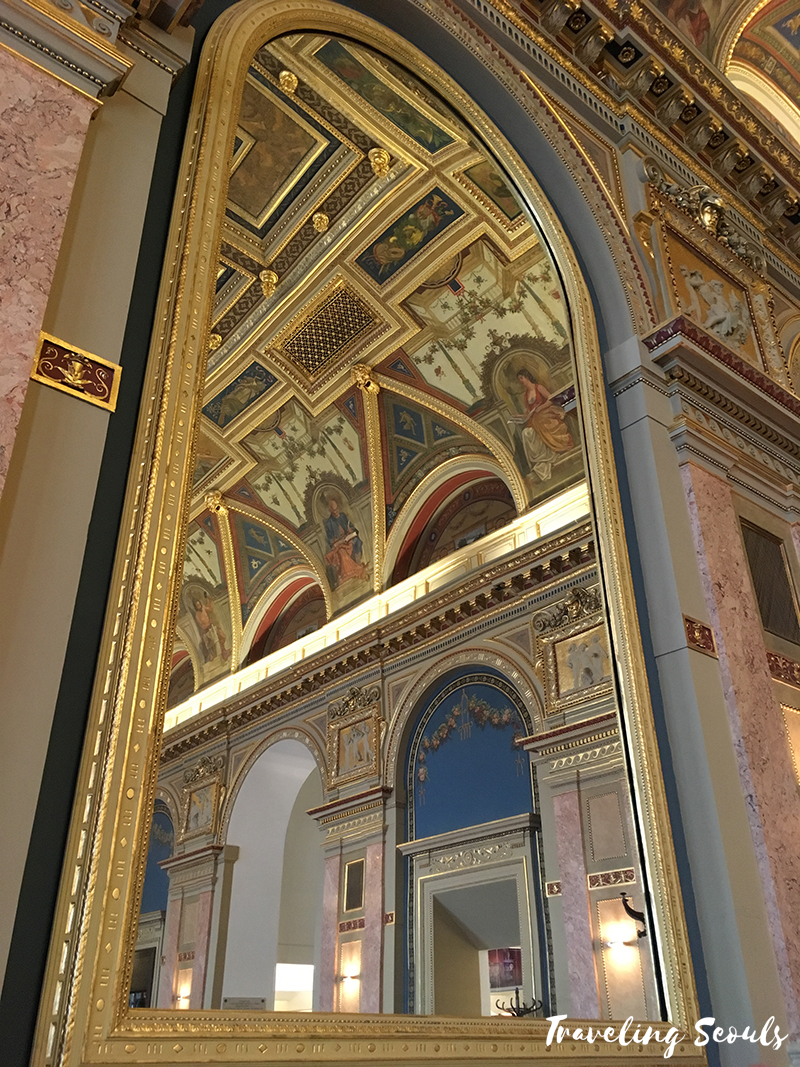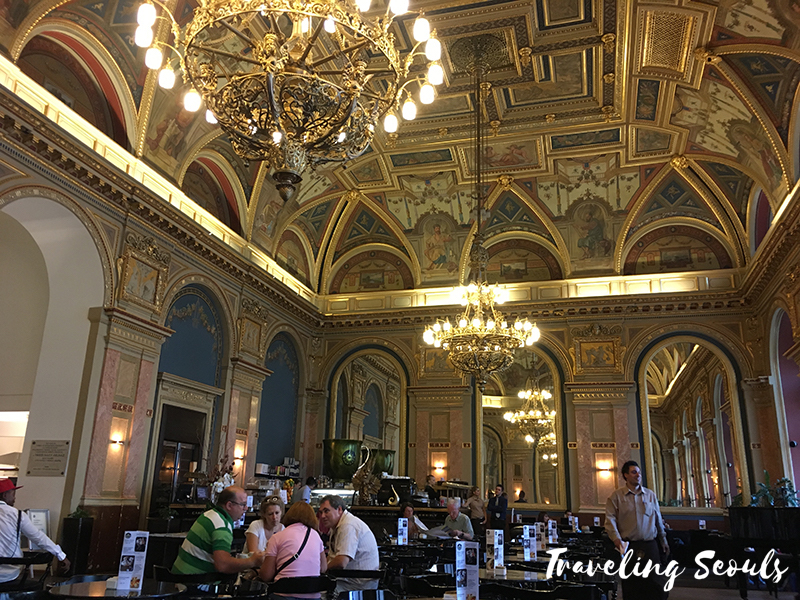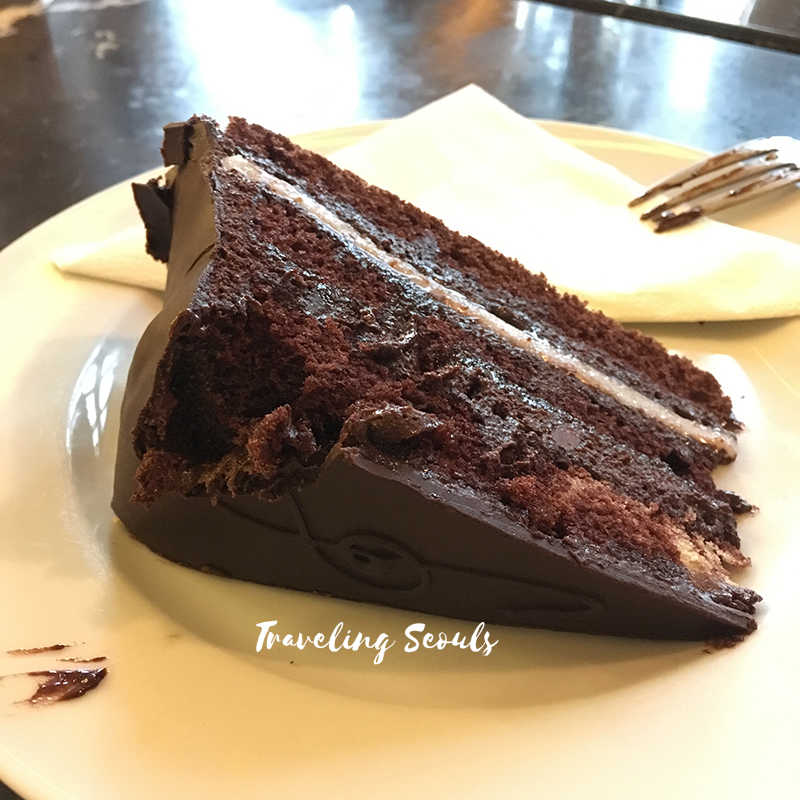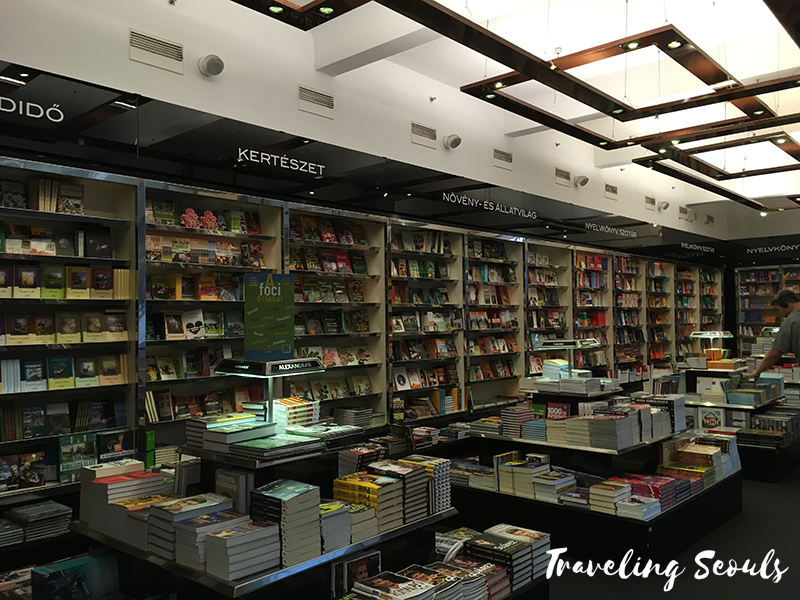 Address: Andrássy út 39, 1061 Budapest
Hours of Operation: 10:00 am to 8:00 pm every day, unless on holiday (Check the website for time changes on holidays.)
Website: http://www.lotzterem.hu
How to Get There: Near Oktogon Metro stop, or take trams 4/6 to get there.
2. New York Cafe
A friend recommended New York Cafe, which had a familiar feel to Alexandra Book Cafe. Housed in conjunction with the Boscolo Hotel, a luxury hotel, it's a tourist hotspot and priced like its luxurious coffee. My cappuccino cost about 900 HUF, about a third more than what I would pay at a mid-range coffee house. In other words, college students wouldn't want to spend so much money here, but if you have the funds to spend, you will enjoy the ambiance and atmosphere at New York Cafe.
TRAVEL TIP: If you are there at 11:00 am, you might be able to hear live music. I am not sure if it's every day, but there was a performance as we were leaving.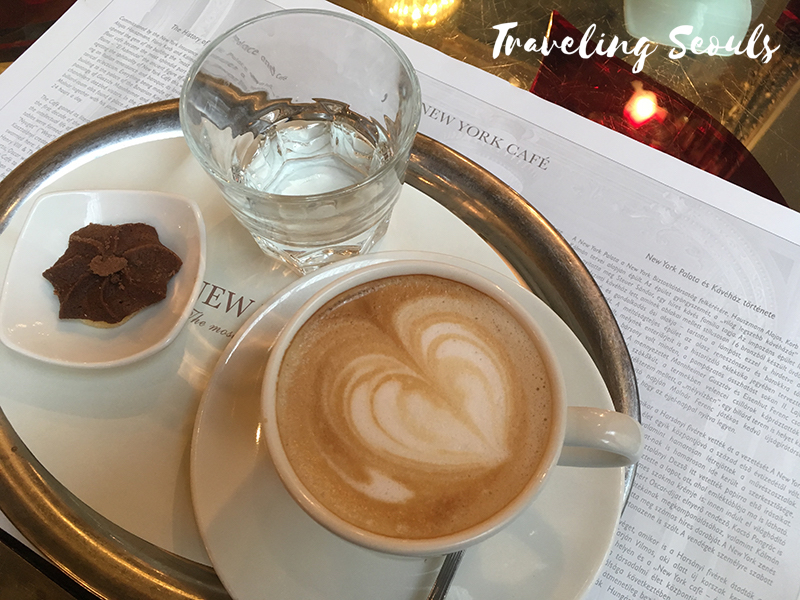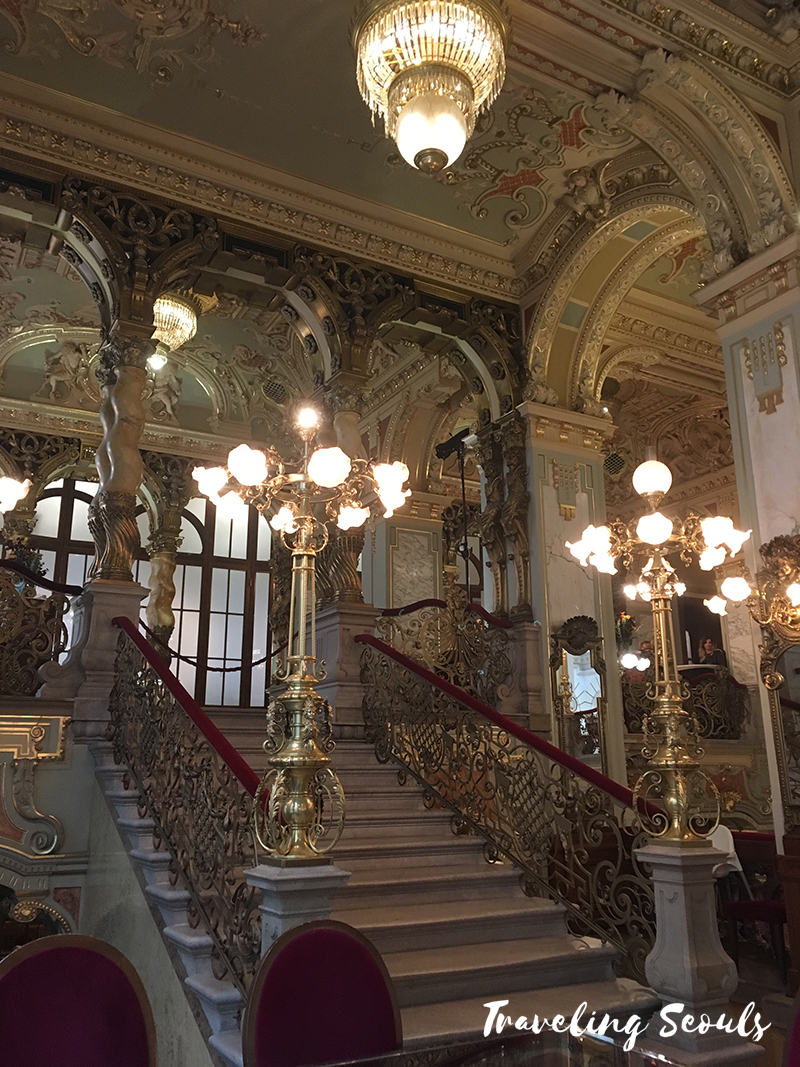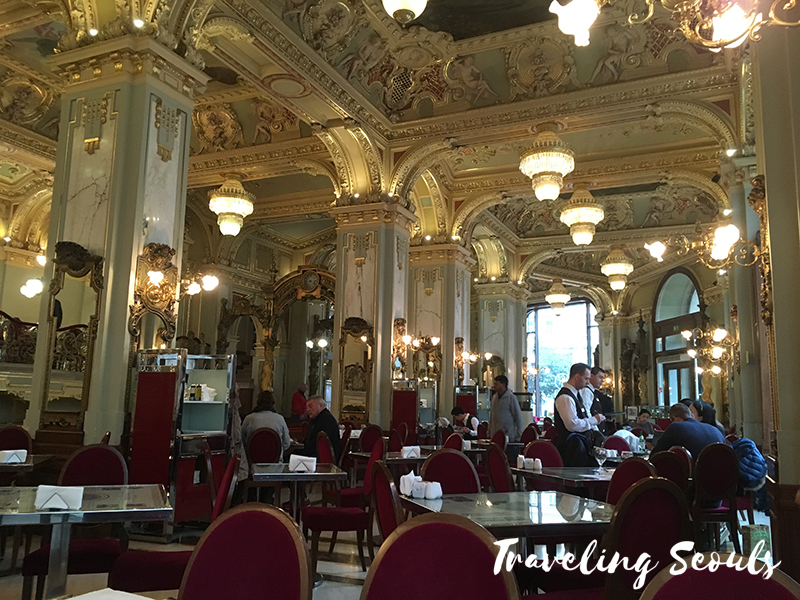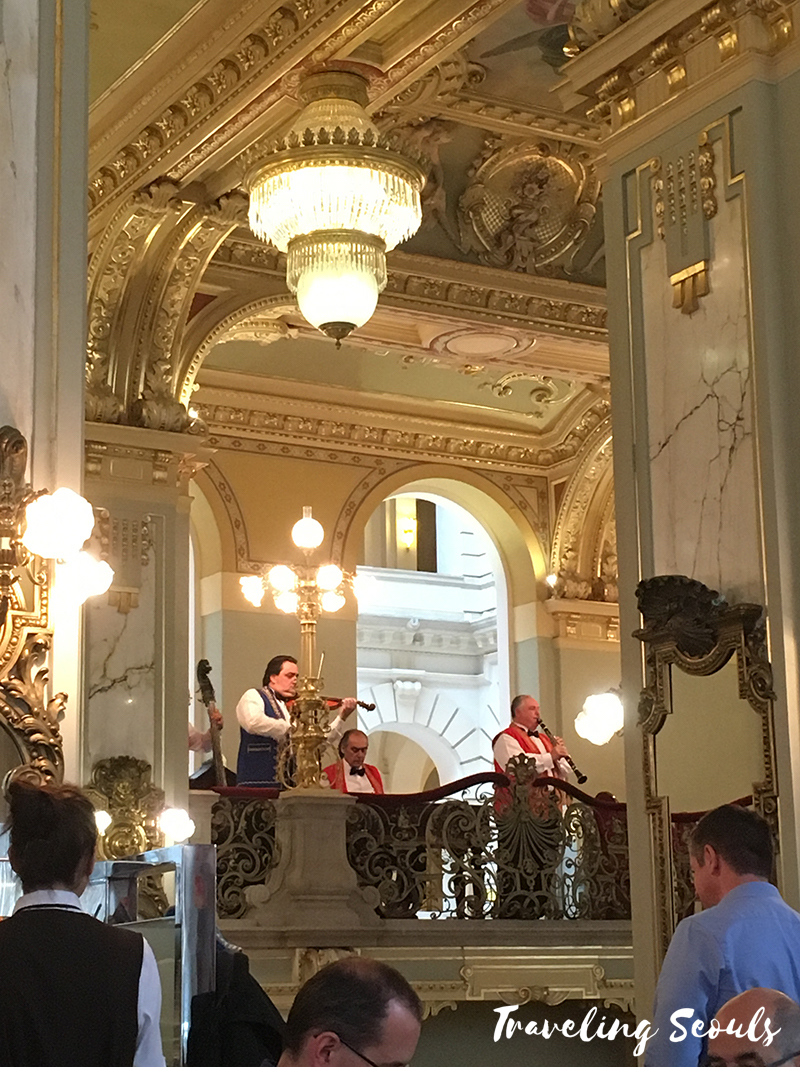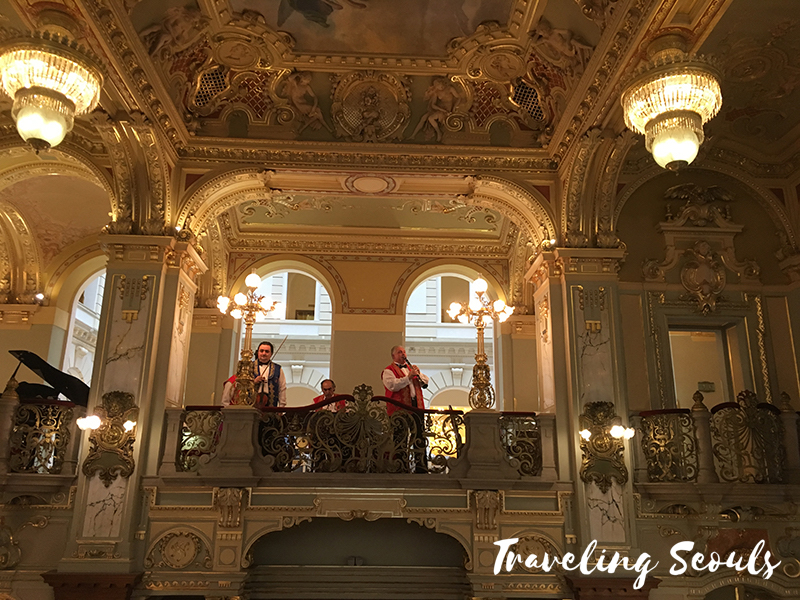 Address: Erzsébet korut 9-11., 1073 Budapest
Hours of Operation: 8:00 am to 12 midnight
Website: http://www.newyorkcafe.hu/main-page.html?lang=en
How to Get There: Near the Blaha Lujza ter metro stop, it's about a two block walk outside of the metro.
3. Centrál Kávéház (Central Coffee House)
Close to the historic opera house, you will feel the ambiance of culture at the Central Coffee House – in all of its 19th century-styled glory. When we ordered our desserts, the waiter recommended that we look at the display to see what we would like to try. As a moderately priced cafe, it's a nice place to stop after a tour near the Hungarian State Opera House or if you are in the area.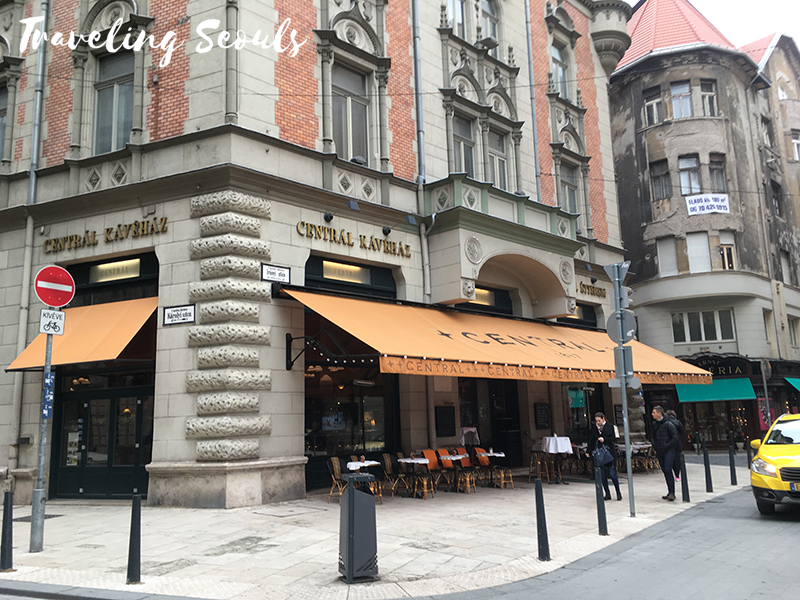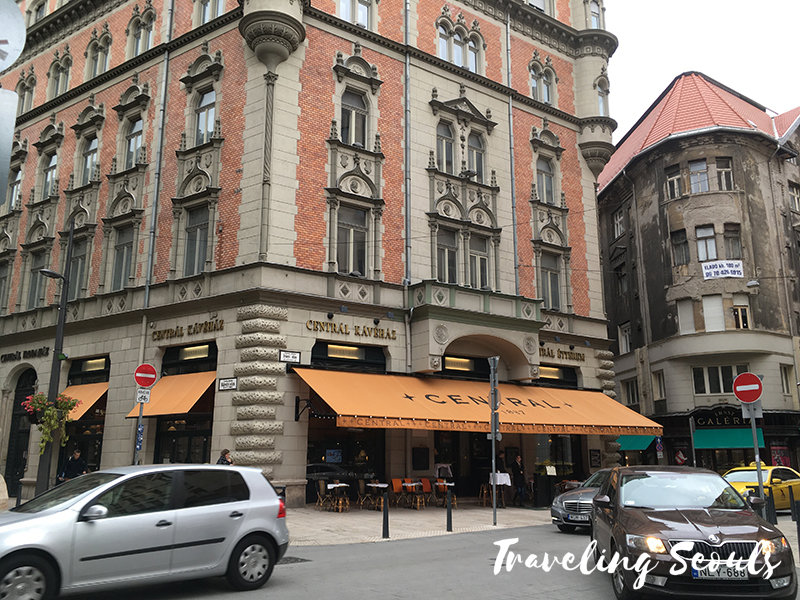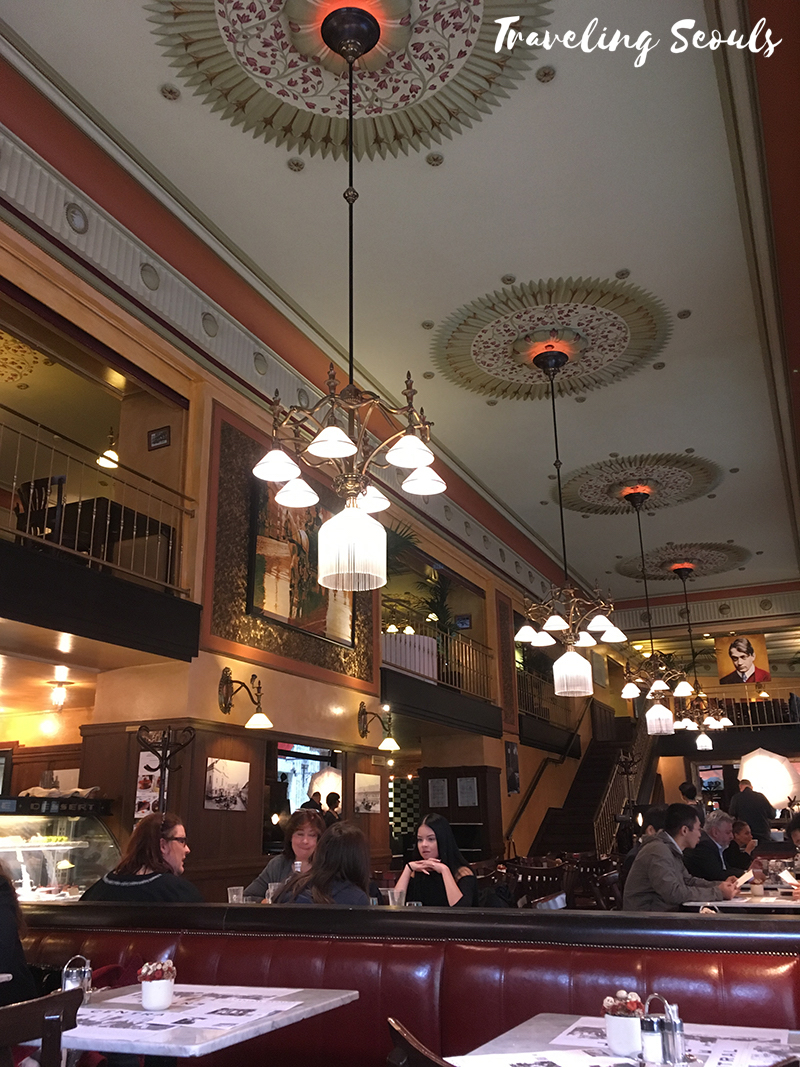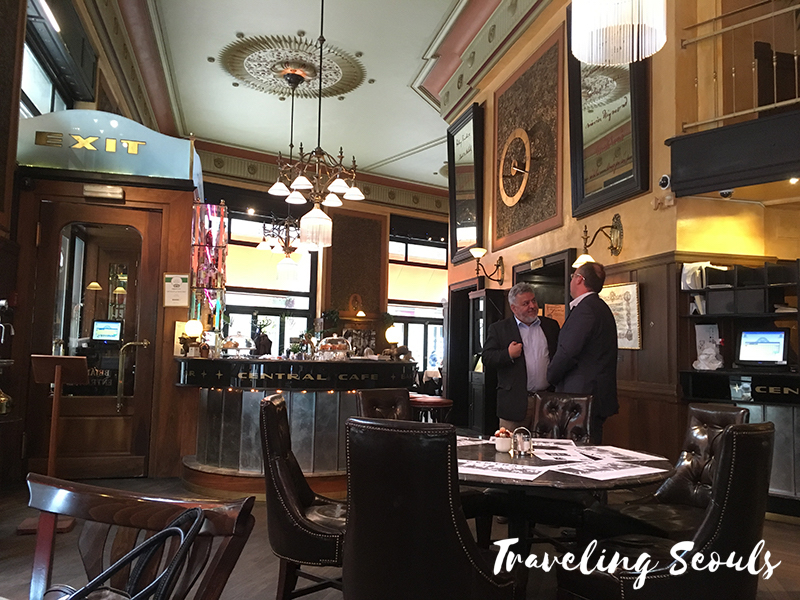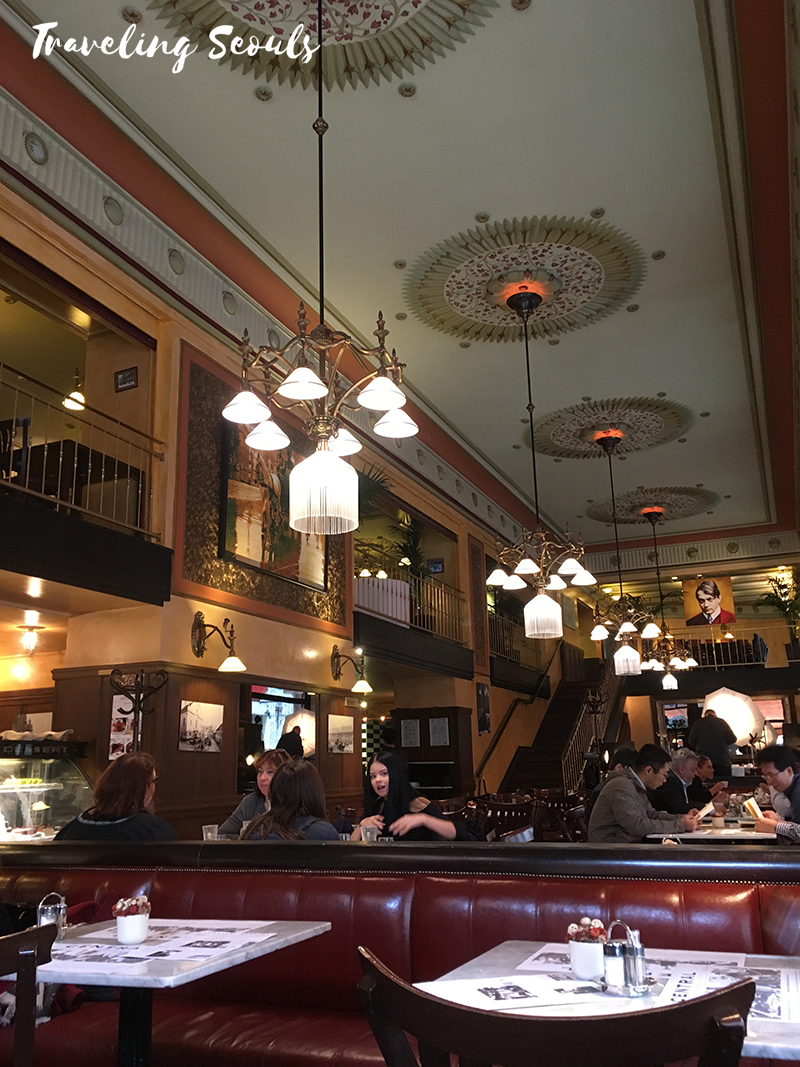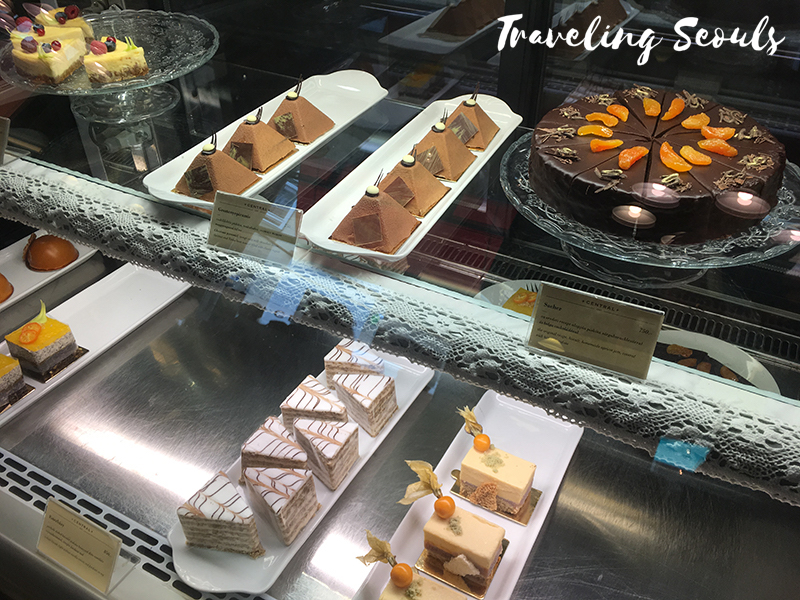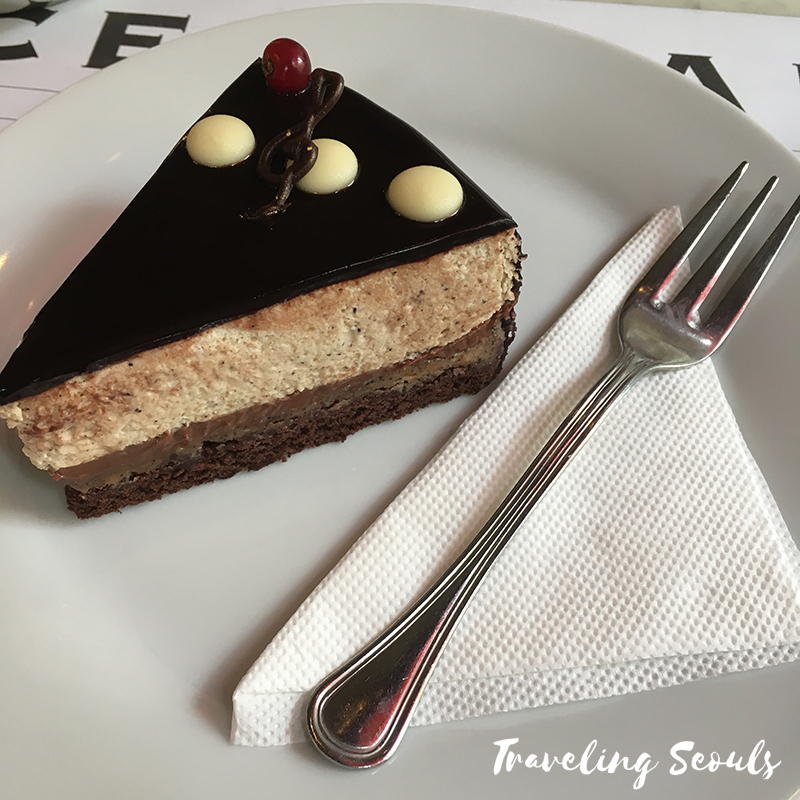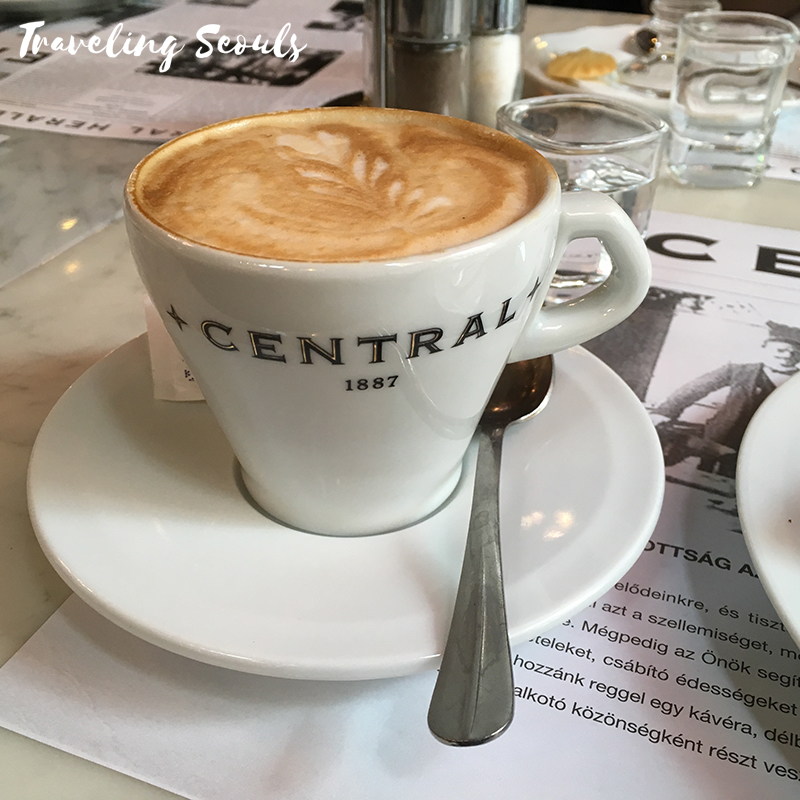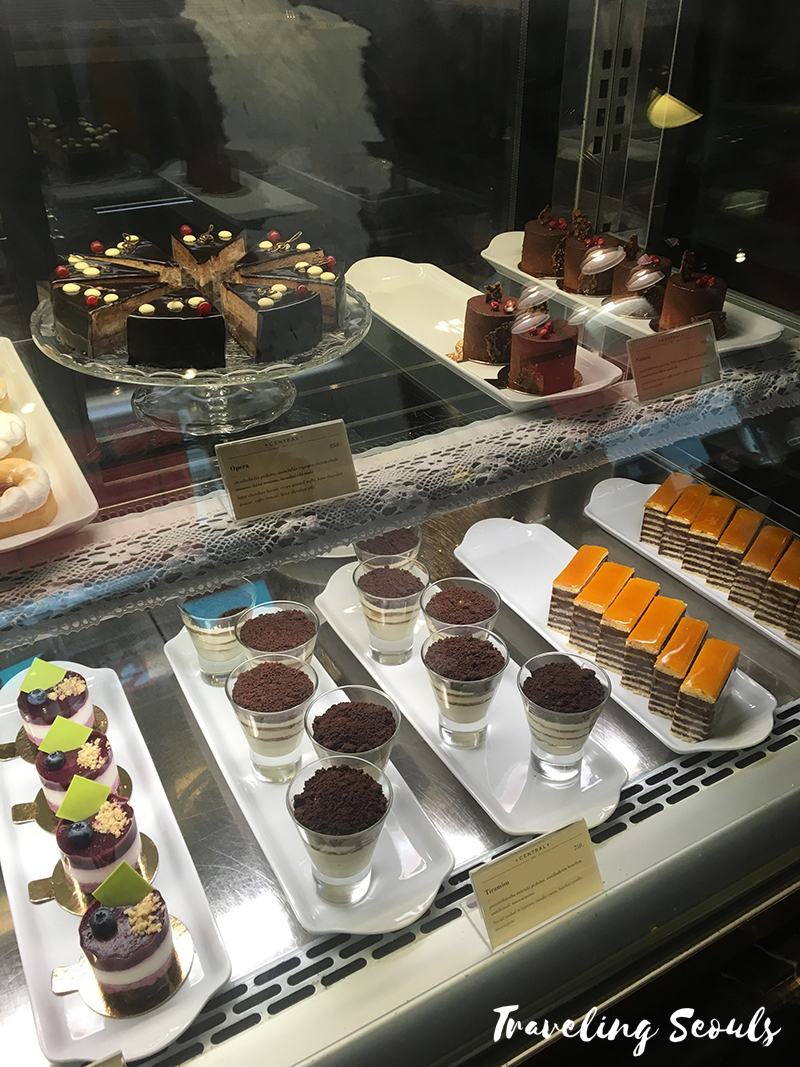 Address: Károlyi Mihály utca 9., 1053 Budapest
Hours of Operation: 9:00 am to 11:00 pm every day
Website: http://centralkavehaz.hu/eng/
How to Get There: It's a short couple block distance away from Ferenciek ter metro stop.
4. Massolit Books & Cafe
Our students on study abroad in Budapest mentioned that there is a strong ruin bar cultural life in Budapest. Massolit Cafe also has that old ruin bar feel, just with old books. We ordered a carrot cake, coffee, and rooibos tea – all delicious. We stayed and chatted for hours in a quiet setting, which is a good place to study or work.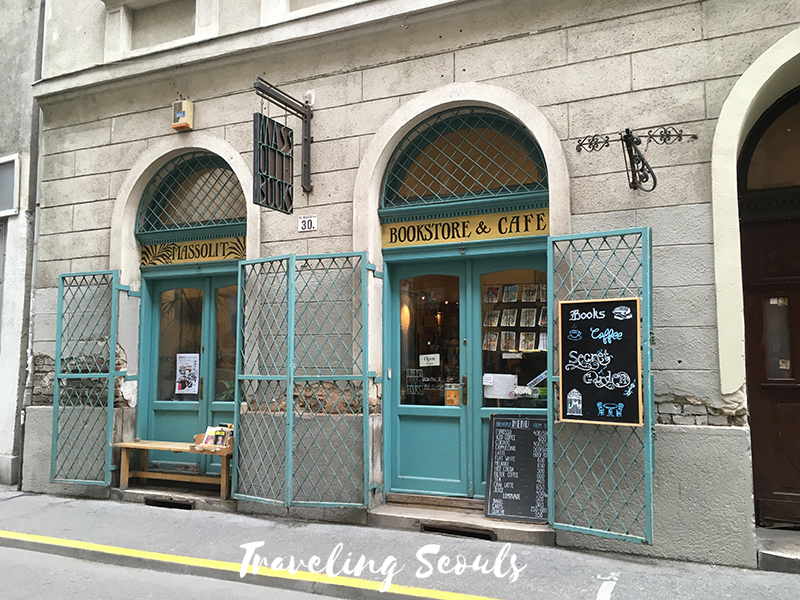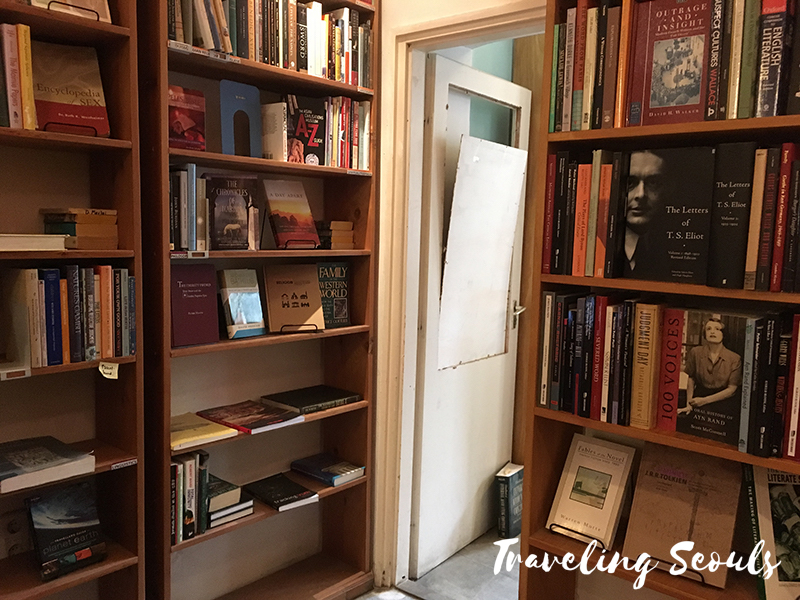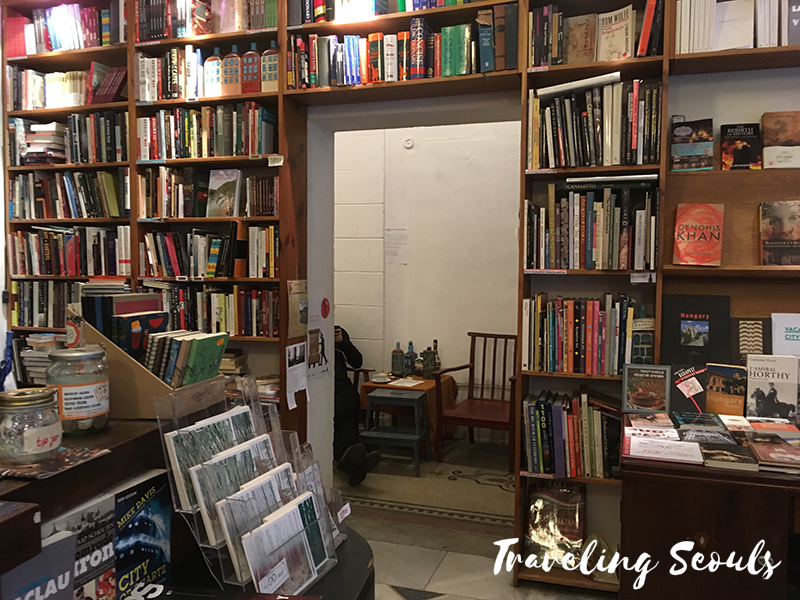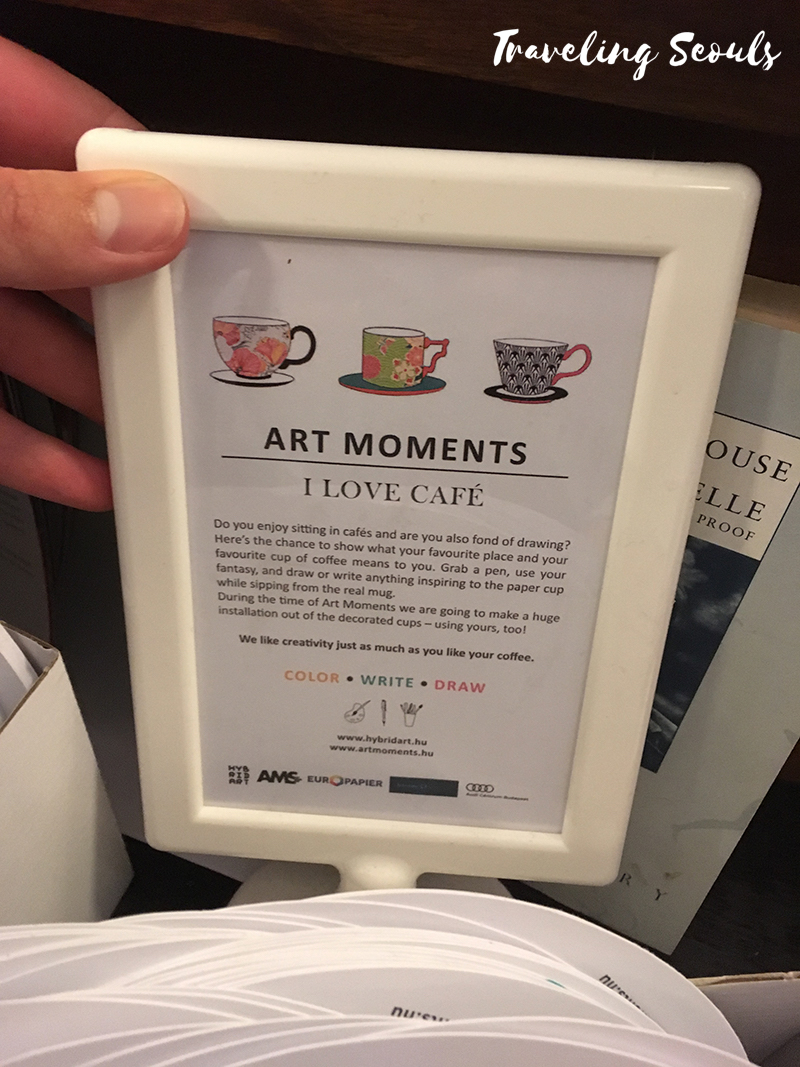 Address: 1072 Budapest, Nagy Diófa utca 30-32
Hours of Operation: 8:15 am to 7:30 pm Monday through Friday, 10:00 am to 7:30 pm Saturday and Sunday
Website: https://www.facebook.com/MassolitBudapest/
How to Get There: You can take the red trolley bus 74 at Nyár utca or Nagy Diófa utca or walk from Blaha Luja ter metro stop for about 10 minutes.
5. Auguszt Cukrászda
I would classify this cafe as more of a confectionery, dessert shop than a coffee house, but it should go on the list. That's because this cafe has one of the most premier pastry chefs and over 100 years of being in the business experience.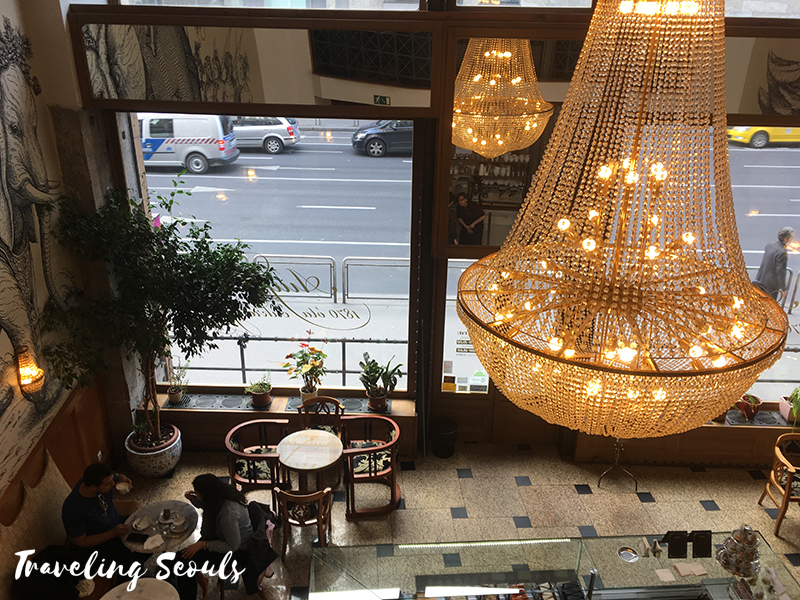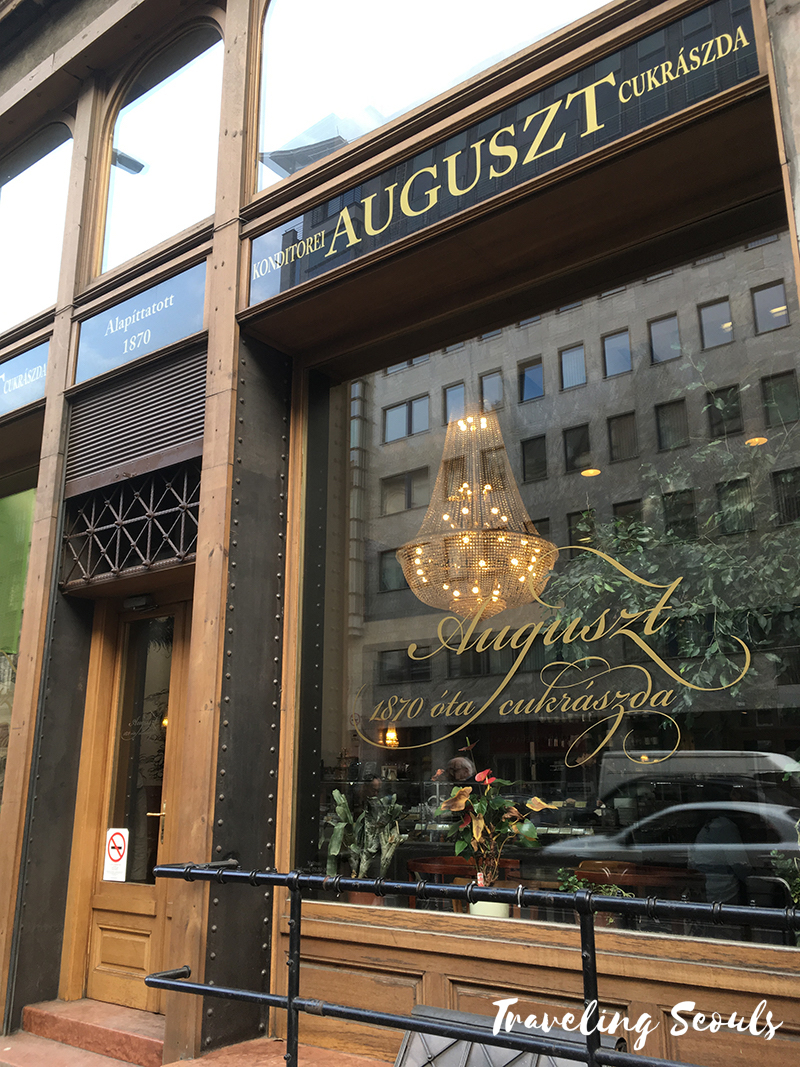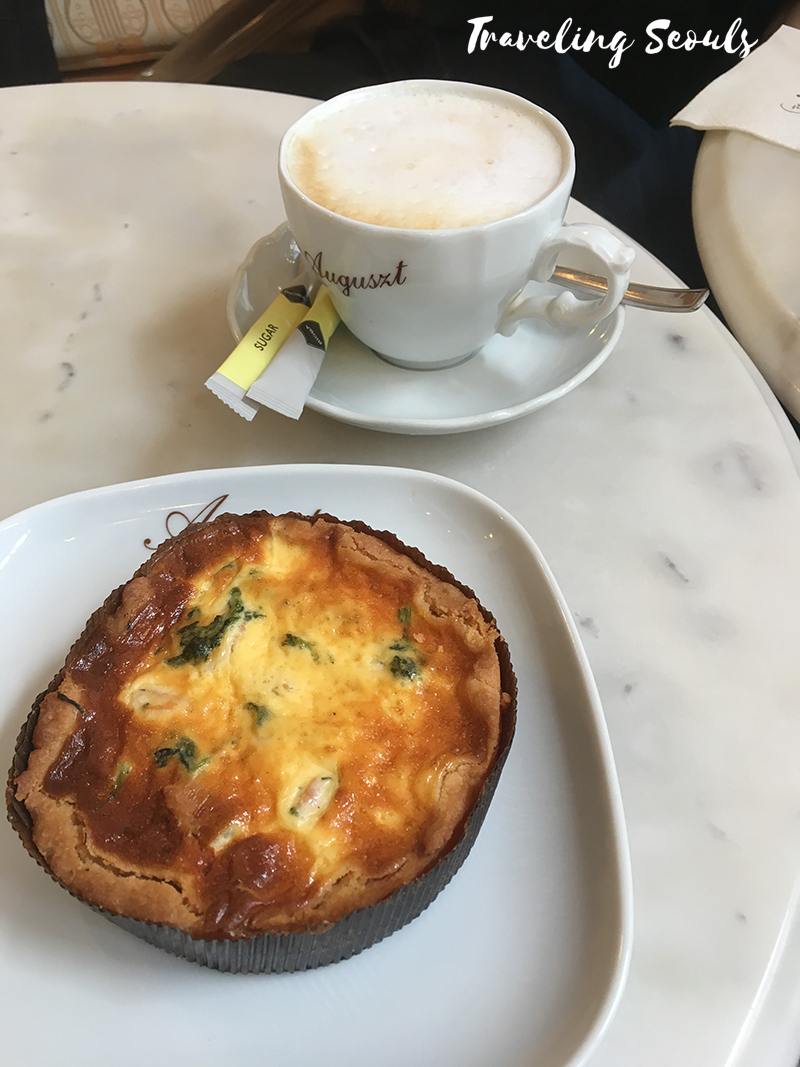 Address: Kossuth Lajos u. 14-16., Budapest 1053  (There are other locations, which are further out in the city.)
Hours of Operation: Monday through Friday 9:00 am to 7:00 pm, Saturday 11:00 am to 6:00 pm, closed Sunday
Website: http://www.auguszt1870.hu/main_eng.html
How to Get There: Actually, there are three shops in the area. Check Google Maps to see which one is nearest you.
6. My Little Melbourne Cafe
A little tucked away, My Little Melbourne Cafe is a nice stop for coffee from down under. They offer cold cut sandwiches as well as croissants. It's a tight space, but you can go upstairs and have a cup of coffee with a friend and chat in privacy.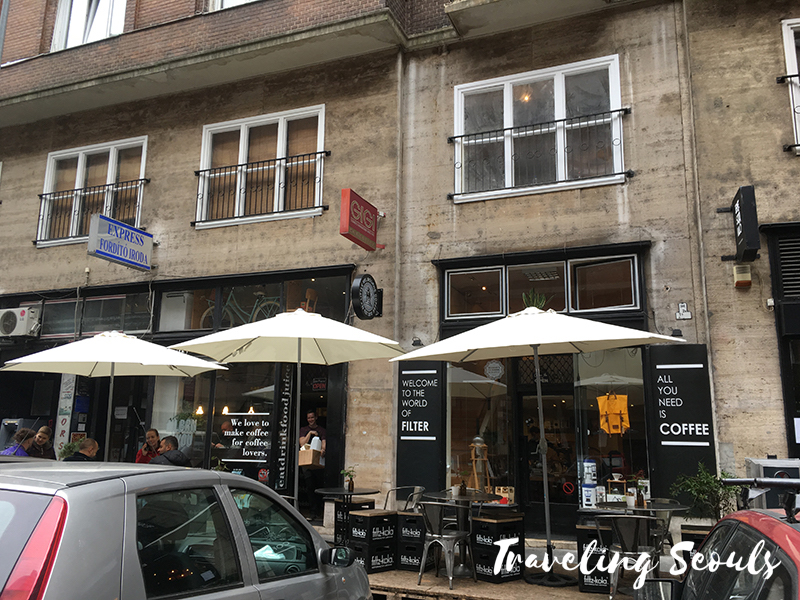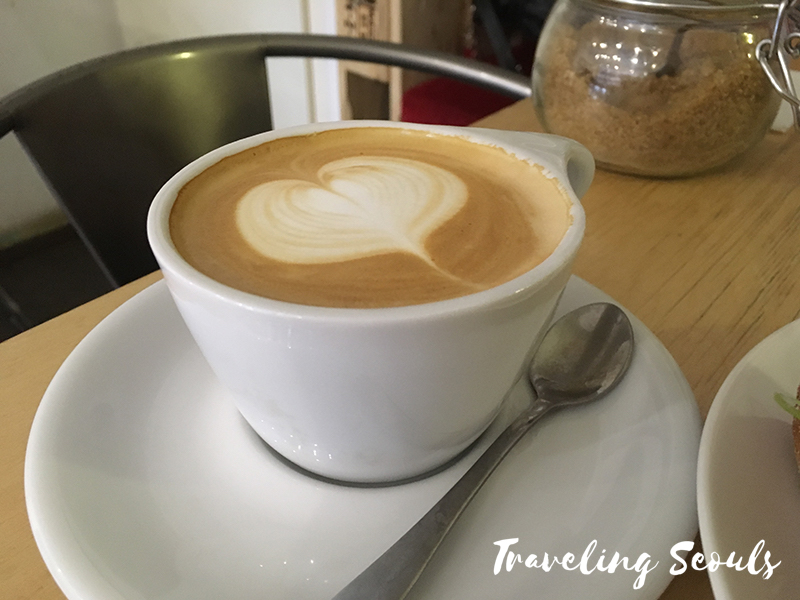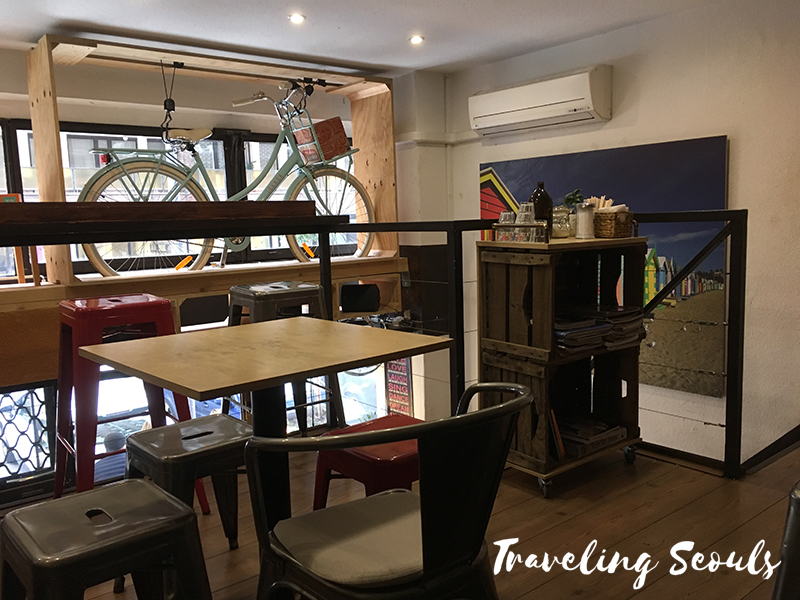 Address: Madách Imre út 3, Budapest 1075
Hours of Operation: Monday – Friday 7:00 am to 7:00 pm, Saturday/Sunday 8:30 am to 7:00 pm
Website: mylittlemelbourne.hu
How to Get There:If you exit Deák Ferenc tér (M2 red line), then walk about 5 minutes you will see the shop.
7. Anna Cafe
Prof recommended Anna Cafe, several of which are located around the city. I stopped at the one in Fovam ter and ate outside in the warm sun. They serve breakfast and snacks to go with your coffee or tea. Reasonably priced, I stayed for hours chatting about how the semester was going with one of our students.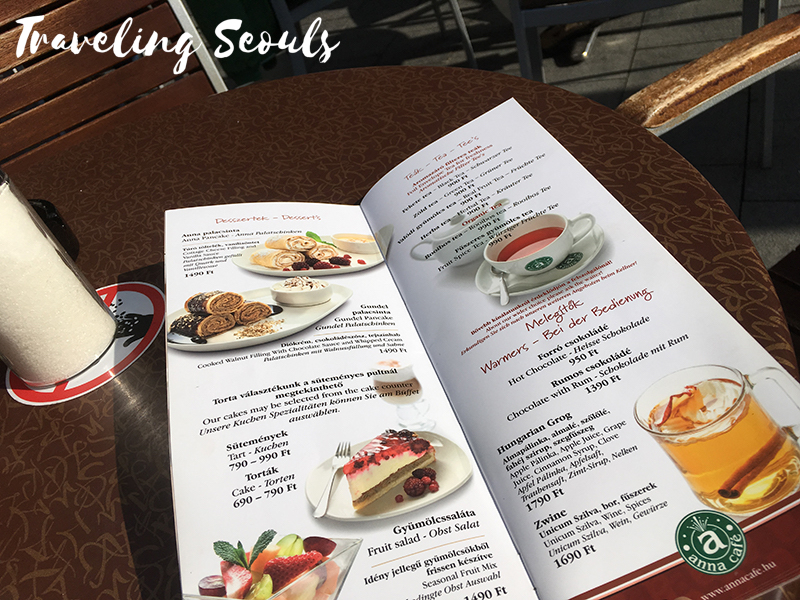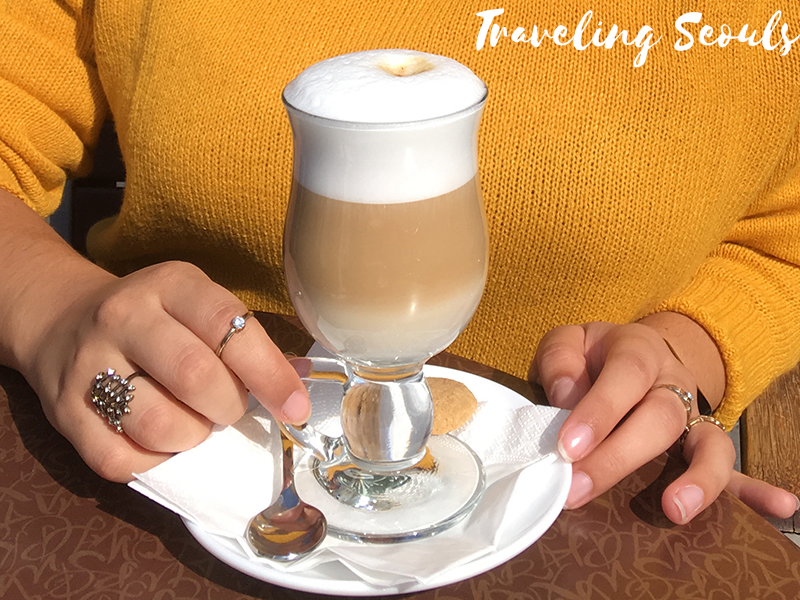 Address: Fővám tér 6, Budapest 1056
Hours of Operation: Monday – Sunday 8:00 am to 12:00 am
Website: http://annacafe.hu/en/
How to Get There: Right across the street from the Central Market Hall and caddy corner to Azsia Bt, you can walk right out of Fovam ter to Anna Cafe.
8. Szamos Cukrászda
There are several Szamos Cukrászda shops located around Budapest, but the one you want to check out is located at Kossuth Lajos ter. This Szamos Cukrászda has a Chocolate Museum located inside. In fact, a couple of tourists were lost and asked for directions to this shop specifically for the chocolate museum listed in their guidebook. But I picked up the cutest little animal cakes for 280 HUF (about $1 USD) to bring to our son's classroom.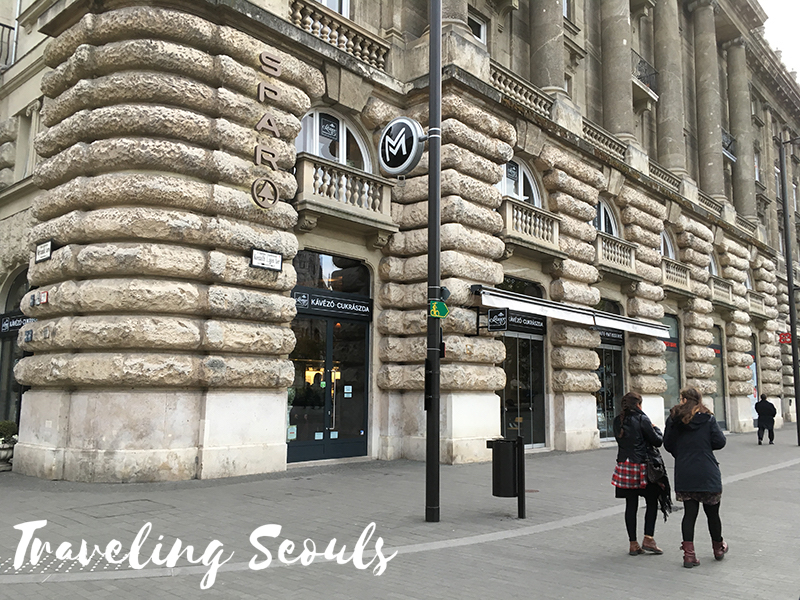 Address: Budapest, 1051, Kossuth Lajos tér 10, 1055
Hours of Operation: Monday – Sunday 7:30 am to 7:00 pm
Website: http://szamosmarcipan.hu/en/
How to Get There: When exite Kossuth Lajos ter (M2 red line), you will walk straight out of the metro and turn right. You can't miss the sign and people sitting outside (in warm weather).
9. Damniczki Budapest
Damniczki Budapest is a coffee, cake, and ice cream shop in the city center. It's got ice cream, cookies, cakes, and coffee drinks – something for everyone. I really like the design and decor of the interior space, plus they have photos of local photographers in the area, which is a nice touch. It's a bit pricey, but for an all-you-can-choose dessert shop, it's got all the good stuff.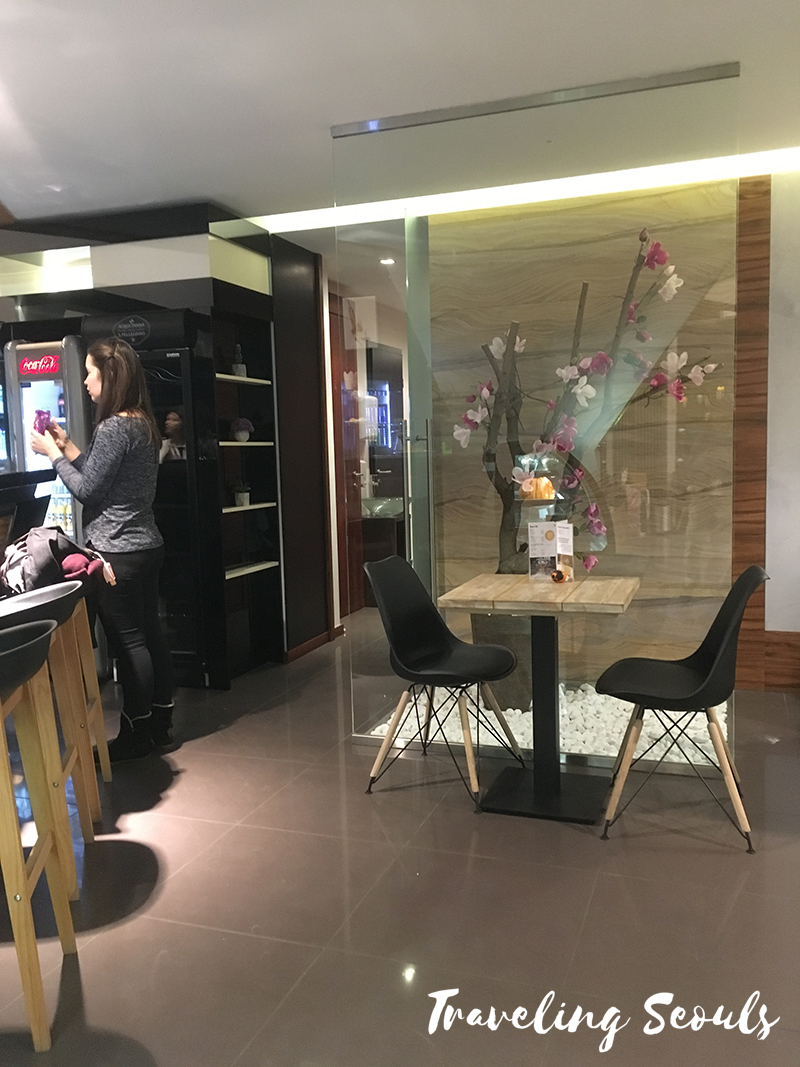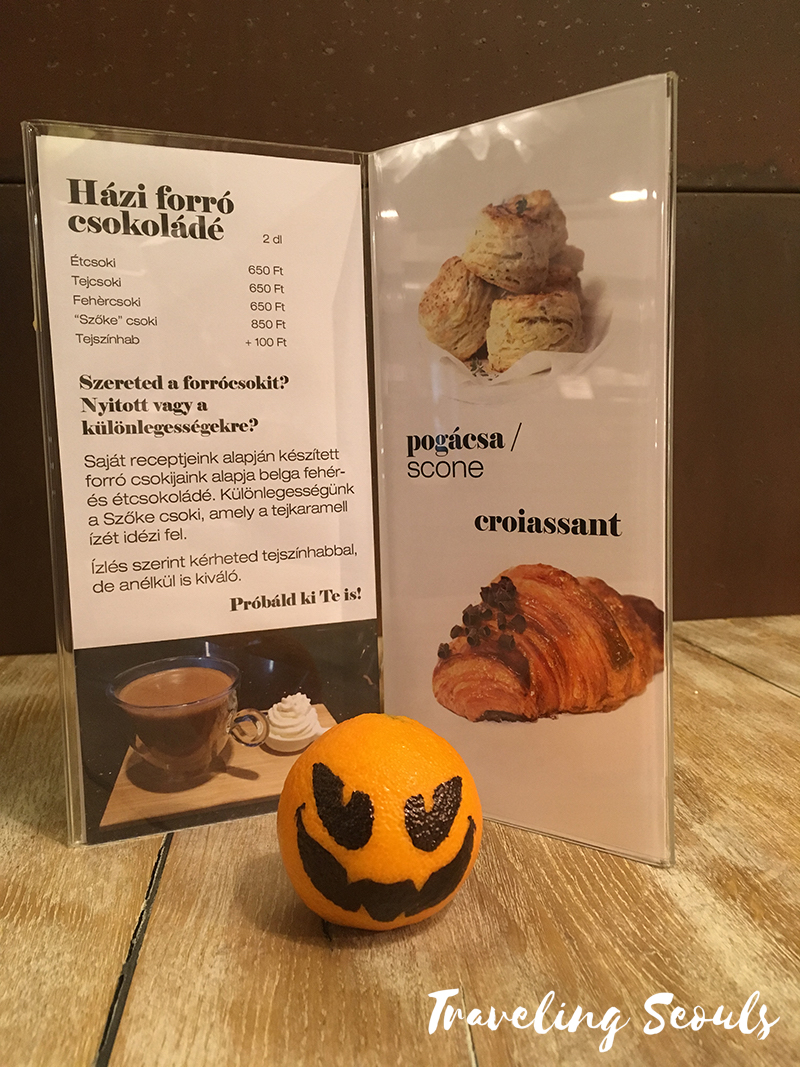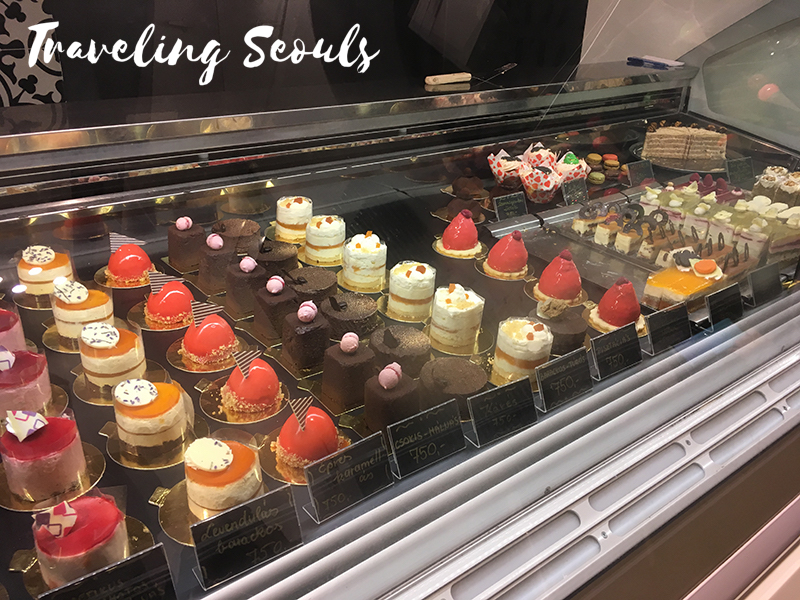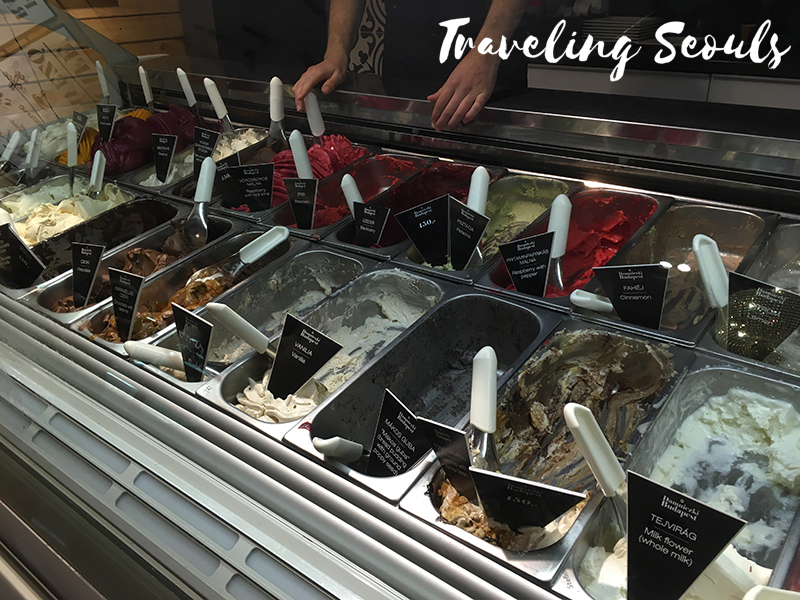 Address: Budapest, Hercegprímás u. 17, 1051
Hours of Operation: Monday – Friday 8:00 am to 9:00 pm, Saturday – Sunday 11:00 am to 10:00 pm
Website: http://damniczkibudapest.hu
How to Get There: If you are in the area of St. Stephen's Basiliaca, then you are close. It's near the M2 blue metro line, Arany Janos ter.
Did I miss one? Which one have you been to? Share in the comments below.
Pin it for Later: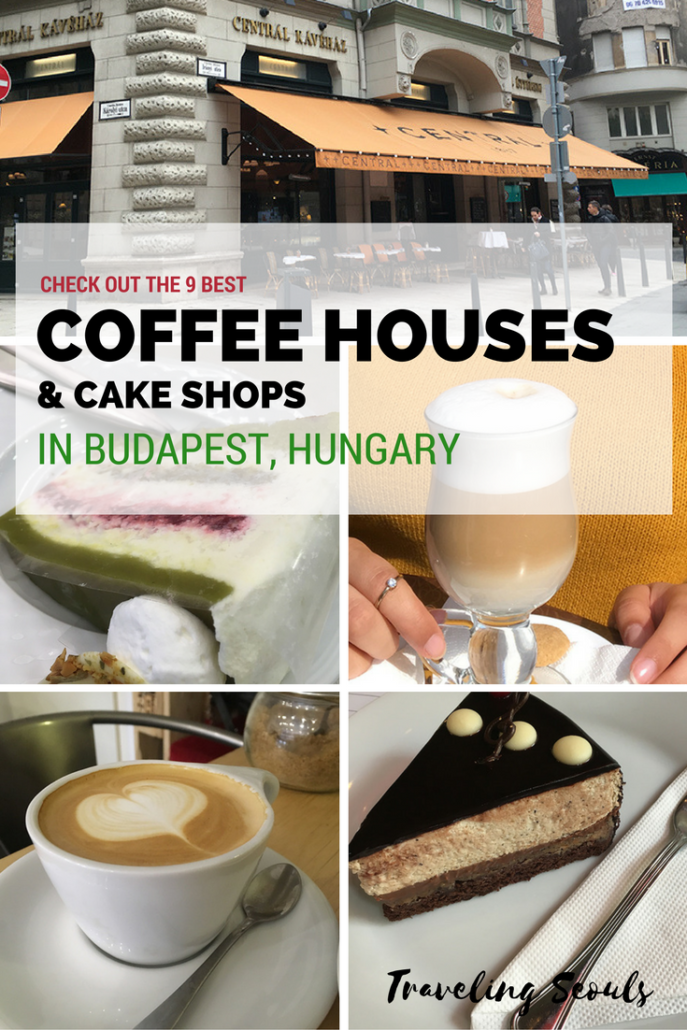 Related:
Please follow and like via: